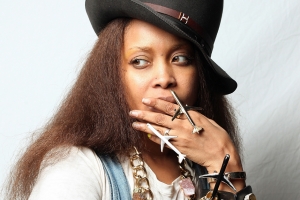 Donning a headwrap that projected a regal sensibility and echoing Billie Holiday with her slurred jazzy phrasing, Badu epitomized the chill, incense-choked, somewhat spacey vibe of late '90s neo-soul on her 1997 debut Baduizm. More recently, on her 2008 and 2010's New Amerykah albums, she's enveloped herself within a denser, murkier funk, and her preoccupations have grown at once more political and more mystical.
Panda Bear: I heard her radio hits and I was like, eh, pretty cool. But then we saw the "Honey" video. I was really into that. This was when we were recording Merriweather Post Pavillion. Then there was some VH1 live performance where she basically played the whole record. We met her since then too. It was really big. We were all really nervous.
Avey Tare: From our early period of Dance Manatee, the rhythmic nature of R&B influenced us a lot. There's a free-formness to Erykah Badu's style. It's not verse/chorus/verse/chorus necessarily. It has a patchwork vibe. There's definite a very specific Erykah Badu style — you hear her voice and you know it so well.
Back to the Centipedia glossary