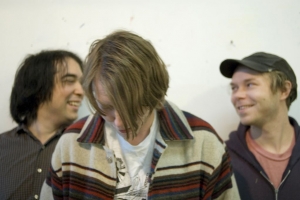 AnCo's tourmates, labelmates, split singlemates, Terrestrial Tonemates, occasional roomates and high-decibel masters of a candy-painted sour-patch squiggle all their own: Brooklyn knob-twurkers Black Dice are not only brothers in arms, but tangled deeply in a symbiotic relationship pushing noise and beatwork to the bleeding edge of the rainbow. Since 2004's Creature Comforts, Dice's contribution is mostly rhythmic, evolving into the most noggin-tobogganing beat-makers this side of Steve Reich or Chicago footwork, a tangle of disoriented phasing, skips, glitches, live-wire boners, locked grooves and Groundhog Day repetition. The nebulous, intangible, broken ear rhythms of recent AnCo songs like "In the Flowers" and "Taste" roll the Dice nimbly
Avey Tare: Aphex Twin and Black Sabbath and Merzbow blended into this blissful, heavy experience. The first time I saw 'em, I did this thing at NYU, I was on the program board and this fellow member brought them to play. I heard a little bit about them, but in those days you just heard about them being a really aggressive in-your-face hardcore band, fucking with people in the audience. I just remember the show, Bjorn [Copeland] had a sty on his eye so he looked really fucked up, Hisham [Bharoocha] had an afro.
Geologist: I though Eric [Copeland] was like 40.
Avey Tare: Eric would take the microphone and just spin it out and out and out. All their equipment sounded broken. They would do freakouts that sounded like hardcore. Hisham's playing through effects so his drums sounded fucked up. Geologist: I thought it would be the last show. They were hitting each other. I was just like, "I guess I just saw that band break up." I saw Eric at a couple parties and I always steered clear of him. I'm not going anywhere near that guy.
Avey Tare: They started coming into more rhythmic rock stuff and things just started coming together.
Back to the Centipedia glossary