President Barack Obama has shown he can give music sales a boost, and last night the industry's unofficial First Couple returned the favor — and then some. After chatting on Late Show With David Letterman, Obama stopped by a benefit hosted by Beyoncé and Jay-Z at Hova's 40/40 Club in New York City. The event added no less than $4 million to the current White House occupant's reelection campaign, according to the Hollywood Reporter.
More importantly, of course, the fundraiser revealed Obama is on a first initial basis with Jay and Bey: "To J and B, thank you so much for your friendship," he's quoted as saying. Other potent POTUS quotables: "Michelle, Sasha and Malia are mad at me because they aren't here." And: "Beyoncé couldn't be a better role model for our daughters because she carries herself with such class and poise and has so much talent."
Not that the fundraiser, reportedly attended by about 100 well-dressed donors who each coughed up $40,000, was without self-deprecation. Here's Obama on Jay-Z: "We both have daughters and our wives are more popular than we are. So, you know, we've got a little bond there. It's hard but it's okay."
An Obama fundraiser set for October 7 in Los Angeles will bring out another blockbuster pop singer: Katy Perry. The Teenage Dream popster is scheduled to sing at the "30 Days to Victory" concert at the Nokia Theater, where she is expected to be joined by other performers, according to the Hollywood Reporter. We'll see whether the president also praises the "Waking Up in Vegas" singer as a role model for Sasha and Malia.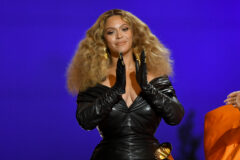 Meanwhile, elsewhere on the music-and-politics front, cranky piano-popster and Oscar-winning Disney soundtrack guy Randy Newman has released (for free download!) a satirical song called "I'm Dreaming." As in, "I'm dreaming of a white president." In vintage Newman form, it's sure to infuriate a few well-meaning listeners who don't get the joke, while sardonically mocking the views of a whole bunch of folks who, unlike the people sung about in Carly Simon songs, will probably never think this song is about them.
https://youtube.com/watch?v=cvLeQbwuKys%3Ffeature%3Dplayer_embedded