In its fifth year on America's East Coast, the 2012 All Tomorrow's Parties festival was the first to be docked in Manhattan, as the organizers dialed back from far-flung lost weekends in the Catskills and Asbury Park. Having built a 12-year reputation as the ultimate in cozy, intimate, music-nerd getaways, slow ticket sales ultimately prompted a move closer to the subway station (in this case, a pier between the Manhattan and Williamsburg Bridges) and it was ultimately just a little bit closer to what we know music festivals to be — comedian Kurt Braunohler even jokingly called it "All Tomorrow's Parking Lots" over the hum of traffic on the FDR. Could a pared down, more traditional, Porta Potty-utilizing ATP still maintain its appeal?
For many that question would never be answered because, despite adding the hotter-than-anything Frank Ocean as a headliner, attendance was noticably thin. The Afghan Whigs were excellent festival curators but New Yorkers were already tempted by Whigs shows at Terminal 5 (3,000 capacity), Bowery Ballroom (550 capacity), and Music Hall of Williamsburg (550 capacity). Still the Whigs put in a blown-out and triumphant set, the drummer bashing away on what looked like a 24″ crash cymbal, lights glowing red, and Dulli's voice beaming right into the center of that disco ball. Hell, they even busted out sexy snippets of "Little Red Corvette" and "Purple Rain" probably because they thought the Roots might be watching.
But, hey, ATP isn't about headliners. It's about hopping from Italian indie romantics Afterhours to dystopic synth sunburners Emeralds to gloom-folk minimalists Vetiver to first show in over a decade from art-rawk bruisers Scrawl all in less than two hours on a Saturday afternoon. The T-shirts and totebags in the audience were less championing bands or scenes, but celebrating delivery systems to discover lots of bands: Amoeba, WMFU, NPR, Soma, WOXY, shirts from ATPs past on older folks, shirts from Coachellas on the kids. Even Feelers Rebo from Captain Beefheart's Magic Band wore a SPIN magazine T-shirt on stage.
Despite the shaky attendance, nothing seems to sap the enthusiasm for the ATP brand. Even with the occasional 12:30 p.m. set time, no band ever went unloved. Lee Ranaldo bailed on Friday and was replaced with a DJ set from Edan, and everyone promptly formed a conga line. Philip Glass was greeted with the type of cheers you'd give David Bowie; one person just snapped and yelled, You're Philip Glass! Fans huddled in the sunshine to get good spots for Scrawl. Everyone cheered super loud when Dulli asked the crowd to give it up for festival organizers Barry Hogan and Deborah Kee Higgins. I was constantly running into enthusiastic ATPers from Philadelphia, Pittsburgh, Portland, Austin, Canada, and Japan. A group, I was told 30 deep, made the trip from Columbus, Ohio.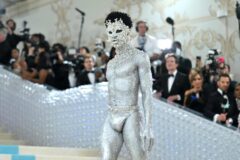 In the whimsical and diverse spirit of the fest, here are the 10 best things we saw from our three days spent roaming the festival grounds from gates to curfew.
10. Mark Lanegan Band
Playing right before Afghan Whigs, of course the sexy murkmaster would be received like the rapture. But cheering for Lanegan was like cheering for a ghost: he arrived, looked at nobody, croaked like a frog and disappeared like a fog. When cartoon soulster Dulli came out, chewing gum(!) to sing on "Methamphetamine Blues," it was like Ted "Theodore" Logan playing chess with death and losing.
9. The Queen of Hearts
The closest tether to old school ATPs was a beat-up paddleboat where people met for drinks or trivia or book clubs or beers. Criterion set up a theater in the hull with a hundred little pillows rest those weary feet, the gentle rocking of the East River to cool your shattered nerves after a Lightning Bolt set.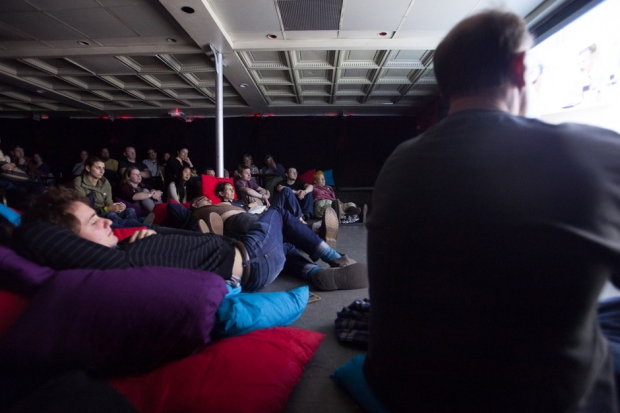 8. Dirty Three
Everyone was jockeying for position to hear the swooning, seasick sounds of the Dirty Three. Or maybe just to watch violinist Warren Ellis kick and spit and flirt and blow kisses and scream into his pickups and loop psychotic swirls of violins into festering mush.
7. The Magic Band
Dissonant, lumbering, galumphing and somewhat spiritual. Three dudes in their sixties whos brains are still broken from when Captain Beefheart taught them his batshit invented musical language. The seemingly played by telepathy.
6. The Dirtbombs/Charles Bradley/The Make-Up/Thee Oh Sees
A great undercurrent of the weekend was a handful of bands that mixed the soulful with the aggressive. The Dirtbombs covered Sly Stone and frontman Mick Collins kicked the cable right from his guitar. The 64-year-old "Screaming Eagle of Soul" Charles Bradley was manhandling the mic stand, dropping to his knees, gyrating his hips and was getting cheers for having a scream that's a dead ringer for the Godfather's. Ian Svenonius from the Make Up gets the silver medal for his James Brown scream. And Thee Oh Sees had more than a bit of aggro-Motown in their psychedelic gnash.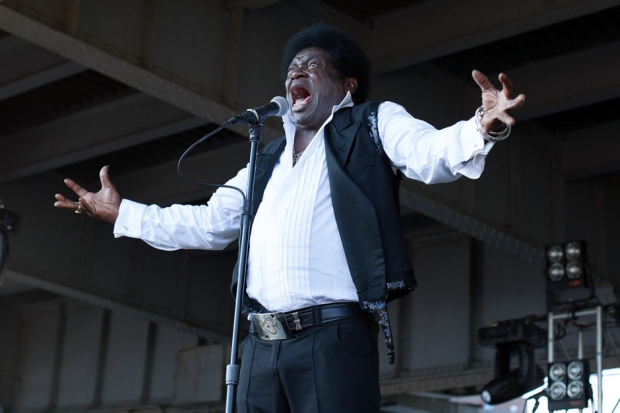 5. Frank Ocean
With his young fans hugging the stage in front of Lightning Bolt's gear as soon as doors opened, there was assuredly no shortage of shouting and heartbreaking and folks trying to touch his hands like some screaming Usher fans. Frank played it all cool as hell too, double fisting the mike, totally concentrating, equal parts Stevie and Prince and Kells. It was off the cuff, without a set list, but totally assured. You could hear him laugh and clear his throat and taking requests from the front row. His new band — who sounded like a hard rock Dap-Kings — didn't know "Lovecrimes" yet, but they played Greg Dulli's favorite jam anyway.
4. Philip Glass and Tyondai Braxton
This will probably go down in history as the most unlikely opener for Frank Ocean humanly possible, but it certainly didn't feel out of place considering the passionate screams these two got for their 30 minute set. Over three etudes (people yelled "yeah!" when they heard the word "etude"), Glass played sparkling waterfalls of piano and the ex-Battles art-tweaker dealt in drones and swoops and rumbles and torrents of dissonance. "Etude #10" was the highlight, a hypnotic 6/8 burst that sounded like Glass's trademark pointillist poking waging war with old Pierre Henry electroacoustic doodles, a fantastic planet of malfunctioning android hugs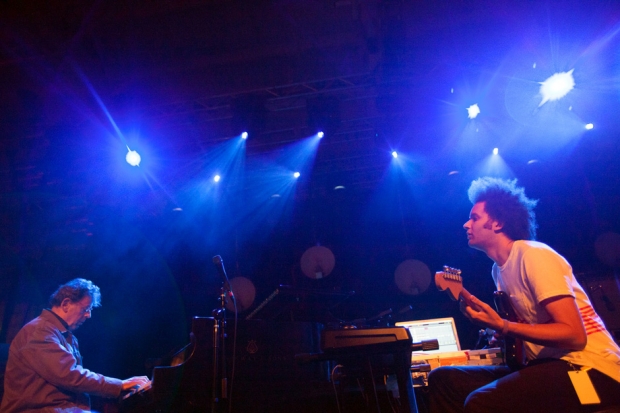 3. The Roots
These guys should be crowned kings at a festival for music dorks. They dedicated the set to Chuck Brown and Adam Yauch and then played a go-go cover of the Beastie Boys' "Paul Revere." They treated the last 60 years of popular music like a sample bank to start the party, treating the crowd to shards of Muddy Waters, The Meters, Led Zepplin, Curtis Mayfield, Dave & Ansel Collins, Kool & the Gang, Donna Summer, Sugarhill Gang, Spoonie G, George Thorogood, Guns 'N Roses, and Kool G Rap.
2. Godspeed You! Black Emperor
Eight people playing the lushest, most layered, most dynamic, most majestic drone you'll ever hear in your life for practically 40 minutes…and then there was more than an hour to go. These guys get tagged with "cinematic" a lot, but it was extra true here, drums echoing on every hit in a room that's basically eight basketball courts, and a crowd that actually stayed quiet and respectful during the quiet parts.
1. Blanck Mass
In his first American show ever, Fuck Button Benjamin Power played 65 minutes of chest-rattling, euphoric laptop ooze to the Sunday morning hangover crowd. Slow moving and subtle, it started as an if-U2-were-SunnO))) noise show, a heaven-gazing pulseless smear like sticking your head in a rainbow. Eventually it somehow turned into a minimal techno dance party by afternoon's end, complete with a crowd of snaky, woozy shimmiers.