You know what they say: There's no such thing as a free trip to Mali. The recent back-and-forth between Amanda Palmer and Steve Albini over crowd-sourcing ended with Palmer announcing she would pay her musicians. But it also shifted focus toward other artists crowd-funding musical projects, including a Kickstarter campaign by Animal Collective's Deakin (government name: Josh Dibb) that raised almost $26,000 three years ago.
As Pitchfork reports, the money was supposed to fund a trip to perform at a festival in Mali, along with the making of a book and CD, plus a charitable donation to a Mali nonprofit group that fights slavery. That was back in 2009, but donors have criticized Dibb for failing to deliver the promised Kickstarter rewards or to give much reason for the delay. Dibb told Pitchfork there's been, well, a bit of a misunderstanding. "I feel sad, but I've set up a situation where that could be the perception and I understand that," Dibbs said. "There are a couple things that are being misconceived."
First off, according to Dibb, he didn't get any of the $26,000. He told Pitchfork all of that money went straight to the anti-slavery group, TEMEDT. He said the Kickstarter "was up for a day or two before I realized that I felt incredibly uncomfortable about the idea of asking people to fund a trip for me to go to Africa…that's why the project turned into a charity thing."
But people donated to the Kickstarter campaign expecting something from Dibb in return, right? In the interview, Dibb blamed a "fatal perfectionism" for his delay in recording his debut solo album. "The gifts were supposed to be based around the music that I had been writing at that time, and when I came back, I personally felt really dissatisfied with it," he explained. "For me, as an artist — whether or not people can be sympathetic to this or not — it's just been a much slower process to do things on my own than with the band."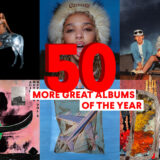 Dibb did acknowledge he could have done better about keeping people posted on what was happening with their money. He told the site he tried to send his Kickstarter donors a message in August, though he conceded he doesn't know how many the note reached. In the lengthy missive, he says he's sorry for what happened. "I am writing you now to deeply apologize for the amount of time it has taken to come back to you with the rewards of your support," he's quoted as saying. "I have heard from a number of you expressing deep disappointment in the way that I have handled this project…"
Animal Collective recently released their SPIN Essentials-stamped album Centipede Hz. Don't miss the Animal Collective Centipedia, our exploration of the band's 127 most significant inspirations. Dibb hasn't left himself much time to work on solo music lately, as the band has been in the midst of a tour. Meet the New Economy, not so much better than the Old Economy as breathless tech evangelists told us.