ALICE DEEJAY – "BETTER OFF ALONE"
ALICE DEEJAY - "BETTER OFF ALONE"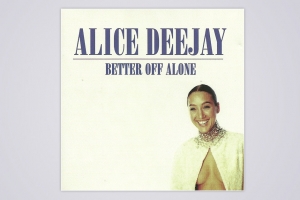 If you were anywhere in Europe in 1999, there's a good chance you were treated to the exceptionally perky strains of Alice Deejay's "Better Off Alone," which ruled commercial dance clubs, youth hostels, and the subwoofers on every passing import tuner. Even in dance-phobic America, the trance-fueled Eurodance hit went to No. 27 on the Billboard Hot 100. In truth, there was no Alice and no DJ: Judith Pronk served as singer and beard for five Dutch producer/songwriters. Witch-housers Salem rescued the single from ringtone purgatory with a dirge-like cover version in 2011.
Geologist: I worked in a parrot store on Greenwich Avenue. And a couple of the dudes who were in charge of feeding the captive grey parrots, they were a couple gay dudes, and I remember they used to blast that Alice Deejay track in the morning when we'd be getting the store ready, everybody sweeping with the brooms and the mops. That was the first time I got into cheesy electronic dance music.
Avey Tare: I think there's kind of a romanticizing [among the band] about catching the tail end of the classic club days in New York, like Twilo, which we missed out of. People were maybe trying to hold on to it while we were going out. They started doing the ban on dancing in bars, so you couldn't even dance! It would just be a bunch of dudes standing around.
Back to the Centipedia glossary