Last night, Animal Collective aired ninth album Centipede Hz in its entirety in the fourth and final episode of the psych-popsters' weekly Animal Collective Radio broadcast. The whole album, which isn't out until September 4 via Domino, is now streaming on demand over at the group's website, with each song accompanied by a custom video by previous visual collaborator Abby Portner (who also happens to be AC member Avey Tare's sister). The band had used the radio format to debut first Centipede Hz single "Today's Supernatural," which also has a Burning Man-ish video, but the decision to leak their whole album themselves, preemptively, was a more unusual one.
The move was also a product of careful forethought. Animal Collective's Geologist (government name: Brian Ross Weitz) told SPIN's Christopher R. Weingarten the band wanted to be the first to present the Centipede Hz to the fans. And they wanted hearing the album for the first time feel like an experience, like listening on an official release date in the era before leaks. "And making it part of this live radio broadcast was the way that we could do it," Geologist explains. "It's not like we're totally trying to beat the clock. It's a way of being like 'Can we beat the clock, but not just beat the clock for beating the clock's sake? But do it in a way that feels like it has been lost. Recapture that a little bit.'"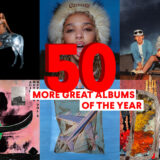 Bands have increasingly taken to premiering their albums via various media partners, and Geologist doesn't disparage the practice; Animal Collective just wanted their very first listen to be through their own website, he says. Other acts have recently been experimenting with assorted ways of getting their albums out there before the leakers, from Yeasayer's YouTube scanger hunt to Frank Ocean's week-early stream and digital release. Some groups, such as Death Grips and the Beastie Boys, have put their own albums online in response to leaks.
Though Geologist looks back fondly on the time when release dates still held meaning, it's not necessarily because he waited until that date to hear albums he was eagerly awaiting. "I mean, to me, it was always like Pavement release dates," he says. "But we were always such big Pavement nerds that, ironically, we usually found ways to get our hands on advanced copies of Pavement albums before they even came out, you know? But it was still like, for us, it was a release moment."
He stresses that the early leak isn't meant as just a marketing ploy. "We talk a lot about how we see how this could seem like a promotional gimmick," he observes. "But at a certain point you have to just realize people are going to think what they are going to think and there's nothing we can do to correct them."