Sure, Oasis' mega-hit "Wonderwall" might take its name and most memorable lyric from the title of a trippy late-'60s flick soundtracked by George Harrison, but Noel Gallagher remembers when his song used to mean something, man. As the Guardian reports, Noel responded to brother Liam's exceptionally whiny-sounding "Wonderwall" rendition at Sunday's Olympics closing ceremony by dedicating his own performance of the song last night to "Stratford's finest Oasis tribute band." Ah, brotherly love.
Noel, who wrote virtually all Oasis material but delegated most of the lead vocals to Liam, made his jibe at London benefit concert. Liam, for his part, was backed on his Olympic "Wonderwall" by his current band Beady Eye, which recently began performing Oasis songs for the first time. Noel and his High Flying Birds band have been playing Oasis songs for a while. The ever-squabbling Gallagher brothers have been at odds since a tiff at a Paris music festival in 2009 led them to break up Oasis.
Offended by Beady Eye's "Wonderwall" performance the other night? Maybe One Direction will be the ones that save you. With acoustic strums that somehow can't quite keep up with the 1995 (What's the Story) Morning Glory? originals, the U.K. boy band can be seen covering the song on a beach in a recently surfaced video (via NME).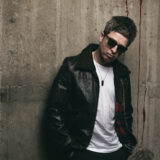 It's mostly the type of giggly campfire-style rendition other similarly ungifted teenagers have been trying for almost two decades now, but the addition of a quasi-soulful "yeah-eah" at certain points is, um, something. So are the video's Instagram-style weathered look and tourist-enticing shots of crashing waves. As for the lads' carefully tousled hair, well — other covers by Jay-Z, Pavement, and Thom Yorke really can't compete with that. And after all, it's our "Wonderwall."
https://youtube.com/watch?v=hP_Ucz8nVoY%3Ffeature%3Dplayer_embedded