The saga of Russian punk band Pussy Riot continues to spill over national borders. Two members of the group have left the country, fleeing prosecution for their role in protesting President Vladimir Putin in a church, the band said on Sunday via Twitter. Three members of the riot grrl-influenced band received two-year prison sentences on August 17 for the protest, and according to the group's Twitter, at least 12 participants in the group are still in Russia.
The announcement comes after the AP reported last week that Moscow police were still looking for the other members of Pussy Riot, whose anti-Kremlin rally in a Moscow cathedral involved five women. Reuters translates Sunday's tweet as saying: "In regard to the pursuit, two of our members have successfully fled the country! They are recruiting foreign feminists to prepare new actions!"
The convicted Pussy Riot members are Nadezhda Tolokonnikova, Maria Alyokhina, and Yekaterina Samutsevich. As Reuters reports, defense lawyers for the three women will probably appeal their sentences next week. Tolokonnikova's husband, Pyotr Verzilov, confirmed to Reuters that the two Pussy Riot members who left the country had been involved in the cathedral event. He's quoted as saying: "Since the Moscow police said they are searching for them, they will keep a low profile for now. They are in a safe place beyond the reach of the Russian police."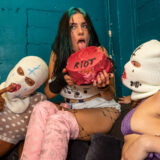 The Kremlin has brushed off condemnations of the sentence by western officials as well as Madonna, Paul McCartney, and other high-profile musicians (earlier this summer, the Beastie Boys' Ad-Rock recently DJed a benefit for the group). Björk, who has previously declared her support for the Pussy Riot members, is now selling T-shirts featuring the band's logo, the Hollywood Reporter points out. The shirts are priced at £20, or about $31.62, and the Icelandic experimental pop artist's online store says profits from the sale will go to the Pussy Riot legal fund. For information on how to donate to the fund directly, go here.