Though the xx likely will never be rafter-reaching performers, the band's live show now feels much less like watching bookish kids forced to play dodgeball. The shy and awkward quartet that I saw at Manhattan's cramped Mercury Lounge in October 2009 is now plainly confident, if not quite comfortable, on stage. Sim has developed an insinuating leer, occasionally rolling his shoulders in ecstasy. Madley Croft smiles appreciatively. Smith, who used to try and hide behind his DJ set-up and drum kit, has spotlit moments of percussive crescendo.
The xx's development has come with costs. The aforementioned Qureshi was a classmate of the trio at London's Elliott School (alma mater of Hot Chip, Burial, and Kieran "Four Tet" Hebden) and began playing publicly with the xx in 2005. She was still with them at the Mercury Lounge show that I attended in 2009. A month later, in November of that year, she was gone. Her split from the band was bitter. In interviews, the remaining members cited "exhaustion" as the reason for the departure. Qureshi, via Twitter, responded, "Am I exhausted?? nope. got kicked out by txt." For six months in 2011, Qureshi played the part of digital Fury. She tweeted about "back stabbing," and the band's taking "credit for other peoples [sic] work." In June of the same year, she wrote: "if anyone needs any advice on being an evil prick then message the xx!" Since then she's been silent, and did not respond to my request for an interview.
"It's sad about Baria," says Madley Croft curtly, now seated with Sim. We're back at the Bowery three days after our last conversation. I'm meeting with them during their last round of press before they leave for the Balkans. After cooing to the Croats, the xx will be on touring till Christmas. It's a tough schedule. On this day, though, only Smith has won reprieve from interview duties. His publicist explained that he would be unlikely to utter a word in the presence of his bandmates. When all three are together, Smith lets the other two do the talking. Which leaves Madley Croft and Sim to discuss Qureshi.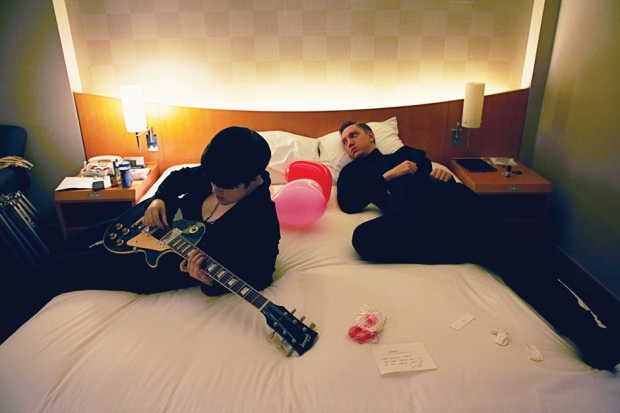 "Honestly," says Sim, "we all just started living our lives a little bit and realized we weren't the same people that had started the band. It's a shame and it's sad because she was a friend, but I guess growing apart is a part of growing up sometimes." He looks at Madley Croft, who looks at me and says, "That's about all we have to say about Baria."
Madley Croft is equally hesitant to discuss a far more painful loss — that of her father, who died in February 2010 (she'd lost her mother at age 12). "It's fair to say that I've experienced the highest highs and lowest lows since joining the band. That's why it's so important to have true friends like Ollie and Jamie with me. I couldn't imagine being in a band with people I didn't really know." She gives a sad little smile and looks at her iPhone.
"Would you like some water?" Madley Croft asks. She changes the subject to Smith, who is awaiting the arrival of his girlfriend from London. "We're not going to let him get away with this not-talking crap anymore," she says sweetly. "He's actually a very good talker. He can explain things just as well as we can." Madley Croft and Sim's conversational cautiousness, I suspect, isn't just about the mystique of the music. Aura only means so much. Obsessives have written day-by-day chronicles of Elvis' life, yet "Love Me Tender" still kills. Frank Ocean can take to Tumblr to open a vein and Channel Orange still soars. Songs withstand excavation. It's the songmakers who might suffer.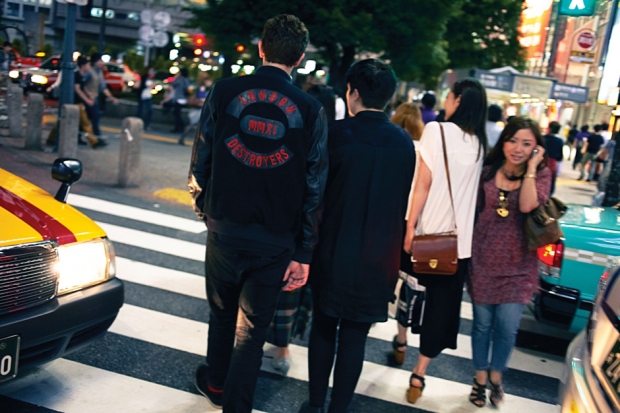 "I think Frank Ocean revealed something about himself in a very lovely way," says Madley Croft. "But I don't think our songs would be any different if I was writing about boyfriends instead. Everyone approaches these things in the way that's best for them. If there's any message I want to be out there, it's that emotions are emotions. They don't change because of who you're attracted to." Sim fixes me with a peevish glare. "We talked about our sexuality in a few very early interviews," he says, "and it became this thing that people brought up every time. We don't want to be thought of as a gay band or a straight band. We just want to be the xx."
"Our Song" is the last track on Coexist. Sim and Madley Croft wrap their voices around each other, singing, "And there's no one else / Who knows me / Like you do." Smith swaddles his bandmates' declarations in a deep blue cloud of backwards drums. "What I've done," the two sing, "You've done too." A guitar glints, a bass pumps a languid pulse, then it all slides into silence. Only here will the band members' agree to fill the biographical void. "The song is about the three of us," says Madley Croft. "We don't mind telling people that." The xx are due at the airport in a few hours. I get a signal from the publicist to wrap things up. "It's a song for us," says Sim, "about how much we love each other."
Sim and Madley Croft stand to leave. They both shake my hand and thank me for my time. Then they walk through the lobby, towards Croatia and the wide-open world, continuing down a path started as children in Putney. It's a path known only to them. No matter what happens next.