"Nothing ever goes according to plan, so why bother making plans?" says J.P. Pitts, frontman for sunny West Palm Beach indie rockers Surfer Blood on the second-to-last day of a six-week run at at EastWest Recording Studios in Hollywood. "Now we're doing the synthesizers and all the fun stuff that we don't really need."
Before he gets back to running backup vocals through a Hammond organ cabinet (it will make them sound like "something off of a T. Rex record") Pitts recalls the highlights of the sessions for their as-yet-untitled major label debut, due in 2013, the follow-up to their critically acclaimed debut Astro Coast. Although they're working with mega-producer Gil Norton (Foo Fighters, Pixies, Jimmy Eat World), and recording in the studio complex where the Beach Boys recorded Pet Sounds, the most important moment for them was getting a blessing from none other than Timbaland.
Both Justin Timberlake and Timbaland stopped by EastWest — not exactly a shock since this complex the sort of place where everyone (Frank Sinatra, the Rolling Stones, Elton John, Madonna, the Who, U2…) has recorded. Slayer was there the week before, and left a tag behind on the wall-sized guest book. Bassist Kevin Williams took this as an invitation to add a personal touch.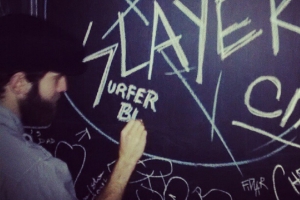 "I didn't really talk to Timberlake because I don't like to talk or approach people," Pitts says of the duo's visit. While Surfer Blood's emboldened drummer T.J. Schwarz headed to socially network with J.T. in the studio kitchen, Pitts continued recording a guitar track. Timbaland walked in and introduced himself, and they played him a song they're considering as the lead single, "Weird Shapes." Pitts and life-long pal Schwarz wrote "Weird Shapes" in a single evening after listening to a lot of Beck, "So we tried to channel that," he says. It's one of the more traditional songs they've ever done, — verse, chorus, bridge.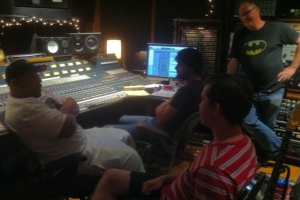 "[Timbaland] literally freaked out and said some really flattering things," Pitts recalls. "The first thing he said after he heard it was 'That's gotta be the single.' It's good to know that we might be on the right track after all. As a songwriter, you kinda second-guess yourself. An affirmation like that goes a long way."
By the first week of July, Surfer Blood had recorded 13 tracks (11 will likely make the cut). The band is now nearly three years removed from their breakneck run at 2009's CMJ Music Marathon in New York, which included at least a dozen live displays of spastic hooks somewhere between Buddy Holly and "Buddy Holly," their boyish good looks contrasted by chin-scraping stage stunts, and just enough Brian Eno-esque sonic weirdness to grab critics' attention. Understandably, the majors swooned to the infectiousness of "Swim" and "Floating Vibes," and South Florida was abuzz by the fall of 2010 that Surfer Blood would join Warner Bros., the label where Built to Spill, R.E.M., the Flaming Lips, and, er, Madonna transitioned from the underground. Their follow-up album will be huge upswing in production technology from Astro Coast's bedroom recordings.
"I did the math, and he started producing before I was born," Pitts says of studio taskmaster Gil Norton. "This is why I'm willing to trust him on the engineering side more. You have to really love what you're doing to fly away to another country with an eight-hour time difference just to record with a bunch of drunk 25-year-old dudes." Two of Pitts' favorite recordings — the Pixies' Doolittle and Echo and the Bunnymen's Ocean Rain — featured Norton's handiwork. Add this to Surfer Blood's growing bond with Pixies guitarist Joey Santiago, who lent the band his gold-top Les Paul and some Marshall amps for the record, and Surfer guys had ample incentive to mash a few 15-hour sessions.
Aside from "Weird Shapes," track names — subject to change, Pitts stresses — on the album include "Bird for You," "Gravity" ("That might end up being a single down the road"), "Slim Six" ("A heavy, tremolo-y guitar-driven song"), "I Was Wrong" ("Another slow, sad song, but it's really beautiful), "Blair Witch" ("Really fun and quirky"), "Prom Song" ("Our sexiest song to date"), and "Squeezing Blood" ("Right in the 110 BPM range, so it's perfect for the dancefloor"). Pitts is particularly proud of "Needles and Pins," which is driven by acoustic guitar and a hollow Telecaster with the tone knob rolled all the way down to give it a '60s feel. With its double-tracked vocals and backup singing, he says it's "The closest we'll ever come to sounding like the Velvet Underground."
Despite all the new production touches (including a few cellos), Pitts stresses that now's not the time to be recording with a symphony orchestra. "This is definitely going to feel like a rock record, but in all the good ways: Crunchy guitars, bendy notes and funky solos," he says. "We wanna be a rock band a little bit longer, for sure….There's no Surfer Blood featuring Flo Rida or anything like that. That's not record two, that's like record six."