At Temple University's Liacouras Center, the conversation isn't about dubstep; it's about bass. The 30-and-growing number of exuberant 18- to 25-year-olds lined up outside the Philadelphia basketball arena aren't just casually mentioning bass, though; they've structured their weeks around the pursuit of dubstep's seismic shake, squirting its four letters in neon paint on their clothes. They are bassheads, as they'll gladly tell you, and they're wearing name-tag introductions that beckon my bass fam calls me … On this psychotropic holiday of Friday, April 20, they've arrived before the event's 6 p.m. doors to secure the first row against the stage, prime real estate cheekily known as "Bass Front Property."
The ringleader of this devoted, gut-churning retinue is Lorin Ashton, a.k.a. Bassnectar, the 34-year-old San Francisco–based DJ, producer, and road warrior, who has spent the past decade cultivating a uniquely self-contained and supremely loyal following. Tonight's event, Bass Center V, sold 7,500 tickets (at $28 to $45), and is a SportsCenter adventure of glitter ballerinas, stilt walkers, roller skaters, jugglers, and hoop dancers; Kanye West sidekick A-Trak opens. After ten shows in two weeks, Ashton will have entertained 37,000 fans, and some of them will be repeat visitors, like Evan Szankowski, a 21-year-old former Christian youth leader in a bass beats and beaches T-shirt, who drove 12 hours from South Carolina in a five-person carpool. "I have 16," he says, tallying up his Bassnectar shows.
Szankowski's friend Kyle Looney raises his hand. "I got 14."
"I got, like, nine," adds Alex Arledge, a bearded 23-year-old from Kingston, Pennsylvania. He's here with his girlfriend, Morghann Crossley, a pigtailed 21-year-old whose attendance record totals six. Today is the second anniversary of her "bass family" induction at Buffalo's 450-capacity Tralf Music Hall. She not only felt transformed by the intensity of Bassnectar's music, but also by his message. "He told us to love your life and every moment you get, every breath," she says. Her headband declares bass head, as do her slip-on sneakers. The value of Bass Front Property for early arriving fans isn't just an unobstructed view, it's the documented visibility: At the end of every show, after the house lights go up, Ashton climbs down from his mission-control booth, turns around, and poses with the crowd for a shot by an onstage photographer. These are the Bassnectar Family Photos, all of which are archived online.
This ethic of inclusion also inspired Bassnectar's AmBASSador program, which selects fans to be a part of the show's production; they roam around the premises, keeping a congenially watchful eye, being sure to "burst with enthusiasm," as the online application specifies. Like many aspects of Ashton's DIY universe, the AmBASSador role is a nod to his rave roots, as well as to his community-studies major and education minor at the University of California, Santa Cruz. Jessica McMillan, 18, has just been accepted to serve as an AmBASSador next week in her home state of South Carolina, but here in Philly, the college freshman is waiting to get a spot in the front row. Appropriately, McMillan's 1,262-word AmBASSador application essay suggested ideas for how she could entertain bored concertgoers in her current situation.
"I feel like a camp counselor," admits Ashton, with a knowing laugh, backstage in his dressing room during A-Trak's set. "I want to be the nerd who sits down with the other nerds and is like, 'What's up? Everything good? You cool? Everyone happy?' Say, 'Hi,' to the jocks. Say, 'What's up?' to the gangsters, 'What's up?' to the teachers — just get along with people and have fun. Life is short and I am legitimately grateful."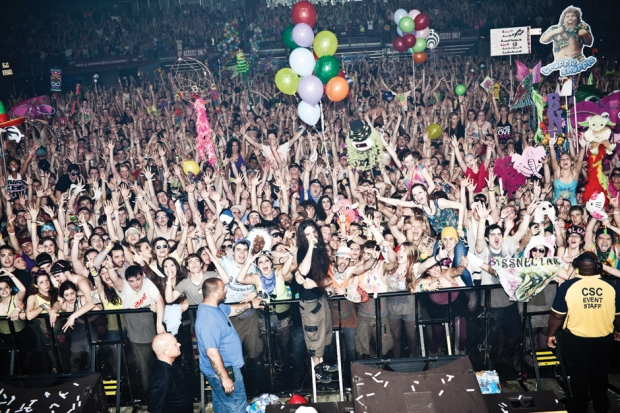 Such unapologetic positivity, his San Jose, California commune upbringing, and his willingness to play for jam-band kids, has gotten Ashton derided as a hippie. "I took one for the team," he confesses, "because I can't stand jam bands. It was rough. People would be like, 'So you're a jam-band DJ,' and I'm like, 'No, I am turning these jam-band fans — they're really festival fans — into bassheads. And you all are gonna be very happy when you can come and tour Arkansas on a Tuesday night.'" Hopefully, Borgore said thanks, because that's exactly where the Israeli played in April, on his Flex tour dates leading up to Nocturnal Wonderland.
Tall and lissome with waist-length, deep-auburn hair, Ashton was a death-metal teenager who loved Cannibal Corpse. After becoming a DJ in college, he built a name for himself at Burning Man, where he met Perry Farrell in 2000. "He introduced me to Madonna, and the next thing I know, I'm DJ'ing Madonna's parties and realizing, 'What, people get paid for this?'" But after trekking to Australia, Japan, and Europe in 2002–2003, he sought a less glamorous audience and discovered off-the-wall crowds in places where his big-city peers were too cool to tour, playing pizza joints in Little Rock, ladies' nights in Knoxville, random colleges in random towns. "Just building up this community — it just felt so much more gratifying, interesting, effective," he says. He even turned down a headlining slot at New York's Electric Zoo last August to throw his own festival, Bass Island.
Since 2008, Bassnectar's touring numbers — tickets purchased, percentage of each venue occupied — have doubled, which means his endurance-feat, two-hour set draws 100 percent more people than four years ago. He trucks in his own sound system and can sell 8,000 tickets on a given night in Bloomington, Indiana. His YouTube channel has 58,000 subscribers and more than 44 million total views. His music has been in a North Face ad and an X Games ESPN2 spot. This summer, he's playing Electric Forest, the Forecastle Festival, Camp Bisco, Bassrush Massive, and Lollapalooza, listed on a par with the Shins and Justice at the latter.
As for dubstep having its moment in the States? Ashton thinks we're missing the point. "Without being disrespectful, for me, dubstep is really old news," he says, stretching before his two-hour set. He's jammed the genre since 2002 — but he also works breakbeats and Nirvana into his bowel-rumbling sub-bass assaults. "It's not about 'dubstep' — it's about bass," Ashton insists. "The bass is why the show got shut down. The bass is why kids want to roll around their neighborhoods broadcasting their fierceness, their sound, with that bass. That's why car sound systems exist — it feels so good and powerful to broadcast that feeling."
The bass is why 7,500 people — a slightly male majority, but not by much — are enthusiastically waiting for this unheralded guy in Adidas Sambas, shin-length cargo shorts, and a black T-shirt with an upside-down cross.
"I have seen the face of this with different names for many years," says Ashton, the seen-it-all elder. "It feels like when I was in 2001, transforming a small warehouse, and it's packed to the fucking gills, the line is around the block and it gets busted by the cops at 1 a.m. It's a fucking freak show and then you wind up over there, at the after-party. This has that same vibe. Except now, it's on this much larger scale."
This story originally ran in the July/August 2012 issue of SPIN.