Nocturnal Wonderland Texas is the smallest of Insomniac's 18-and-older multiday festivals, with attendance of 30,000 over its two days. Even though the grounds are an hour's drive northeast of Austin, the location feels especially remote, with tractors puttering by the main gates. But for the last weekend in April, Nocturnal more than triples the town of Rockdale's 5,000-plus population — in September, the same land will host the Central Texas Hunting and Outdoor Expo, which will include a Civil War reenactment.
Despite the 80-plus acts, the TSA-level security, the impotent $12 margaritas, and a $90 one-day entrance fee, the overwhelmingly young ticket buyers repeatedly refer to Nocturnal as a "rave." It doesn't matter that rave accessories like pacifiers, LED gloves, and plush-animal backpacks are strictly forbidden (the latter because they're excellent drug smugglers), or that the on-site ATM fee is $5, or that the culturally loaded four-letter word has endured more beatdowns and resuscitations than Rocky. To everyone here who isn't on the payroll, this is a "rave."
"What we do is so different from what the true definition of a 'rave' is — or was," says Insomniac spokeswoman Erika Raney. "But on the other side, we understand the use of the term because these music festivals really fill a generational gap."
That gap seems especially relevant on Friday. One of the first tracks blaring from Queen's Ground, a pyramid-shaped pillar-platform where Dutch house superstar Tiësto will perform later, is Knife Party's "Internet Friends," an electro banger with a denouement that includes an iPhone marimba ringtone and an icy, lurker's promise: "You blocked me on Facebook, now you're going to die." The 18- to 25-year-olds here are the first adult generation to grow up with computers, so electronic dance music isn't an acquired taste; the platform echoes how they engage with the world. Skrillex's best-known track samples a viral YouTube "star," not John Bonham's drums; and dubstep's tendency toward screechy dissonance feels like the logical next level after crunked-up rap, or the natural, headbanging successor to the yowling axes of metal.
That's the case for Kamron Dorf, 21, who slugs on a nearly drained bottle of Sailor Jerry rum in the Nocturnal parking lot. "I like metal; that's basically what got me into this," he explains. His black T-shirt reps Denver dubstep, where he lived with his mom until relocating to Texas; here, the trucking-company employee earns $10 an hour while staying with his dad. Since the move, he's seen a few shows, including Excision, whose "vomit-inducing bass" (as a YouTube fan described it) made Dorf's lips tremble when he tried to smoke a cigarette during the set.
Within Nocturnal's gates, the preferred costume for women is a bikini top and booty shorts, matched with fuzzy leg-warmer boots. For young men, fashion sense means spring-break hedonism expressed through novelty shirts: zero fucks given, I hate cocaine. I just like the way it smells. But over by the Upside Down Room — the Lewis Carroll–alluding dubstep zone — Shepard Fairey's OBEY line is the de facto Ed Hardy, and more sound-specific slogans dominate: let's dub to fuckstep, dubstep cures cancer, wobbly legs, wub wub wub, and bitches love bass, worn by a girl. Also, more visible in this quadrant is a fraternity/sorority contingent, a blinding assortment of fluorescent garments that pledge allegiance to Kappa Sigma, Zeta Tau Alpha, Sigma Chi — plus one frankly amazing Tri Delta tank top that declares SWAG SWAG SWAG, swapping triangles for vowels.
"It's dubstep that's attracting the Greek community," says Allen Carey, 26, a Dallas-based Phi Delta Theta alum of Louisiana State University, who cofounded a neon-apparel company after attending Nocturnal Texas two years ago. Only a few years out of school, Carey was surprised by the cultural sea change — when he'd been at LSU, partying meant pumping Southern rap and doing keg stands, not dubstep and Ecstasy. Last summer at EDC Dallas, he launched his brand The Neon South, earning $6,000 in eight hours; this weekend, his booth will bring in $7,000. But the bulk of the business' revenue comes from online customized sales. "We get orders from New Hampshire to Oregon to California to Canada — all of them want neon stuff, and all of it's interrelated, with the whole 'rage,' the whole 'dubstep,' this 'new' electronic dance music," says Carey. "It's kind of the new rock'n'roll. Skrillex is the new rock star."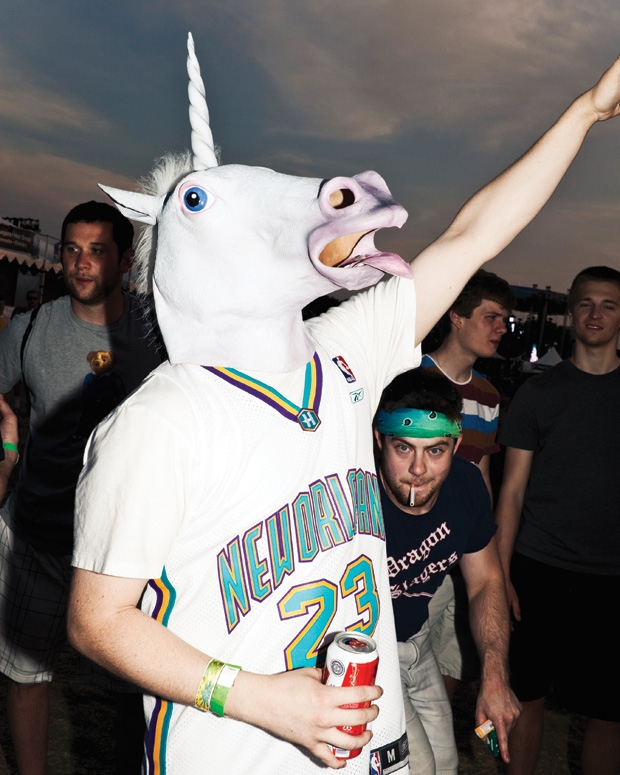 Hunched on a rock, Guillermo De La Rosa devours a food-truck cheeseburger. A likable fellow with pinchable cheeks, the Austin Community College student wears a T-shirt that reads dub step in the classic Run-DMC logo. An early adopter among his friends, De La Rosa discovered dubstep in the background of a YouTube video and preached its rib-cage-rattling gospel to his buddies, who slowly came around. He points to the final holdout, Alex Carroll, a pale-skinned, blue-eyed blond. "He said I was a 'fag' for listening to this." Carroll, with an arm around his Meg White–cute girlfriend, admits, "I should not have said that." The 18-year-old grew up listening to the blues — Muddy Waters, B.B. King, Stevie Ray Vaughan. "I said, 'This sucks. This is the worst thing I've ever heard in my life. This isn't music.'" His conversion came last summer, after hearing Flux Pavilion's lumbering squall "Bass Cannon," which he drunkenly tried to imitate with his electric guitar one night, a comical sight his pals dutifully filmed. Even though Carroll has clocked less than a year listening to electronic dance music, the University of Texas at Austin student already attests that Skrillex is a polarizing figure. "Some people make fun of me, but I love Skrillex," he exclaims, explaining that even in his circles, where Avicii at the Austin Music Hall is considered a "rave," evoking Sonny Moore's name can get you labeled as a clueless noob. "Some people say, 'Oh, I listen to dubstep,' but all they listen to is Skrillex."
That's the inescapable fact here: The American mainstream doesn't have the collective dance-music or club-going experience for kids, even ones actively crafting their identities around the culture, to notice the nuances. They really don't know much at all except that they like to bang their heads deliriously when the monumental bass drops, or punch the air along to rapper Waka Flocka Flame, whose sampled growl is one of the only human noises to pump through the Upside Down Room's sound system.
"I only started messing with dubstep because everyone in Austin was — I didn't really like it at first," says 21-year-old Christopher Lee Marshall, who grew up in the San Antonio suburb of Boerne. He initially played electro, until a year and a half ago, when he became the "crunkstep" producer Crizzly (his remix of Waka Flocka Flame's "Hard in Da Paint" has been spun by Jazzy Jeff and Diplo). Crizzly played Nocturnal last year in the bright afternoon, his first-ever festival booking, for $100, but he's enjoyed enough success since to leave school, quit his job, get an agent, a manager, and tour consistently. His Nocturnal evening slot was a victory lap; he even drafted a military buddy to wave the Lone Star flag from the stage during his set. "It's just so much easier to get booked as a dubstep [artist]," he says. "If you use that brand, you can get a lot further, actually."
But that too is in flux. "Dubstep is at a spot where it's gotta start changing or it's gonna start declining," offers Troy Beetles, the 24-year-old Canadian producer Datsik. "I feel like the formula is just being repeated over and over. There's no other option than to think ahead of the curve and do something new." It's surprising to hear this claim from Datsik, one of the genre's more relentless crowd-pleasers (he actually samples audio from Transformers for his track "Galvanize"). He still loves the sound of robot steps, but at the moment he's more enamored with moombahton. "Instead of just being a dubstep DJ, I'm starting to play everything. I want to take a page out of Bassnectar's book."