On the American dance-music festival circuit, dubstep (or bass music) has been ballooning in importance. Insomniac's Electric Daisy Carnival in Las Vegas has sold more than 650,000 tickets over the past three years (a 2012 three-day pass went for $275), and responded to crowd demand by creating a dedicated dubstep stage; in addition, Insomniac booked a series of offshoot events this year called Bassrush Massive, featuring Rusko, Flux Pavilion, Bassnectar, 12th Planet, and others. Skrillex is not only one of the main draws this year at traditionally rockist spectacles like San Francisco's Outside Lands and Seattle's Bumbershoot, but he's a tent-pole act for two EDM festivals launching this season — Chicago's two-day Spring Awakening in June and Atlanta's CounterPoint with Bassnectar and chillstep producer Pretty Lights in September. The 15-city Identity Festival tour will prominently feature U.K. arena-dubstep duo Nero and Excision, a Canadian thrash-step DJ signed to Deadmau5's label Mau5trap.
Welcome to the Summer of Wub.
It's a Saturday night in March at Atlantic City's House of Blues, a 2,300-capacity theater in the Showboat Casino Hotel. Although this balcony-seating venue hosted sold-out solo shows by Skrillex and Bassnectar in 2011, on the occasion of this first North American Dubstep Music Awards, the cavernous room is mostly empty. Onstage, Canadian bass-head DJ Downlink maneuvers a table of wired gear with the herky-jerky focus of someone trying to dock a sailboat. He's manipulating a track that sounds like a cyborg pimp's anthem, and below him, about 100 bodies demonstrate uniquely dubstep dances: the Squash a Cockroach (a dramatic foot-stamping routine), Banging on a Tall Man's Door (which also could be called the Toddler Tantrum), and the Terminator Tomahawk Chop (a rigid, one-armed variation on Shadow Monsters that involves a lurching stance with one's arms curled like ladder hooks).
Yet there's enough space on the floor behind this kinetic cluster to play a game of touch football. The vacancy is so gaping that Downlink concedes, "I was expecting to see a few more people." Ultimately, for a nine-hour, theoretically kingmaking event meant to accommodate 4,000, there were approximately 500 tickets sold. The turnout wasn't a reflection of dubstep's reach, but rather a cautionary tale about an underground movement's rapid crash into the mainstream. For one, the Philly-based promoter was a relative unknown throwing an ambitious event. Although organizers nailed the lineup — Los Angeles' eerie bass-bomber 12th Planet, U.K. drum'n'bass legend (and recently reinvented, L.A.-based EDM dabbler) Photek, Philly stalwart Starkey, Canadian wobble duo Zeds Dead, plus 30-some others — they failed to understand the audience, a predominantly 16- to 25-year-old group who can't drink at a casino and don't have the expendable income for a ticket, travel, and lodging.
"That was so sad," lamented Reid Speed, who was later introduced as "Queen of the Genre," only to preside over maybe 12 curious onlookers in a reception hall built for 1,000. "If they'd done that party in L.A., there'd easily have been 5,000 people there — or more!"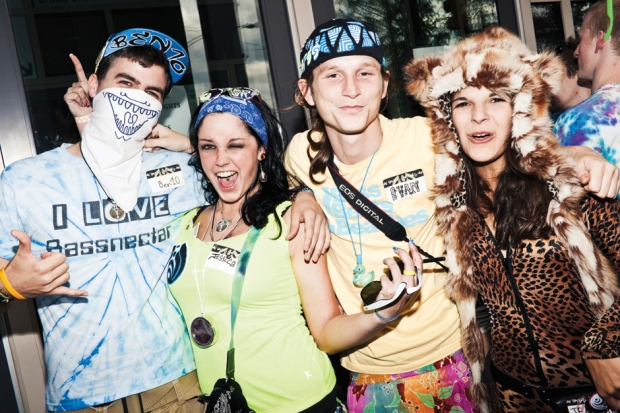 Los Angeles, where Speed has lived for a decade, is the spiritual home of Manifest Destiny dubstep. It's where Rusko, the accidental godfather of brostep, relocated from England, thereby symbolically lending his U.K. bass bona fides to the far-less-delicate sensibilities in the States. The sprawling city is where the low-frequency movement's formative SMOG parties were originated by 12th Planet; it's also where 12th Planet's pal Skrillex is based, as well as Electric Daisy promoter Insomniac.
Even Washington, D.C., birthplace of the scene based around the house music–reggaeton (and dubstep-friendly) hybrid moombahton, would have been a better site for the DMAs. Shawn Lucas, a 33-year-old D.C.-based promoter who attended the Atlantic City event, threw D.C.'s first dubstep party in 2007 at a friend's Italian restaurant, with tables and chairs pushed up against the walls. Lucas and his crew named the party Shockout and dragged in their own subwoofers, equipment rated as an "absolute joke" on Dubstepforum.com days later. But Lucas had the support of Baltimore-based DJ Joe Nice, the British-born Trinidadian who had cofounded North America's first dubstep night, New York's Dub War, back in 2005. Art shook off the restaurant's walls at Shockout. Glasses rattled off the bar. But only nerds, message-board snots, and devoted DJs cared.
Five years later, D.C. now has two dubstep-exclusive nights, Dub Nation and Face Off. Run by Lucas' promotion company, Ov3rkill Entertainment, Face Off currently decamps at District, a 7,200-square-foot lounge with an outdoor deck that turns into a foam party in the warmer months. Attendance fluctuates between 500 to 1,000, depending on the booked talent, and the kids who turn up are often a very young gaggle of nu-rave lollygaggers, waving glow sticks and sporting LED gloves, tutus, fishnets, furry boots, and face paint. Even at the DMAs, a dubstep fan's face was painted with the raver credo PLUR (Peace Love Unity Respect).
That's one benefit of the dubstep explosion in America — its shards are becoming embedded everywhere, breaking apart bass music's historically purist tribalism while disrupting EDM's cheesy supremacy. "I was always trying to push for multigenre bass music to be a viable thing," says Reid Speed. "I used to make mixtapes of different genres and people would just dis me. They'd be like, 'Why didn't you put this crap on the other side?'?"
These days, her mostly under-21 fans don't even know she had a career before 2009. And, she adds, without regret, "The people who liked me for drum'n'bass hate what I'm doing now."