Borgore brings his own pole dancers.
It's two in the morning in the unofficial dubstep corner of Nocturnal Wonderland Texas, the third installment of the late-April festival staged by Insomniac Events, America's dominant electronic-dance-music promoter. The other acts on this bass-music stage have settled for the usual visual iconography of laser sprays, candy-colored floodlights, and in-house dance troupes (one of which features dancers dressed like sexy bunches of white grapes). Not Borgore, the 24-year-old Israeli DJ/producer/"rapper," who has equated his seed to a dairy treat on record (see 2010's moaning "Ice Cream") and his manhood to an elephant ("Nympho," self-explanatory). Now, as he segues into Avicii's mega-rave anthem "Le7els" — the Skrillex remix, of course, which amps the original's neo-soulful Tron fusillade into circular-saw calisthenics — his two erotic acrobats flip upside down on their poles, legs scissoring into inverted splits, in unison with the whut!-whut!-whut! build-up. Later, he incites a shout-a-long bro-down when his Auto-Tuned vocals instruct an imaginary sex partner to "act like a ho" — and here's where the dudes fist-pump victoriously — "but, first, do the dishes!"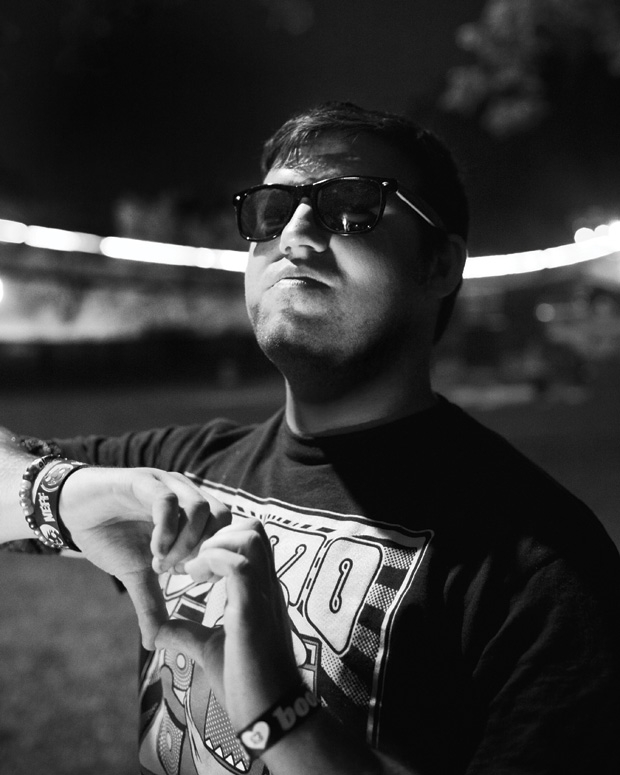 Seven hours earlier, Asaf Borger, a.k.a. Borgore, the former death-metal drummer behind this chauvinistic shtick, is drinking a Corona on his tour bus. "Dubstep DJs are geeks, guys who are used to playing with their computers," the former Israeli soldier says, gauges in his earlobes. "I was never like that. In school, I was always fucking the hottest chicks." As if on cue, one of his pole dancers emerges from the vehicle's back room in Daisy Dukes, topless except for two pasties that bear mini Borgore heads. (They're available for $10 a pair at the Nocturnal merch booth.)
This is exactly the clichéd scene one might expect from a sub-subgenre derided as brostep, once simply a pejorative for an unyieldingly aggressive form of dubstep, but now a term that has broadened into a sneering electronic-dance-music catchall for robot-butt-sex bass lines, unnecessary shirtlessness, and general dance-floor boorishness. When dubstep first emerged from South London more than a decade ago, it was an intensely atmospheric, darkly rumbling sub-bass mutation of dub reggae, drum'n'bass, and 2-step garage, turning 140-BPM tracks inside out with a judiciously disorienting use of negative space and half-time tempos. But as the music has moved to North America, artists and fans have gravitated toward the mid-range bass blast of tracks by U.K. producers Rusko and Caspa — with their percussive cussing and master-generator wub-wub-wubbing (see Caspa's remix of Rusko's "Cockney Thug").
In short, our contribution has been to make it harder and faster. And in dubstep's North American incarnation, its signature trait, by far, has been the roller-coaster-steep ascent to "the drop" (see sidebar, page 57), that death-defying moment when the bass line plummets like Zeus' anvil and proceeds to pummel the shit out of your entire being. Add fans who dance like rolling gorillas, dress like Spencer Gifts vomit, and will cheer for women to stay in the kitchen, and you can end up with bro replacing dub.
"Call my music 'brostep,' 'gorestep,' 'shitstep,' 'garbage,' I don't care — it's still the same music," says Borgore, a purposefully outrageous character, even in the scene's more aggro alleys. Nonetheless, he also contends that brostep was a natural response to the parochial notion of "true dubstep" held tightly by dancehall fanboys and dubplate chasers, soundsystem wonks who saw their precious deep-bass expositions and riddim nerdery as cerebral experiences, not physically primal ones. "People said that the new sound was gonna attract only guys and there won't be girls at shows. But, hell no! My shows — we have 50 percent chicks. We have chicks onstage naked. It's maybe," he pauses, "ho-step." (It's worth noting that his baseball hat grouses, borgore ruined dubstep, which is also the piss-taking title of a 2010 EP.)
But not only cartoonish misogynists think brostep is a myth perpetuated by snobs. "It's a very derogatory way to dismiss a whole movement of music that became very popular here," says one of dubstep's few female DJs, Reid "Speed" Rosson, the owner of Los Angeles–based Play Me Records, who came up in the late '90s spinning 2-step garage and drum'n'bass. "People who thought dubstep was cool in 2009 are terrified by the fact that 17-year-old shirtless boys are moshing at their shows, instead of all hipsters — those are the people slinging that term around."
Why, yes, this is yet another new era in American electronic dance music. Skrillex — the emo/hardcore kid turned worldwide dubstep emissary and now-inescapable pop icon — has three Grammys and a 2012 ranking on Forbes' Celebrity 100 "power" list. Vava Voom, the ninth full-length from veteran Bay Area DJ/producer Bassnectar (who now prefers the term "bass music" instead of dubstep), reached Billboard's Top 40 this spring. In the past year, dubstep has been an unavoidable advertising presence, soundtracking clips for Weetabix cereal (Mord Fustang's "A New World"); GoPro cameras (Skrillex's "Scary Monsters and Nice Sprites"); Coca-Cola (Skrillex's "Le7els" remix); Microsoft's Internet Explorer 9 (Alex Clare's "Too Close," coproduced by Major Lazer); Southern Comfort's Fiery Pepper line (Crush Effect's "Burn It Down," featuring Vokab Company). Nestlé's Willy Wonka brand even commissioned an "original" dubstep track for a Nerds commercial. Films from Red Tails to Battleship have exploited dubstep as a dramatic element, and after serving as the foundation for a Kanye West and Jay-Z Watch the Throne track, Flux Pavilion's "I Can't Stop" showed up in the KONY 2012 viral campaign. The genre even served as a comedic punch line in the Lonely Island's "Lazy Sunday 2," with Chris Parnell barking, "Dubstep!" on Saturday Night Live, as the song paused for a wubber-chicken breakdown.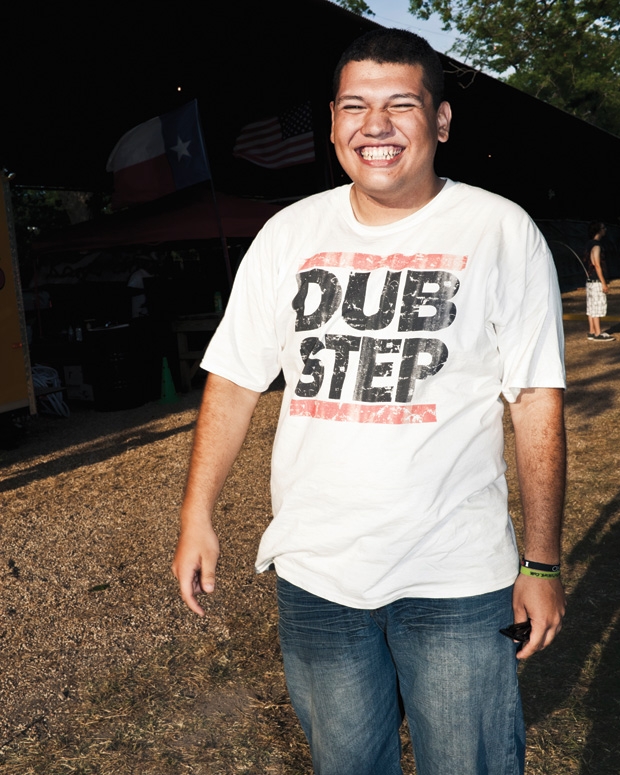 The mainstreaming of dubstep, or "dubstream," as Hipster Runoff has mocked, is tumbling down to an even younger demographic, the 14- to 19-year-old mall shoppers of the formerly goth/emo retailer Hot Topic. "Our number-one- and number-two-selling CD titles, week in and week out, are Skrillex's two EPs," says Jay Adelberg, music and music accessories buyer for 600-plus stores. The genre has performed so well that the chain stocks Borgore shirts, "I [Heart] Dubstep" wristbands, and "Sex Drugs & Dubstep" tank tops (a common sight at Nocturnal). "It's much more of a phenom than Chemical Brothers or Fatboy Slim or the Prodigy ever really were for us," admits Adelberg, who's been with the brand since 1997. "That didn't feel like a crazy wave of momentum the way this does."