SPIN's intrepid team has invaded Chicago's Grant Park, attempting to see as many of the 30 essential sets at this year's Lollapalooza as possible while avoiding the twin evils of 21st-century festivals (no, not Marilyn Manson and Rob Zombie: bad-attitude bros and foul corndogs). Our first report features legends living up to their billing and tons of big fat bass.
Also: don't miss our instructions for seeing 48 Lolla sets from home and our guide to the fest's five most wrenching set-time conflicts. And if you're feeling nostalgic, peek back at our oral history of the very first Lollapalooza.
See what you missed: our best live photos from Lollapalooza '12.
Best Never Say Die: Black Sabbath
So yeah, Bill Ward, Black Sabbath's original drummer was not part of this reunion. Yes, Ozzy is startlingly shaky onstage, allowing one wise guy nearby in the crowd to quip, "ozzteoporosis." And indeed, the group, save for the replacement drummer — backwards hat-rocking beardo Tommy Cluefetos — look like aging counts who've come down from a crumbling castle for this very special occasion. But Black Sabbath played with absolutely no cynicism. They patiently explored the slowed-up riffs of album cuts like "Behind the Wall of Sleep" and boldly stuck stalwart singles like "Snowblind" and "War Pigs" into the first hour of a nearly 120-minute set. It was a metalhead version of crowd-pleasing aimed at all the dedicated doomsters out there in the crowd, ready and willing to shriek along to massive hit "Paranoid" and cult favorite "Electric Funeral" all the same. Cluefetos' studio rat sterility has nothing on Ward's proggy precision, and it was a tad gauche when he appeared with the original band to take a bow at the end of the show, but Sabbath played a no-frills, head-down metal show that made it surprisingly easy to ignore recent infighting that initially made this reunion bittersweet. BRANDON SODERBERG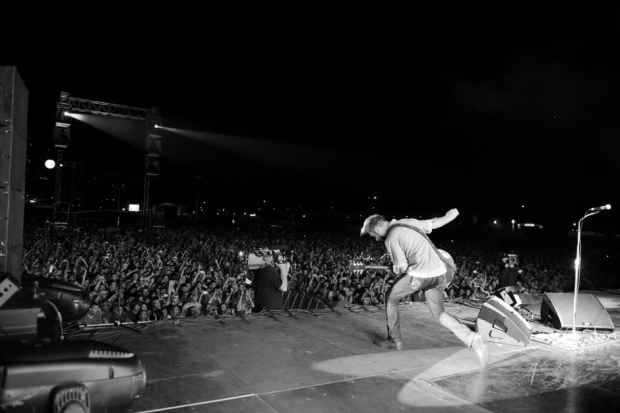 Best Incidental State Fair Vibe: Black Keys
As the Akron duo choogled their way through their boogie interludes, about a mile down the Chicago lakeshore, a Bears pre-season warm up game was ending with a fireworks finale. Between the soloing, the 150,000 strong headbanging and the pyro, the vibe was much closer to State Fair, though with that trademark eau de barn smell replaced by wafting weed. JESSICA HOPPER
Best Existential Sing-Along: Metric
The first thing Emily Haines sang during Metric's performance was, "I'm just as fucked as they say," the wounded, sort of soaring hook from "Artificial Nocturne," from this year's heady SPIN Essential Synthetica. The next song? "Youth Without Youth." The titles give you a good sense of what seemed like an almost perverse set list for a festival infected with good vibes: "Speed the Collapse," "Lost Kitten," "Empty," "Help I'm Alive." And Haines' command of the stage, bouncing around, like all of her dance moves were swiped from Kathleen Hanna in Sonic Youth's "Bull in the Heather" video, made a case for the freedoms that come with accepting just how bad things can get. Her energy and fearlessness worked as a correction to the misogynist strain of quasi-ironic graphic tees peppering the crowd. "PARTY WITH SLUTS" was mad popular, dawg; "Cool story, babe. Now go make me a sandwich" was big too. Yep! "Life will get weird or bad for you soon enough," Haines implicitly told the non-yet-humbled teens in attendance, as she bounded into "Breathing Underwater" and it's oh-fuck-we're-fucked hook of, "Is this my life?" B.S.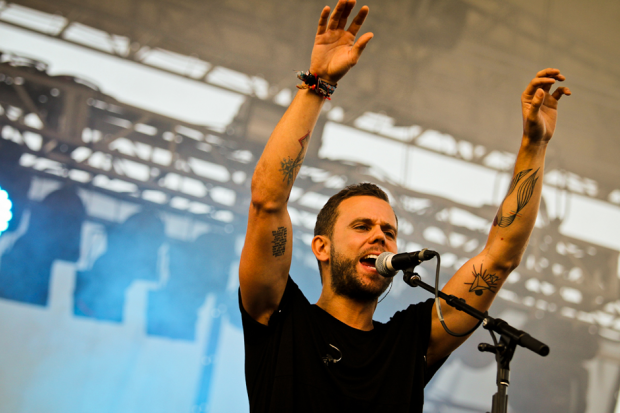 Best Overdramatic Dance Moves: M83
Though M83's set was marred by strangely too-quiet sound that diminished the group's swell new wavey thunder, the band brought their A-game moves. Frontman Anthony Gonzalez was on his knees in front of his keyboard, banging away — you half expected someone to come from the wings and throw a cape over him, James Brown style. Shouts to the percussionist who pounced around during his solos, doing a little Running Man and throwing his arms up and out with vogue ball style flair between fills. J.H.
Best Way to Cure An EDM Hater: Zedd
Listen dum dums, there's a reason people love this EDM stuff. Scoff at it, make "bro" jokes if you must, smugly contrast it with whatever hedonistic music got your blood going years ago, but EDM in IRL is addictive. Nothing else at the festival can even compete with this stuff. You hear it, it knocks you over, and later, when you wander over to another set and see some goons with guitars and you're like, "Man, what a snooze." Just arty enough rage-out DJ/producer Zedd threw Afrojack drums and all of the loping buzz of of Justice's "Waters of Nazareth" on top of his dubstep or "complextro" or whatever you'd like to call it, and then deftly movied from maximalist melanges of everything and anything "dance," to bursts of silence that lasted but a few seconds, but built enough the tension that it felt like hours. And then, a few minutes later, the crowd is sharing a lighters-up moment, singing along to the German producer's hit "Every Time the Stars Come Out," like it's "Don't Stop Believin'," which hey, it actually kind of is if you think about it. B.S.
Worst Attitude: Wale
Wale's set started almost 15 minutes late. And when he finally began, the Washington, DC MC turned Maybach Music Group non-entity continually complained about negligible volume issues with his microphone. "Turn my fuckin' mic up," he said, and then, he said it again. After that, he chanted it in the middle of "Legendary," and lobbed anti-rap accusations at the sound guy ("all the rock guys had their mics turned up…"). Once the mostly nonexistent mic issues stopped bugging him, he demanded the crowd get louder. For "Tats on My Arm," Wale proudly announced he was going get down into the crowd, on his rock'n'roll shit, but asked that there be "no pushing" and said he would "need some space." The set turned around when he focused on animal-brain rap hits, including freestyles over "Rack City" and "Make It Rain," and verses on Big Sean's "Slight Work" and Waka Flocka's "No Hands." He announced one more song, counted down from 10, told the crowd they weren't loud enough, and counted down from 10 again. The reward? His verse on Rick Ross' "Bag of Money," with pre-recorded vocals.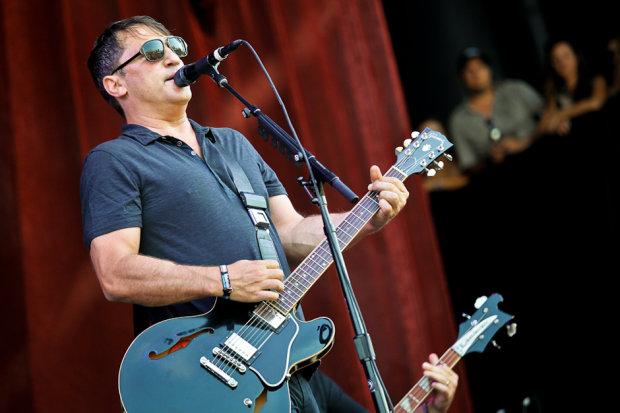 Best Effort Despite The Crowd Having No Idea Who The Hell You Are: The Afghan Whigs
The recently reunited Whigs drew a particularly small crowd for a plum 4 p.m. set on one of the main stages; the folks that were there were largely small packs of dudes who appeared to being in their forties and the few hundred teenagers in attendance who were not Bass Head rollers. Despite having amassed a crowd of about 2,000, all of six sets of hands were raised and rocking. Nevertheless the Whigs and their expanded band (three backup singers and double-duty keyboardist/cellist) played like they were headlining; frontman Greg Dulli a shade shy of "lobster" in the heat, hitting all the sour and soulful spots. Jumbotron close-ups on the crowd showed that approximately no one was singing along, but nevertheless the small crowd was buying the funked up grown-man's-emo that Dulli & Co. were selling. J.H.
Best Fulfillment of EDM Cliché: Porter Robinson
The Skrillex-approved producer doled out a set that was all the filler and cheese you expect now that EDM is big business. Robinson constantly deployed "bang bang hands" and did air-keyboard like spirit finger moves, it made you wonder if he was really doing anything on that laptop, or had merely pushed play. J.H.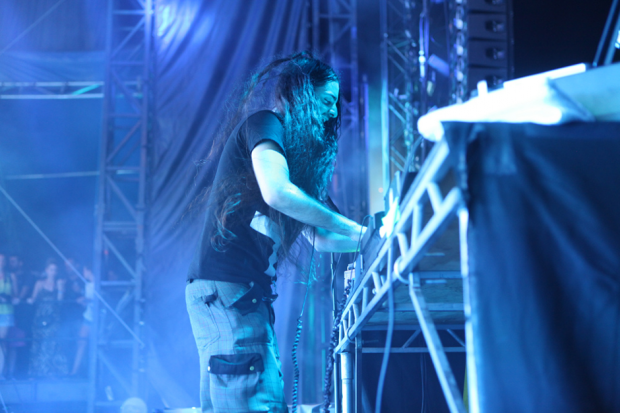 Best Earthshaking: Bassnectar
After a day of tepid and typical acts at the EDM-heavy Perry Stage, headliner Bassnectar showed the teeming neon mass the real dubstep business; sub-bass so brutal it felt like a Sandworm was going to erupt from the ground, Dune-style. Mr. Nectar's (nee Lorin Ashton) set was the platonic ideal of dubstep's possibilities; it felt fresh and considered — perhaps a testament to Ashton's pre-DJ life as a musician. Pitting thrashy cuts against progressive house perculation he rumbled us from fillings to feet with a set that was dynamic and smart—a welcome reprieve after a day too long with indistinct sets of thud-thunder. J.H.
Best Early Afternoon Psychedelic Freakout: The War on Drugs
The Google Play stage where the War On Drugs performed has plenty of shade and quite a few picnic tables. It's a festival locale that encourages sandwich-munching, napping, and passive listening. And a notable chunk of Lolla-goers exploited the area for its comforts, chilling out and actively ignoring the country-fried space rockers' rollicking smear of jangly drone, pulsing keyboards, and hey, even some harmonica. But as the set grew increasingly loose and sprawling, those who did care were visibly caught up in the gorgeous noise howling off the stage. And in the midst of a acid-damaged jam, more heads finally turned toward the stage when guitarist Adam Granduciel stepped up and sent out waves of squalling feedback, even getting down on his knees, striking a tried and true guitar hero pose. Loud cheering and even some fistpumping flared up. This was easily one of the best sets of the day, but it demanded immersion and focus. During those last few minutes, the War On Drugs won an enabled, apathetic crowd over, and even got them to embrace sheets of noise like it was a pounding dubstep drop. B.S.