Rather than let the world simply speculate through gritted teeth that his new track "Perfect Bitch" is about girlfriend Kim Kardashian, Kanye West tweeted to kill off the doubt this afternoon: "I wrote the song Perfect Bitch about Kim." Point taken! This will easily be Us Weekly's favorite song of 2012.
The last time Kanye's "bitch" inspired him to pen a song, it was My Beautiful Dark Twisted Fantasy's excellent, Aphex-sampling "Blame Game," which seemed to document West's split from Amber Rose. So while there is some hope that "Perfect Bitch" might turn out all right, everyone knows that breakup songs are insurmountably better than love letters. (Example: Bob Dylan's Blood on the Tracks.) There is also some concern here at SPIN that "Perfect Bitch" might be Kanye's Yoko moment, when his infatuation clouds his better artistic judgment and brings a screeching halt to what's undoubtedly been an amazing run by the rapper.
See how good 'Ye's run has really been: he's on our list of music's 30 best winning streaks.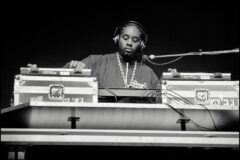 Meanwhile, the last time Kardashian inspired a musician to create something, it was a sex tape. And if you think the rest of us aren't sick of the Kardashians, revisit the moment Prince booted Kim from his stage, yelling, "Get off the stage! … Welcome 2 America."
https://youtube.com/watch?v=0aARgoUtXQ0