In 1983, Mitt Romney made a 12-hour trip in a station wagon from Boston to Ontario with his family… and "family" apparently included the family's Irish setter Seamus, who made the entire half-day journey on Romney's roof rack in a dog carrier equipped with its jerry-rigged windshield. As originally reported in the Boston Globe, Romney warned his family he would stop only at predetermined locations — though an off-schedule one occurred when the dog soiled himself — and that was that. When the subject came up again, Romney said people who care about the humane treatment of animals are "not happy that my dog likes fresh air."
Now, with Romney campaigning as the Republican presidential candidate, musicians are attempting to remind people about what a heinous act this was. New-wavers Devo (who still have one of the best band names of all time), have just released a song titled "Don't Roof Rack Me, Bro! (Seamus Unleashed)." A sampling of the lyrics include, directed at Seamus, "If he was honest and told the truth / he'd go to jail for what he did to you." Listen to the full song below.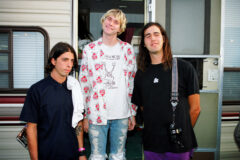 "This isn't a red-state thing or Devo stumping for Obama," bassist-vocalist Gerald Casale told Rolling Stone. "But I think any animal lover that hears the story will learn so much about the character flaw of Romney. It's just a deal-breaker about the man. My God, the world is a scary place with seven billion people. What you want in a leader is a guy with some humanity at his core. I just don't feel that Mitt does."
Casale also said that Devo are creating an iPhone app called the Crate Escape, where users can attempt to free Seamus. (We just hope Romney is a playable character.) The bassist also said that the band may play the song on its upcoming tour with Blondie. "The momentum is already building and we're going to rehearse in a week," Casale said. "[Playing it live] doesn't seem outside the realm of possibility at all."
The Seamus incident also inspired roots-music guitarist Ry Cooder to pen a song, released in February, titled "The Mutt Romney Blues," which you can hear in the video below. The song's lyrics are written from the perspective of Seamus.
https://youtube.com/watch?v=Ct3BFR6GwFY%3Fversion%3D3
But the Seamus situation isn't the only instance of musicians firing back at Romney this week. The members of Silversun Pickups have announced that their lawyer is issuing a cease-and-desist letter to the Romney campaign for using their 2009 song "Panic Switch." The campaigners apparently didn't even seek the band's permission to use the track, which is unfortunately common around campaign seasons.
"We don't like people going behind our backs, using our music without asking, and we don't like the Romney campaign," Silversun Pickups vocalist-guitarist Brian Aubert said in a statement. "We're nice, approachable people. We won't bite. Unless you're Mitt Romney! We were very close to just letting this go, because the irony was too good. While he is inadvertently playing a song that describes his whole campaign, we doubt that 'Panic Switch' really sends the message he intends." Maybe Romney should start panicking — or make like his running mate and start cranking the Rage Against the Machine.