There are few things to dislike about the Gathering of the Juggalos, the annual togetherness-fest thrown by loving adult rappers Insane Clown Posse; and none of those are reasons you've probably heard. Sleep deprivation is one (I woke up to a 6 a.m. two-car bass battle, the sound of a man puking his guts out, and numerous "whoop whoop"s); constant substance temptation is another (depending on who you are); voracious bugs and sunstroke well, those are the hazards of camping. Far more prominent are the sparkling bits of ingenuity and enterprise that turn the temporary carnival in the middle of fucking nowhere (Cave-in-Rock, Illinois) into a self-standing, self-policing, self-supporting community. Some elements of ratchet do prevail, but more noticeable the Gathering is a place where no matter who you are, you can come as-is and be accepted. Moreover, you can be more you than you can anywhere else. And nowhere is this more indicative than in the fashion of the Juggalos.
They've been stereotyped as across-the-board facepainters in the style of ICP, and indeed, many do don the black and white. But Juggalos do not live by monolithic tenets, nor is there a monolithic uniform, no code of dress everyone follows, because if there is a core value to being a Juggalo, it is this: Be yourself, and fuck what you heard. The Gathering is remarkable because it's a union of people who don't necessarily feel comfortable self-actualizing in their own communities (see: widespread persecution for ICP fandom), and they jump at this chance. So as general moods go, Juggalo fashion tends to be either celebratory and vibrant — mix-and-match multicolor palettes offset by a similarly vibrant multitude of textures — or gallows-humor funeral, ink-black T-shirts and braided hair, or even shirtless to show off tattoos.
Here, there are big chicks walking around naked, and no one is saying anything
—Katie
The Batman insignia was everywhere, from vintage '90s T-shirts to box-fresh Joker backpacks, but no one looked more dedicated than the older man riding around the fairgrounds on a razor-scooter, wearing nothing but an authentic Batman cowl, Batman speedos and, later, a matching strap-on dildo attached, an accessory that transformed him from costumed hero to role-playing fetishist. It was a non-threatening transition, however; the man was in good spirits, and gamely posed for jokey photos with two young women taking control of the dong. It was evident why Batman is popular, beyond the release-date merchandise convenience of The Dark Knight Rises. Dressing up like Batman, as well as dressing up like Insane Clown Posse, offers whimsical escape, while embodying one's best version of self.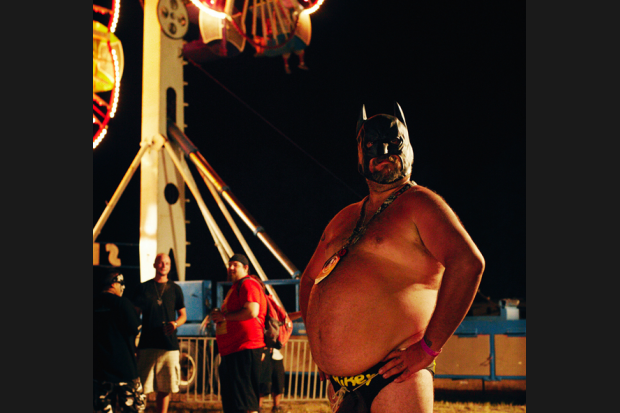 This year, Juggalos put a special emphasis on proportion: Some of the best and most interesting outfits for followed a certain silhouette that cascaded almost in an A-line, tight up top to counter the flowing fit of gauzy jerseys and wide-piped shorts hemmed below the knee. One gentleman embodied this look the best: In matching oversized khaki button-down and shorts, plus thick-soled grey FUBU sneakers, he could have walked off the set of either an old DMX video, or a recent Givenchy runway, an inspiration for Riccardo Tisci's avant urban menswear looks.
That wide-bottom proportion was flipped in the case of some women, who preferred more footwear coverage in the form of the furry plush calflets that have populated rave and mall-goth culture for decades. Often matched to their shade of hair color — vibrant magentas, cartoon-slime greens — it was a more authentic take on the aspiring-mall-goth looks that have exploded in popularity on Tumblr in recent years. By preserving these concepts in amber and bucking trends, these Juggalettes have beat the circular nature of fashion, and look more chic than many big-city women trying to cop. One popular festive beauty look that doesn't pop up much in urban centers included "synthetic dreads" — strands of the material tube crin pinned in the wearers' natural hair, giving their heads the effect of resting at the bottom of a coral reef, ingenious live tubers.
Notoriously, the Gathering is smattered with nudity — not just the "titties" promised in the long, pre-Gathering advertisements, but Full Monty women and men, wandering around the campgrounds, buying sweet tea, smoking cigarettes, watching wrestling championships, no big deal. Other than the events specifically tailored to sexuality, such as the wet T-shirt contest, nakedness at the Gathering of the Juggalos took on the sterile, nonchalant feel of a nudist colony. I saw many women who were fully naked but for a pair of flip-flops the whole weekend, yet never saw them harassed or sexualized, which is a testament to the freedom of expression the Gathering allows. Further, such brazen nudity fosters self esteem in some women. Katie, a Juggalette from Bloomington, Indiana, has been to the Gathering two years in a row, and says the experience affords her a comfortability she doesn't feel at home. "In Bloomington, people look at you weird when you wear [ICP] shit. Here, there are big chicks walking around naked, and no one is saying anything." Katie, whose body type does not conform to societal demands of thinness, once participated in the Wet T-Shirt contest, and felt proud of her body. "People don't even show their true selves but once a year, and this is it," says her boyfriend, Jed.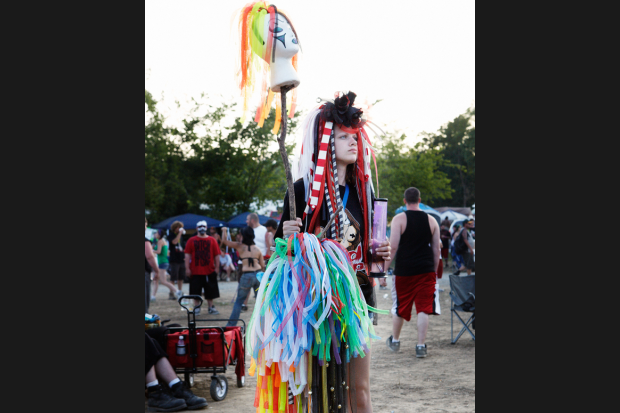 On Saturday night, when the Insane Clown Posse was set to play, people seemed to show their truest selves of all. That's when the facepaint came out, in various levels of clown-and-zombie; some Juggalos seemed inspired by the classic West Coast cholo style of Blaze Ya Dead Homie, which itself was inspired by the classic Chicano clown art that's been gracing low-rider hoods since at least the 1980s. Other Juggalos went full Clive Barker, though never without a whimsical twist: one young man standing mid-crowd wore an orange haircap covered in nubs, recalling both Hellraiser's pinhead and the cartoony plastic hair-helmets of David LaChappelle shoots and '90s Elle magazine.
Couture was never more than a coin-toss away; one woman dressed as circus leader in tiny top hat and ringmaster's jacket brought to mind Anna Piaggi, the recently deceased Italian fashion icon whose looks could translate to Juggalo style without a hitch. But even with the phantoms of couture all over the landscape, the Gathering invoked a style flexibility that even the fashion world doesn't offer. And to experience that was worth all the bass contests and AM barfers the Midwest had to offer.
See our full report from the Gathering of the Juggalos: Geto Boys, Master P, Raekwon, Danny Brown and more.
Read our definitive history of the Gathering of the Juggalos.