Bob Dylan isn't ruling out the possibility that his 35th album, Tempest, will be he his last.
According to Rolling Stone, the 71-year-old rock legend "was dismissive" of the idea that his latest work would, like Shakespeare's similarly titled The Tempest, be his final one. "Shakespeare's last play was called The Tempest," Dylan is quoted as saying. "It wasn't called just plain Tempest. The name of my record is just plain Tempest. It's two different titles." Which is exactly the type of slippery answer you'd expect from a lawyer, politician, or Bob Dylan — but you'll notice how nimbly he avoids saying one way or another whether he'll ever make another record.
Dylan did cough up a few details about his new album, out September 11 via Columbia. The 10-track set was originally supposed to be full of "specifically religious songs," he said, but ended up becoming more of an album where "anything goes and you just gotta believe it will make sense." Dylan recorded Tempest with his five-piece touring band and Los Lobos' David Hidalgo in Jackson Browne's L.A. studio. Steel guitar, violin, and accordion all reportedly join the usual rock instrumentation.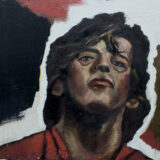 The other biggest revelations concern a 14-minute song about the Titanic, which we now know will be the title track. Dylan told Rolling Stone he borrowed from previous songs about the disaster, such as the Carter Family's "The Titanic," which inspired the melody. But a more surprising discovery is that the song makes room for a Leonard DiCaprio cameo. "Yeah, Leo," Dylan is quoted as saying. "I don't think the song would be the same without him. Or the movie." Not content to win the Presidential Medal of Freedom, these days Dylan is intent on being the King of the World.
As DiCaprio's presence makes clear, "Tempest" is far from a nonfiction account of the Titanic's sinking. "People are going to say, 'Well, it's not very truthful,'" Dylan reportedly said. "But a songwriter doesn't care about what's truthful. What he cares about is what should've happened, what could've happened. That's its own kind of truth." Somewhere, Jonah Lehrer, the writer and corporate speaker who recently resigned from the New Yorker after fabricating Dylan quotes for his book, is picking up a guitar and a moleskin notebook.