Bloc Party's frontman has something to confess. In 2011, a little over a year after Kele Okereke released his solo record, The Boxer, the singer-guitarist impishly suggested he was worried about being given the axe by his bandmates Russell Lissack (guitar), Gordon Moakes (bass) and Matt Tong (drums), after he randomly ran into them outside of a New York City rehearsal space. "I don't really know what's going on," Okereke said at the time. "We haven't really spoken recently and I'm a bit too scared to ask." This, folks, is what magicians call misdirection. "We were making a record, but we weren't really letting anyone know," Okereke says now, speaking on the phone from a tour stop in Honolulu, Hawaii. "I was just joking and it kind of was taken out of context and became this huge story which was quite funny." Now with the impending August 21 release of their fourth studio album — straightforwardly titled Four — the band is ready to come clean.
"We weren't really taking it very seriously but then it started to look really serious and we knew that we had to clarify that I obviously hadn't been fired," Okereke says of the bait-and-switch. "It was just me being a naughty boy." To help quell fans' anxieties, band posted a picture of themselves illustrated like characters from The Simpsons with the caption, "Bloc Party is Still Bloc Party . . . see you soon." But why all the tomfoolery in the first place?
Chalk it up to exhaustion. After a long, grueling tour in support of their last album, 2008's Intimacy, the band decided to give themselves a year off from Bloc Party. While the members did pursue other projects — Moakes started the crunchy Young Legionnaire, and Lissack toured with Ash — they stuck to their goal of reuniting and got back together around Christmas in 2010.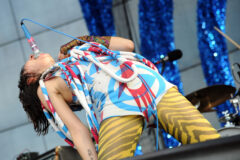 Four — the band's first album on Frenchkiss, with whom they signed last March — shows sterling progress from the lovelorn Intimacy. Bloc Party have always been able to push post-punk from its angular fundamentals into something more danceable territory, but the new LP finds Kele and Co. forging into tougher, live-in-the-studio territory, particularly on opener, "So He Begins to Lie." "[Writing as a group] was one of the premises for us getting back together," offers Okereke. "We wrote all of it pretty much on the spot in the rehearsal studio. Everything just came completely from the air once we were together." In addition to that urgency, Four also includes some of the band's gentlest tracks to date. "Day Four" is nicely downy, but it is "Real Talk" (not a R. Kelly cover) that's the standout. The song is a jangly, folkish love confessional, and the one that Okereke considers his favorite because "it's very unfussy."
Keeping it simple is the mantra going forward for the band, who hit Lollapalooza this weekend as part of its current tour. In an effort to avoid burn out, no leg of the run will last more than three weeks. "To circumvent what happened last time," says a wary Okereke, "we're going to have to be a lot more sensible about how we tour and that we leave space in between the shows so we have a semblance of a normal life again." Anything else, he continues jokingly, and "I think we'd want to hate crime each other." With this band, though, that's the kind of thing that might be a sign of something good to come.