With nowhere else to go, she moved to Montreal. "I went up there with $75 and a train ticket, nothing." Michael DeFreitas let her sleep on his couch. One cold, misty day that summer, they shot a video for "212" — a song she'd sent, in vain, to XL and Russell, to Willinger and Beck, to all the people who'd once been interested but no longer were. She stayed in Montreal until she wore out her welcome and her visa; DeFreitas drove her back down to New York, gave her $900, turned around, and went home.
E-mail DeFreitas about Banks now and here's what you'll get back: "It's a bit of a sore spot for me. She's a talented kid. I wish her the best."
At Disneyland, we meet our guide, Ronnie. She's wearing a plaid Swiss mountaineer's vest, a blue pleated skirt, and a red ribbon in her hair. She says that her particular niche as a Disneyland VIP guide is "rap and R&B." Drake was
here recently; Ronnie says it was cute, the way he was nervous around the roller coasters. Ronnie has never heard of Azealia Banks.
We walk past horses pulling carts of tourists on rails, past Revolutionary War villages and Western-themed towns heavy with inorganic scrub grass. We walk past a sign that says: frontierland/fantasyland, with an arrow pointing each way.
For lunch, Ronnie leads us to the Big Thunder Ranch Barbecue. As our meal arrives, someone makes a joke about how they're going to "recycle" our bucket of food when we're done. Banks says they used to do exactly that at a jazz club in Manhattan, back when she worked in the club's gift shop.
I look at her, intrigued: When was that? We are in the California sunshine and New York seems very far away. "Uh…that was September," she says. Nine months ago.
Later, she tells me that after DeFreitas drove her back to the city, she lived in Williamsburg for a bit, then moved back in with her mother. She sold key chains at the jazz club in Greenwich Village and danced at a Queens strip club. "That's when I was really depressed: I don't have a manager, I don't have a boyfriend, I don't have any friends, I don't have any money. Here I am working at the strip club, trying not to say the wrong thing and get into fights with these girls who don't give a shit."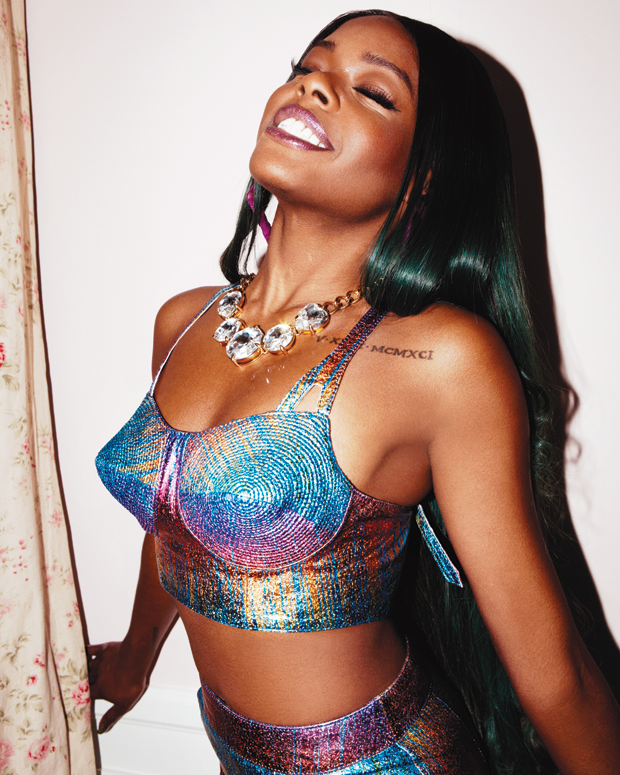 This is where the timeline starts to gets blurry — Banks hasn't had time to sort it out yet. Maybe she's worried that she doesn't know how it ends. At some point, the "212" footage she'd shot up in Montreal got edited into a video and put on YouTube. A version of "212" reached the BBC's Nick Grimshaw, who made it "Record of the Week" on his influential Radio 1 show. That same week, Banks played POP Montreal, opening for Kid Sister. Shortly after, Banks was flown to Paris to meet Adele's producer, Paul Epworth.
In September and October, she lived out of hotels, being courted by Sony, Universal, Interscope, Def Jam, and Kanye West. Ron Laffitte, who has worked with Morrissey and Pharrell, came in to manage Banks for a while. Troy Carter, Lady Gaga's manager, came and left as well.
Eventually, Banks signed to Interscope. Of all the people chasing her, "Jimmy" — Iovine, the label's chairman — was her favorite. The A&R who brought her in, Larry Jackson, an executive vice president at the label, says Interscope signed Banks for who she was, rather than for what they thought she could be. "The radio is littered with artists who are all endorsed by other artists," Jackson says. "All that's now just become the formula route to success. And she wasn't really interested in that. I found that to be extremely intriguing."
Now Banks is in L.A., trying to make all the noise actually mean something. She won't talk much about her debut album, but the producers are pretty much the same guys she's been collaborating with all along: Machinedrum, Hudson Mohawke, Drums of Death, Paul Epworth, Lone. There are, as yet, no concessions to the pop world: No beats by Timbaland, no verses from Kanye, no wacky team-ups with Bruno Mars. "We've been having those conversations," Jackson says. "But at the same time, we're not looking to recruit some producer who's gonna turn this into, like, EDM."
Banks says, "Like, if it ain't broke, don't fix it, you know?"
Whether Iovine will agree when the record reaches his office is another matter. By June, there is the vague feeling that the project is in flux. Banks is without a manager for most of the month, then seems to find a good fit with Seth Friedman, an associate of will.i.am.
The album, which Banks is presently calling Broke With Expensive Taste, was supposed to come out sometime in September or October, but Banks and her label were also thinking about November, or even February of 2013. "I'd have loved for the album to have come out yesterday," Jackson says. "But there are just necessary steps that you can't skip." I ask Banks if working on the record feels any different from working on her two free releases.
"Yes!" she says. "It's your one chance. Like, fuck. It's real stressful and I'm real anxious and I'm real stressed. To be 100 percent honest with you, I'm real fucking nervous. It's almost to the point where it makes me want to cry."
So you feel like this is your one chance? Because you sort of already had a chance before.
"I know. That's why it means even more, you know?"
We get on the Indiana Jones ride. Banks screams and drums her cowboy boots on the floor of the Jeep that lifts us up and around the track. It's the first time since I've met her that she's really seemed like a kid. She and her sister and her friends pose in front of an ersatz castle. We don't do the Little Mermaid ride.
We move through the gate, head for the car. Before we leave, Banks says she wants to go to a Target nearby, to pick up some things for the rental in Bel Air, which came fully stocked but not with the right things. Inside the store, I follow Banks through the air-conditioned aisles as she pulls items from the shelf: cushiony blue bathroom towels, turquoise sheets with little white circles, a tan quilt, two down pillows. She holds up a pair of soft gray pajama pants — "The thing is," she says, "I really spend all my time in the house" — and it's these same pants she's wearing when I visit her at home the following day, and she tells me the other half of the "212" story, about how she wrote it and why.
"'212,' it came out of a place of desperation," she says. "But it also came out of a place of anger. It was like, 'Fuck all y'all. I'm the best bitch here.' It's about the journey to fame and stardom. It starts out and this girl, she's like, 'Hey, I can be the answer.' She's real ambitious and she's like, 'Yo, I'm here. I can do this. All the same shit that you got these bitches doing, I could do.'?"
Banks looks out at her new view of Los Angeles, past the telescope, and the big picture window, and the pool outside. "This girl, she's like, 'I just want to be a part of the life.'?"
You're reading our September/October "Look" cover story: Order this issue right now!