If Banks has a signature, it's taking sounds that have traditionally existed outside of hip-hop — anxious, glitchy dance music from her friend and former DJ, Machinedrum; London rave-house from Drums of Death and Lone; glossy Paul Epworth–produced pop — and mating them with a long Harlem tradition of virtuoso, word-drunk alliteration. "Jumanji" sounds like something Banks' fellow Harlemites the Diplomats might have put out in 2005; it's partially produced by Hudson Mohawke, who also had a hand in making Kanye West's "Mercy." The hardheaded Yonkers rapper Styles P guests on "Nathan," picking his way across a shrill Drums of Death beat. In 2012, Banks makes her collaborators bend to her.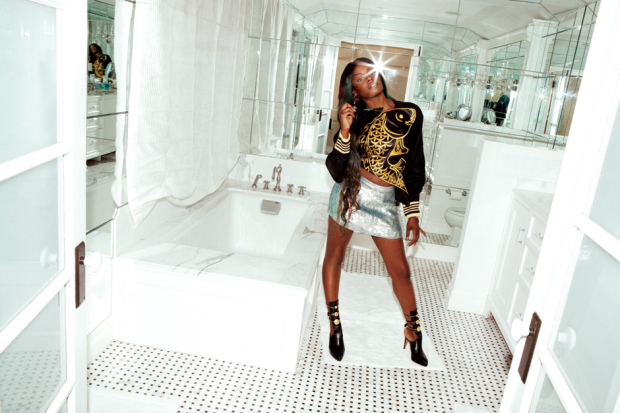 "Just saying now, if somebody throws some shit onstage, I'm walking off," she warns everyone in the van. "I didn't come up in hip-hop. I don't deal with that shit." She talks nonstop on the Manhattan side of the tunnel but falls quiet when we emerge in New Jersey, MetLife Stadium rising before us.
To Banks' left, one of her backup dancers applies makeup using a Mickey Mouse–shaped compact, adjusting the fake mustache glued to her upper lip, putting on lipstick, patting down her gelled-back hair. Banks' other dancer is male; he's also wearing a fake mustache, plus a black cowboy hat, black eye makeup, and a jacket that stops just short of his midriff. The seat of his tan pants is cut out. When we arrive at the stadium and it's his turn to get patted down by VIP security, he pirouettes gracefully for a burly guard. The guard steps back, lifts his hands high in the air. The dancers pass through, untouched.
In addition to Rick Ross, Nicki Minaj is also booked to play Summer Jam. But from the same stage where Banks will perform any minute now, HOT 97 DJ Peter Rosenberg makes an impromptu address to the crowd: "I see the real hip-hop heads sprinkled in here. I see them. I know there are some chicks here waiting to sing 'Starships' later" — Minaj's triple-platinum single — "I'm not talking to y'all right now. I'm here to talk about real hip-hop." Minaj, unimpressed by Rosenberg's "real" talk, leaves the event without performing.
Banks does not leave, but her set is a low moment: The sound is poor, the audience mystified, the reception blank. She walks off the stage close to tears. Like Minaj, Banks is a skilled rapper who is uninterested in pandering to the traditional audience for skilled rappers. Both women — Banks resists the comparison, but it is inevitable — are attempting something bigger, or at least something different, something that on this particular day is going over very badly in the parking lot of a football stadium.
I feel like the rest of the music world has moved with the culture. The hip-hop world is moving, too, but it's moving in parts. The core of it is still stuck, you know
—Azealia Banks
A few days later, Banks takes to her Tumblr to declare herself a "vocalist" and to disassociate herself from the "rap game." "I feel like the rest of the music world has moved with the culture," she'll tell me in L.A. "The hip-hop world is moving, too, but it's moving in parts. The core of it is still stuck, you know?"
The Mermaid Ball goes better. They know who Azealia Banks is. She arrives after 10 p.m., emerging from the van with starfish pasties over her otherwise bare breasts and matching barrettes in her hair, a shimmering green mermaid tail, clunky heels studded with seashells. Her sister has helped deck out the Bowery Ballroom in a fantasia of inflatable sea horses and aquamarine light. Cheers rise up when Banks enters through the venue's side doors.
She disappears backstage, emerging a while later in a bright Wonder Woman costume: half red, half blue, the numbers 212 spelled out in glittery letters down her left arm. Skipping out onstage, she asks, "How many of y'all are fucking tonight?" Designer Alexander Wang, music exec Steve Stoute, Solange Knowles, a gang of journalists, fans, and dozens of adults dressed like mermaids fill the sold-out room.
She closes with "212." Balloons drop from the ceiling. A confetti cannon sprays the crowd, which is just then voicing the song's bridge back at her: "Ayo, I heard you're riding with the same tall, tall tale / Telling them you made some / Saying you're grindin', but you ain't goin' nowhere / Why you procrastinate, girl? / You got a lot, but you just waste all yourself / They'll forget your name soon / And won't nobody be to blame but yourself, yeah."
Later, in L.A., Banks will tell me that she wrote "212" in April of 2011, while living in a $1,200-a-month apartment on Dyckman Street, in the Inwood neighborhood, north of Harlem, where she couldn't pay her rent. The person she is talking to in that bridge is herself. The name she was worried about people forgetting was her own.
You're reading our September/October "Look" cover story: Order this issue right now!