The invention of Azealia Banks, the Harlem-born rapper, actress, singer, dancer, and — maybe, someday — bona fide music-industry star, took place on November 9, 2008. Some might say it happened earlier.
When she was a kid, Banks danced at block parties, patterning her steps after videos by Bow Wow, Lil' Romeo, and B2K. Later she starred in plays. At the Fiorello H. LaGuardia High School of Music & Art and Performing Arts — the same school that Robert De Niro, Liza Minnelli, and Nicki Minaj attended — an agent saw her act in a play called City of Angels and took her on as a client, sending her on auditions for TBS, Nickelodeon, and Law & Order. In a casting-office drawer somewhere are dusty headshots and tapes of those auditions: the discarded evidence of role after role that she never got.
But the Azealia Banks we know now — the artist who is signed to a major label, Interscope, and is the new face of a major fashion line by Alexander Wang; the one who, when she's not on the road doing shows, is in Los Angeles, waking up every day, trying to write something that will win her a Grammy, or at least please the executives at her record company enough to release it — could be said to have come into the world on November 9, 2008, when she created a MySpace page and introduced herself. She was 17 years old: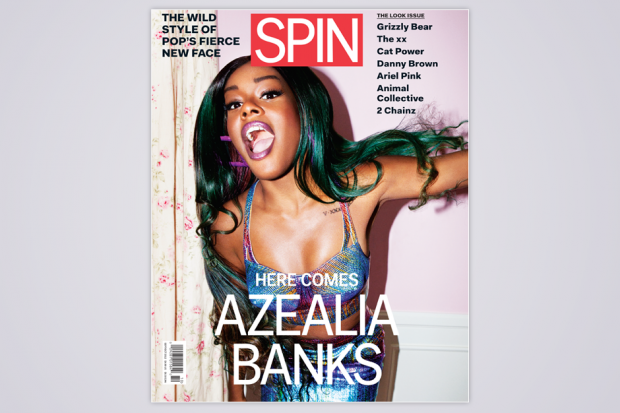 Waddup. So… this is my first blog up on this music page of mine. I'm trying to get it together… so i'm sure no one will really take it seriously till there are a couple of things up here… I got this tho. Hello All! My Name is Azealia Banks.
Nearly four years later, on a bright June day in Los Angeles, in a four-bedroom Bel Air house with views of the city and a living room with glass windows, she can remember all of it. Each step between that day and now.
She can remember the apartment on 152nd Street between Amsterdam and Broadway, where she says that she and her mother used to get into fistfights. "She would go in the streets and talk shit about me," says Banks. "I would go to school and go to theater camp. Then I'd come on the block and everyone would know about my fight with my mom." She can remember the way the funeral home looked when her father died — she was two — and how she was too scared to kiss his body farewell. "My mother was like, 'Give him a kiss.' I didn't get it when he died. I was just, 'He's sleeping, what do you mean?'?"
See Azealia Banks' SPIN cover shoot now.
In Bel Air, her feet curled beneath her on a white leather sofa, long green hair up in a bandana, she can remember the first bars of the first song she wrote, "Hood Bitch." She can rap it again like it was yesterday: "I smoke and get high like Project Pat / Leave a nigga in the trap like a project rat…"
For the most part, Azealia Banks has never been an amateur at much of anything. When she started rapping, she was immediately better than the boyfriend she was trying to impress. She was better than her boyfriend's friends. To this day, people who knew her then talk about how eerily good she was at all of it, before she'd even practiced, before there was a notion she might get paid for doing it.
The only thing you ever could accuse her of being bad at relates to her inability — so far — to become a star for the world the way she has always been to herself and to those people who knew her when she first started trying, which in one very real and important sense was on November 9, 2008, although lately she's been taking it back even further, releasing a summery EP this past May called 1991, named for the year she was born.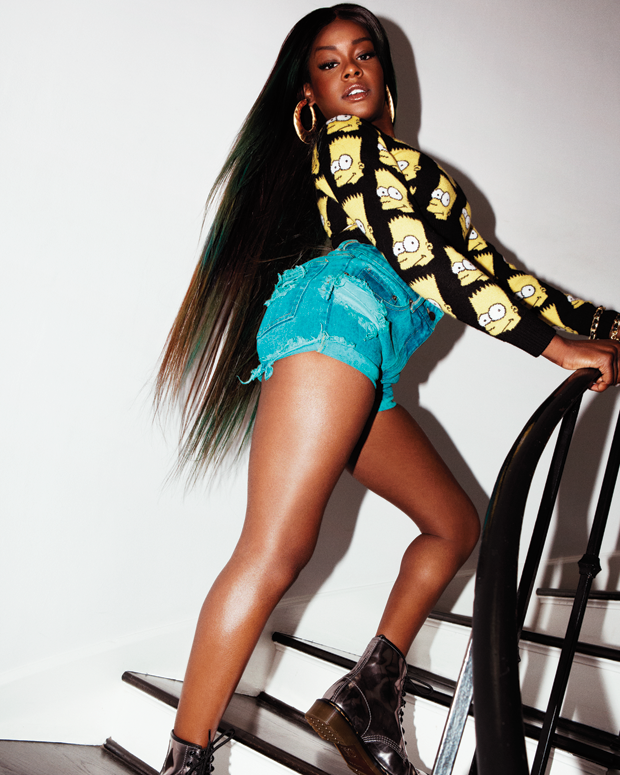 It's early June and 1991 is playing in the van as we glide through heavy traffic on Manhattan's west side, heading to East Rutherford, New Jersey, and Summer Jam, the annual concert by local rap radio station HOT 97, where Banks has been invited to perform. In a few weeks, I'll visit her in L.A. and we'll talk about New York, a city she'll say she has no intention of living in again. But at the moment, the van is inching toward New Jersey and Banks raps along to the sound of her own voice: Why you do that do that do do that that that? / 1-9-9-1, my time has come / Oh nah nah ma, your time is done.
It's the first day we've met and she's somewhere between shy and standoffish. When I showed up at her hotel that morning, she politely invited me to come along: "Just don't ask me a million questions."
This year's Summer Jam is at MetLife Stadium, where the Giants and Jets play, and Banks' set time is early, out on a side stage in the parking lot. From one perspective, this is about right: "212," her single that has more than 24 million views on YouTube — at least one of those views belonging to Karl Lagerfeld, who invited Banks to perform the song at his house in Paris this past January — recently cracked HOT 97's rotation, albeit very occasionally. Banks is a New York–born rapper who, at 21, has been asked to play one of the most revered and significant events in the history of New York rap.
From another perspective, her inclusion on the Summer Jam bill is hard to fathom. Later that same day, Banks will host and perform at Manhattan's Bowery Ballroom for the Mermaid Ball, a drag-competition-cum-showcase of her own invention for a series of acts — House of LaDosha, Tigga Calore, Maluca — who, in the long, languorous drift of time, will never be played on a commercial rap radio station like HOT 97. Rick Ross is headlining Summer Jam. Right around the time he is scheduled to take the stage and perform his thundering "B.M.F." — "I think I'm Big Meech, Larry Hoover?/ Whippin' work, hallelujah" — House of LaDosha are due at Mermaid Ball, where the 6'11" Cunty Crawford LaDosha will join with partner Dosha Devastation to lead the crowd in a modified version of the same song: "I think I'm Kate Moss, Naomi Campbell / Up in French Vogue, you know the pose."
Where Azealia Banks belongs on this continuum — between stadium bombast and downtown ballroom, between carefully cultivated stardom and something smaller and potentially messier, something that on this day will eventually involve large men dressed up as mermaids — is still being decided. It is a decision, like the precise character of the songs she will spend the summer waking up to write in a rented Bel Air four-bedroom, that she has yet to unlock. A decision that — on this particular Sunday, the van now dipping into the Lincoln Tunnel — she is ignoring. Or, at least, pretending to ignore.
When she was younger, she'd write raps about "guns and weed and whatever — stupid shit." She made mash-ups, too, rapping over Ladytron's "Seventeen," covering Interpol's "Slow Hands," sampling Peter Bjorn and John. One of her first songs was called "F.L.A.P.S.," for Fuck Like a Porn Star. "I'm all like, 'Fuck me, fuck me, fuck me,'" she remembers. "It was so, so bad."
The sexual flamboyance of those years remains — "I guess that cunt getting eaten," she boasts on "212," and her legion of fans call themselves "kunts" — but her recent songs move in other directions. (Banks dates both guys and girls, and is bored with the question.) "Van Vogue," off 1991, nods to '80s New York ball culture, which, like Banks herself, began in Harlem and moved downtown. "Fuck Up the Fun," produced by Diplo, on July's Fantasea mixtape, is basically a Dutch house record.
You're reading our September/October "Look" cover story: Order this issue right now!