With rockers from Tommy Lee to Korn's Jonathan Davis dabbling in electronic music, it's not that surprising that Flea has a little sideline in beatmaking himself. However, given that the Red Hot Chili Peppers' bassist is working alongside Radiohead's Thom Yorke and producer Nigel Godrich in the cyber-supergroup Atoms for Peace, it's a no-brainer that their output is a damn sight more cerebral than what his hammier, EDM-ier peers have come up with.
Atoms for Peace isn't actually a new thing — the band came together in 2009 to perform Yorke's The Eraser album in Los Angeles, and then toured the U.S. in 2010 — but until now, there's been scant recorded evidence. Finally, in August, Modeselektor's 50 Weapons imprint will release the group's debut. Well, sort of: The A-side features Atoms for Peace remixing Other Lives, a five-piece act from Stillwater, Oklahoma, that has toured with Bon Iver; on the B-side, they remix their own (unreleased) song "Other Side." (For a mere two tracks, it requires a surprising amount of puzzling over — or an unsurprising amount, given that this is Thom Yorke we're dealing with.)
Both songs are heavy on gooey, analog textures and restrained grooves built from clicks and muted drums. "Tamer Animals," the Other Lives remix, is part emo and part IDM, while "Other Side (Stuck Together Remix)" sounds not unlike Four Tet's recent forays onto the dance floor. That shouldn't be surprising, given that Yorke teamed up with Four Tet and Burial last year for "Ego"/"Mirror," a limited-run 12-inch on Four Tet's Text Records. As for how this turned up on a small label out of Berlin, Yorke appeared on Modeselektor's 2011 album Monkeytown, and they returned the favor with a remix of Radiohead's "Good Evening Mrs. Magpie." For such a high-profile act, it's remarkably, refreshingly low-key.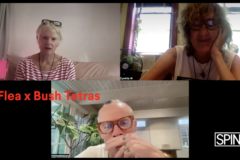 Listen to Other Lives' "Tamer Animals (Atoms for Peace Remix)" here; the two-track single comes out August 3, digitally and on vinyl. Pre-order here.