Simultaneously, around 2008, Mike Paradinas, owner of the long-running label Planet Mu (and a prime innovator of so-called "intelligent dance music" in the mid-'90s under the name µ-Ziq) stumbled onto some YouTube videos, and eventually located the producers soundtracking the dance battles he saw. In 2010, though he'd never set foot in Chicago, Paradinas assembled Bangs & Works, now a two-volume footwork compilation (for which I wrote the liner notes), and cut solo deals for releases by Traxman, DJ Rashad (Itz Not Rite and Ghettoteknitianz EPs), DJ Roc (The Crack Capone album), and DJ Nate (Da Trak Genious album). Once Mu, a cutting-edge electronic-music label, endorsed footwork, there was exponentially more interest from the media, and some hometown artists felt uneasy about outsiders being seen as authorities. "Planet Mu has been nothing but supportive of the community," says DJ Rashad, "but at the same time, there's so much shit going on in Chicago, you can't dictate what's hot and what's not when you're not actually in the city."
Still, Mu's support has lifted footwork's finest out of their neighborhoods and into European clubs and festivals, where they've been exposed to a variety of artists and genres — jungle, dubstep, grime. And over the past two years, there has been an explosion of hybrid footwork tracks by adventurous U.K. producers (Girl Unit, Ikonika, and Ramadanman, among others), as well as by kids in New York and San Francisco; even Bellingham, Washington.
Hailing from the land of evergreens and fine caffeine, 21-year-old producer Simon Ho, a.k.a. Cedaa, has artfully harnessed the sparks flying from the collision of the Midwest and U.K. He first heard ghetto-house tracks in a friend's car in 2008, and was immediately attracted to the rawness of the rhythms, reminding him of his youth as a snare-drum player in the school marching band. Later, after discovering the work of U.K. producers like Bok Bok and the Night Slugs label roster, he noticed those producers were integrating the Chicago sound. He began experimenting with sparse 808 percussion in his own tracks, which were reminiscent of U.K. garage and U.K. funky, creating a cold, atmospheric, yet heavily rhythmic sound.
"At first, it was more or less just miscellaneous electronic music," Ho says of his early attempts at production. "My take on juke and footwork was the first genre that I really became attached to." Much to his dismay, the music he's gone on to create as Cedaa has been termed "future juke." "When I make something at, like, 130 [bpm] that doesn't really have anything to do with footwork, reviewers will still say how footwork influenced the track," he explains, sounding more gratified to be asso-ciated with the Chicago scene than frustrated about being pigeonholed.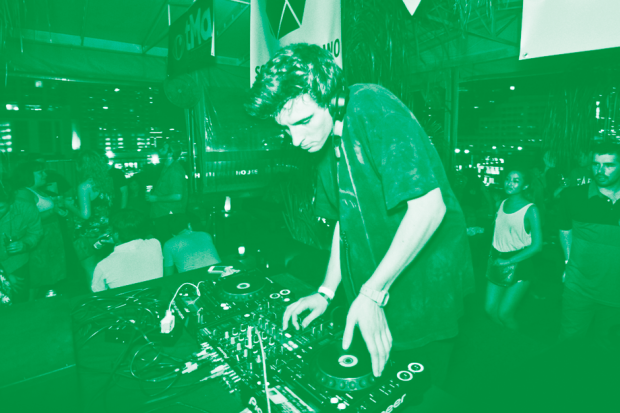 Meanwhile, back in footwork's city of origin, where the music is more than just an influence, 21-year-old DJ Manny is viewed as the next generation's brightest star. Known for his sweetly menacing tracks, which attach saccharine melodies to a relentless spray of percussion, Manny will flip an '80s R&B tune like Atlantic Starr's "Send for Me" into a haunting anti–love song, play said track out at a battle an hour later, then jump into the circle and burn anyone who challenges him. A quiet, shy character who doesn't seem like much of a threat, Manny is not only footwork's most exciting young producer, but one of the best dancers in Chicago of his generation.
Introduced to dancing by his older brother, Manny started attending parties when he was in middle school, frequenting footwork hot spots (Markham Roller Rink, Dolton Expo, 5th City) where older artists such as DJ PJ, RP Boo, and DJ Clent were regulars. His floor skills gained him membership in a handful of local dance crews, and when he decided to try DJ'ing and producing in high school, he was taken in by Rashad and Spinn, who at the time had just founded their own group, the Ghettoteknitianz. He spent time in Spinn's basement studio (the "Track Factory"), learning how to use new equipment (an Akai MPC, various keyboards) and develop as a producer. "I've known Manny since he was ten years old; he's like a little brother to me," says Rashad. "Manny's just that dude. He's got it all. I gotta say, as far as our crew goes, Manny is the future for us."
Still, beyond the newest game-changing artist or sound, perhaps the key factor in footwork's future may be how the scene is portrayed and how the music is disseminated. While not touring Europe, Rashad and Spinn, along with their New York–based manager J-Cush, are preparing to launch Chicago's own footwork label, Lit City.
"Basically, we just want to represent things the right way, and keep people hip to the streets, to the real shit," explains Rashad. The label's main focus will be the Ghettoteknitianz crew (which also includes Boylan, a high school chemistry teacher by day and producer by night), though it may also release tracks by overseas friends the DJs have made on tour. Rashad and Spinn's recent mixtape, We Trippy Mane, which mostly consists of forthcoming Lit City tracks, features classic soul and disco edits, plus a collaboration with Addison Groove. The first official Lit City release, Rashad's TEKLIFE: Vol. 1, Welcome to the Chi, came out in June, and proves that while the producer's musical upbringing was Chicago-centric, his ears have been wide open during his travels abroad. TEKLIFE pumps the hood chants, but there are also jungle breaks and even a remix of Robbie Tronco's classic vogue hit "Walk for Me." It's almost as if you can hear footwork making a complete circle, absorbing new, unexpected influences and throwing them back at the outside world (now intently watching from afar). The results are fresh, complex, and still peerless.
This story originally appeared in the July/August 2012 Outside Issue of SPIN, which you can buy here now.