What does a seminal pop record get for its 25th birthday when it's already receiving an elaborate box set and a billion soda cans? Clearly, a Spike Lee-directed documentary. Michael Jackson's Bad is the focus of a film by the late singer's friend, whose movie about that 1985-1987 era, as the Stool Pigeon reports (via THR), is already in post-production. It's the second time Lee has worked with old Jackson footage since the King of Pop's death in June 2009, having already directed the video for "This Is It."
"We have footage in this documentary that no one's ever seen, stuff that Michael shot himself, behind-the-scenes stuff," Lee shared in an interview earlier this week. "We had complete access to the vaults of Michael Jackson." Those are the vaults, for the record, that birthed the rather dehumanizing posthumous Michael record back at the end of 2010.
Lee added that while only 11 tracks appear on Bad, he heard some of the 60-plus demos recorded for it. Jackson biographer Joseph Vogel confirmed this recently, saying that at one point the singer considered making Bad a three-disc set. So far, the world has heard at least one of those demos, for "Don't Be Messin' 'Round"; the song was released as a Walmart-only CD single last month (its existence has since been scrubbed from YouTube). Whether or not the Bad demos also included some of the unreleased tracks that got leaked during the Sony Playstation hack last year remains unknown, though Lee could probably answer that question himself.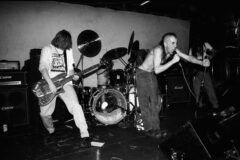 The as-yet-untitled film will feature footage that displays the King of Pop's "personal side" — "He had a great sense of humor, and he was funny, so you'll see a lot of that stuff" — and will include interviews with artists influenced by Jackson as well as those who worked with him on the record (Kanye West, Mariah Carey, Sheryl Crow and Epic chair L.A. Reid will all appear). It's slated for release "later this year"; the album reissue is due September 18. While the loose ends are being tied up with the film, Lee will once again host his annual MJ tribute at Brooklyn's Prospect Park Bandshell later this summer, on August 25. Watch his "This is It" clip:
https://player.vimeo.com/video/8582727