Throughout their world tour supporting I'm With You over the past few months, the Red Hot Chili Peppers have promised to shower fans with 18 previously unreleased singles before the end of the year. In an interview with Billboard drummer Chad Smith revealed the tracks will arrive as digital downloads and vinyl seven-inches because the band was passionate about getting the music directly to fans as quickly as possible.
"We just wanted them to come out because we just really like them," he said, noting he didn't want them to "get lost." If the band hadn't pushed for the singles' release, they "would've waited for the Warner Bros. box set in, like, 2020, if there's even a record company around then," he added. "I'm glad they're going to see the light of day because it's an important part of the band and what we were doing at the time."
The B-side to the first single "Strange Man," which will arrive August 14, is "Long Progression," which Smith says is a "flowing, kind of mid-tempo funk," and nearly replaced "Goodbye Hooray" on I'm With You. He found it "hard to explain" what the A-side sounds like, but some kind of "mid-tempo funk" might be a good guess.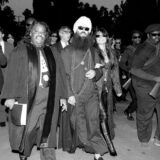 Smith also said that while frontman Anthony Kiedis was recovering from foot surgery earlier this year, the rest of the gang was busy jamming and as a result "may have a head start" on the follow-up to I'm With You, which they'll likely begin once their tour wraps up next year, so fans may not have to wait another long five years for a new record.
The subsequent singles, "Magpies" (b/w "Victorian Machinery") and "Never Is a Long Time" (b/w "Love of Your Life") will arrive on September 11 and October 2, respectively. Meanwhile, check out the band's most recent offering, a poignant video companion to "Brendan's Death Song," their tribute to the late punk icon and SPIN contributor Brendan Mullen, below.