Sherman Hemsley, best known for portraying George Jefferson on the television show The Jeffersons, died earlier this week. Hemsley twisted a white-created cipher of a character into something closer to a a living, breathing black dude. The ideals of socially-aware TV producer Norman Lear were lofty (make working-class TV that wrestled with real-world issues), and seem downright shocking now that TV is depressingly pleasant (by the way, you should also Google Eric Monte and read up on a guy who was crucial to those shows and kind of got screwed), but Hemsley injected a character that was often simplified as "black Archie Bunker" with a three-dimensional personality that was warm, hilarious, and often, very unlikable. He was both a symbol of "boot strap" idealism actually working out, and a parody of the self-importance that often comes with "doing it all on your own." The tension of the show and the seed for much of its comedy, was George navigating different worlds and usually cracking, either because his gauche buddies from the neighborhood showed up and did some dumb stuff, or because he was surrounded by these hipster honkies who thought they got it and totally wanted to be down. Though Hemsley's direct connection to hip-hop is limited to a Jurassic 5 Quality Control interlude, and a cameo in the video for Nelly's The Jeffersons theme-interpolating "Batter Up," the number of rap songs that refer to The Jeffersons' upward mobility as a shared goal are countless (and shout-out to the always-grousing Beanie Sigel for holding George's success against him on "Remember Them Days"). There are almost as many raps that refer to the George Jefferson's swaggering strut (Jay-Z on "Nigga Please": "Just George Jefferson strollin' on em'"), itself a physical manifestation of shittin'-on-you-crumbs success. Without George Jefferson, a character from a '70s sitcom, played by an actor into progressive rock, rap music would be very different.
8Ball "Lucky's Theme"
Over a beat that builds like the first two minutes of Fleetwood Mac's "Tusk" if it were remixed by Late Registration-era Kanye, 8ball gets his Donald Goines on: "Come home tired from a long trip / My feet hurt because a nigga pulling double shifts / Rice and peas and some brown-stewed chicken cooking / Eat a plate, smoke a blunt, and fuck a little pussy / Fell asleep on the floor in my girl's arms / In my dreams, dogs barking and the house alarm / Get louder, hold up, this shit's for real / I wake up looking for my pistol, then I see my girl / Not here, as I run into the living room / But I was too late, she was on her knees on the floor / Banger to her head, them niggas told me not to move / I'm still naked, with no weapon, what was I to do? / One nigga grabbed my girl and took her to the bedroom / The other nigga told me y'all gonna be dead soon / If you don't tell me where the cash and the work at / I told him in the garage, in that all-white 'vette / Here I am lying naked by the front door / Hands and feet duct-taped because I was moving slow / Helpless, wasn't nothing I could do / And I could hear my girl screaming from the bedroom." Verse two curses the game that demands such violence, and verse three finds the couple forever traumatized. THE END.
https://youtube.com/watch?v=tIAAoHA5ikU%3Fversion%3D3
The Alchemist, feat. Mr. Muthafuckin' eXquire "The Kosmos, Pt. 7 – The Explanation"
Alchemist's new album Russian Roulette is really just one long track: A supercut of the King Crimson-est, most Camelicious parts from obscure European prog LPs, interrupted by bloggy traditionalist rappers ("Cloud rap off a loudpack, committing foul acts" explains Fashawn on "Oleg's Flight"), while someone channel-surfs through the History Channel, A&E, and Rocky IV in the background. If you have to pick one track from this very long song, though, it would be the one where Mr. Muthafuckin' eXquire narrates a trippy alien abduction that occured post-concert and in the midst of some groupie love: "Teleported to a place where everything is awkward-shaped / I mean, the sun's blue, the snow's hot, the trees glow in the dark / A light stares right through you and hears your ultimate thoughts / It's weird, I tried to stand, I got woozy." When the alien queen enacts an intergalactic mind-meld with eXquire, informing him that he's going to be the John Carter of this space shit that don't make no sense, she does it using the universal rap-nerd language from Biggie and Puffy's back-and-forth on "Warning."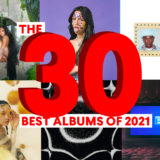 https://youtube.com/watch?v=oGOu5bqZe50%3Fversion%3D3
Danny Brown & AraabMuzik "Molly Ringwald"
Live-wire Danny Brown brings his bottomless bag of ridiculous one-liners ("Dome me up, watching Colbert") over an AraabMuzik beat that sounds a lot like the Halloween theme rip-off music President Obama used in that ad sonning Mitt Romney last week ("You didn't build that"). The thing about the the Yours Truly label's "Songs from Scratch" series is that the process they facilitate — two artists get together and have to knock out a whole song, unprepared — is pretty much how every rapper works these days. The music's coming from AraabMuzik, who at this point, makes more of a living building up beats on the spot in front of crowds of hundreds and sometimes thousands than he does as a studio-rat producer, holed-up, crafting screeching street bangers. Still, I'm going to go out on a limb here and guess that more time was spent on "Molly Ringwald" than, say, that "3 Kings" debacle we were all supposed to be excited about. We need a whole album of AraabMuzik x Danny Brown songs.
https://youtube.com/watch?v=jz5mz-zSfT0%3Frel%3D0
Mike Will Made It, feat. ScHoolboy Q & Yung Joey "I'm Not In Love"
ScHoolboy Q needs a time-out from 50 Cent and Dr. Dre. Is this what happens when you hang around those bazillionaire bozo bros for a little while? High off a co-sign you probably didn't even really need, you fit in by developing an uninteresting fascination with discarding women like burnt-out blunts and compulsively fill out your half-assed rhymes with "bitch" and "hoe" talk? Then Bricksquad dummy Yung Joey makes it clear that he's not going to go down on a girl. Real classy, guys! I feel like I'm being trolled here. But Mike Will Made It's beat samples 10cc's "I'm Not In Love," perhaps the most casually cruel and misogynist hit of all time, and whether these tough guys know it or not, they are totally taking the soft-rock classic's lead. For all I know, Mike Will was just watching Deuce Bigelow and the song's cloud of 256 voices grabbed him, and decided to loop it up; but he tapped into a history of pigheaded, gorgeously produced pop and makes a sonic argument that this stuff was around long before hip-hop.
https://youtube.com/watch?v=IUdQtjqfX6M%3Fversion%3D3
Trinidad James "Gold on My Macbook"
Atlanta's impossibly cool Trinidad James has about two minutes here, but he refuses to play "beat the clock." As the beat beeps and bloops and, far away, trash-can snares crash, James boasts sideways about his upcoming mixtape ("Yeah, I dropped a tape, surprised myself, man, I don't know how I feel about it, other than fuckin' amazing"), raps real fast for a moment, cheekily interrupts the fast-rap with an orgasm joke ("Explosion…explosion!"), slows up into spoken word ("I must do what I feel / I can't get caught in the bullshit life brings"), and, finally, shifts into a melodic double-time. And then the thing pretty much starts over. "Gold on My Macbook" is a tricky, addictive song that refuses to give listeners what they want. Though what everybody wants would be a hell of a lot less interesting than this. Comparisons to ATL contrarian Andre 3000 seem inevitable, though appropriate. From Don't Be S.A.F.E. (Sensitive As Fuck Everyday), out on July 31st.
https://youtube.com/watch?v=jiWJDF4ivXU%3Fversion%3D3