Heads up to anybody who was entertained by my interview a few months back with underground comics dude and Lil B cover artist Benjamin Marra. His latest comic book, Lincoln Washington: Free Man, is now available to purchase, via Traditional Comics. Like Marra's Gangsta Rap Posse, it's a pulpy, often absurd satire in the guise of a revenge tale that's not for the squeamish or easily offended. Marra's one of the few guys in comics really pondering race in a way that is brave and dicey. He isn't just doing, say, what New Yorker-approved graphic novelists like Chris Ware or Daniel Clowes do when acknowledging America's history of racism — directly tying it to just how horrible everything seems to be. Instead, he's digging in, basing this comic book around a black hero, but not shying away from harsh racist language or the visceral thrills of violence in comics (a slavemaster gets his spine pulled out Mortal Kombat-style). Check my friend Matt Seneca's review for a more cogent explanation.
Meyhem Lauren, feat. AG Da Coroner, Heems & Riff Raff "Juevos Rancheros"
What's great about this pretty good, fairly derivative NÜ-New York hip-hop scene on the rise is not that NYC is finally "back," but that the music's just overflowing with singular personalities again. It feels less like a bunch of dummies hiding in their borough and keeping the real world at bay by pretending it's 1993, than a clump of dudes with a few things in common bringing their own weight and weirdness to the table. There are probably a few guys like Meyhem Lauren in every city, but stick this guy over bougie boom-bapper Harry Fraud's Bernard Herrmann-on-speed beat, and team him up with Riff Raff (whose gimmick is that he could actually be a good rapper if he proofread his rhymes), Das Racist's Himanshu (who keeps getting better), and some guy named AG Da Coroner (who sounds just like Meyhem Lauren) and it feels fresh. I mean, this discordant mess of voices, all under one umbrella, was was what made New York rap so important way back! Not the long tradition of on-point lyrics and finely crafted production, but that every once in a while, some grunting oddballs would poke through all the artful MCing, muck it up, and make it a little more interesting.
https://youtube.com/watch?v=QwPiedm3Vl4%3Fversion%3D3
Prodigy "Award Show Life"
Why is Mobb Deep's Prodigy talking about Hollywood glitz and glamour like he's at its epicenter? It doesn't make much sense, but this not quite a celebration (he boasts he's front row with Bieber) and kind of a critique (he calls himself a "publicity whore") of TMZ culture cleverly plays on his persona as a hardheaded, scrapping street dude, twisting the same dunny slang once used to describe Queensbridge, to take on a the big ugly invasive media: "US Weekly and TMZ don't slip, nah." It's tempting to read "Award Show Life" as a diagnosis of fame in the 2010s from a rapper who sees through it all, but there are some pointed details from Prodigy's life (advice from Biggie, an aversion to black-tie events) that suggest he's trying to convince us that US Weekly is actually following him around. Nevertheless, the lesson here is that mega-fame is just as cold and heartless as the streets and still leads to a life of hustling: "My son growing up, he think he's Chris Brown / My little daughter need that college money, no doubt / I must, bust my ass, continue to shine." Like much of H.N.I.C. 3, for every interesting thing you get out of it, there's twice as much that's incomprehensible. Still, it's an odd rap song illustrating an old head looking at a new world pass him by. I'm just not sure Prodigy realizes that's what the song is about.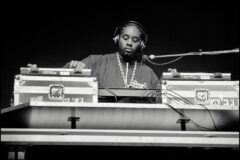 https://youtube.com/watch?v=TL5WYk_xZrY%3Fversion%3D3
Pusha T, feat. Kanye West "New God Flow"
The newest single off the upcoming G.O.O.D. Music album Cruel Summer, first teased by Kanye at the BET Awards, and what Shea Serrano declared "the most anticipated song of this whole past week." Starting with a sample from Ghostface's "Mighty Healthy" and based around a sample of what that song samples (Melvin Bliss' "Synthetic Substitution"), "New God Flow" seems to be a response to this nutty anti-God/Illuminati idiocy that's been flying around Kanye for awhile now. Here, he's connecting his brash raps to a long history of MCs calling themselves "God," making a case that it's a tradition as old as, well, it's as old as sampling Melvin Bliss. Pusha T is finding his footing again, no doubt because he once again has a target and an underdog purpose to a clearly joyless life: Steadily protecting the throne of real street rap. And though that only kind of makes sense since he's on a label led by Kanye West, it's nice to hear Pusha dropping the good kind of groaner punchlines ("They love a nigga's spirit like Pac at the Coachella"). I'll even forgive him for calling it "the Coachella" like my grandmother.
https://youtube.com/watch?v=xFpv4FQQrQM%3Fversion%3D3
Trina, feat. Gunplay & Iceberg "Beam"
Hey, someone should let Trina actually release an album! I'm looking at you, Mad Decent. She's doing these retro-future party-rap tracks like last year's Mr. Collipark-does-Uncle Luke production, "Long Heels, Red Bottoms," and this new one, "Beam," which shuffles and bounces like the maximalist A.D.D. dance all the kids are into these days. But the most important part of this song is Gunplay, creator of furious, steroidal bangers, going all-out and singing. No, this isn't a major-label concession now that he's on Def Jam's roster (for the simple fact that his rap name is Gunplay, he cannot get on the radio or TV; it's not unlike calling your band the Fucking Champs), and it's tempting to almost see it as some kind of caricature of Miami pop-rap rambler Pitbull, but it's probably better to not think very hard about it. Gunplay's sung verse is as weird and decadent as his raps, and it's made even more absurd by the "Maybach Music" drop that usually announces the arrival of his rhymes. But no, he's just going to sing and holler with the help of some Auto-Tune like he's at karaoke doing a Gloria Estefan song over a shuffling Miami Sound Machine-meets-Santa Esmeralda horns and cocaine synth beat. It's ridiculous.
https://youtube.com/watch?v=RwCEKUIploA%3Fversion%3D3
Yelawolf "Father's Day"
Heart of Dixie, Yelawolf's freebie mixtape released on the 4th of July, is better than Radioactive, but that isn't saying much. Coming just a week or so after Yela basically said what every major-label rapper who sells out and gets nothing in return wants to say, it is, at least, anice step in the right direction. And along with the icky X-Files episode directed by Gaspar Noe with a touch of SpaceGhetto video for "Growin' Up in the Gutter" he seems to be trying hard, maybe too hard, to resurrect his rowdy, underground reputation. So yes, here is a heartfelt song called "Father's Day," which is exactly the kind of emotive, poor-whiteboy-with-a-chip-on-his-shoulder ish he should be doing (especially because meth-rap never took off like crack-rap, which is a shame). M16's beat has a hint of Clams Casino in it, thanks to a sample of Saint Savior's "This Ain't No Hymn," and that lets Yela get serious and properly corny as he exposes the contingencies of the working class: "If you don't get back to work on time / They tax you for that month's break," he explains with disgust. Verse two, where he tells his absentee dad to fuck off, is a winner.
https://youtube.com/watch?v=eqg2q38H6iM%3Fversion%3D3