This weekend, the Newport Folk Festival returned to Rhode Island's Fort Adams State Park for its 53rd year. As if to mourn the looming absence of Pete Seeger (the nonagenarian's appearance last year may have been his last) and honor the 100th birthday of Woodie Guthrie, the skies over Newport Harbor opened up to a biblical downpour that drenched the weekend.
With My Morning Jacket and Jackson Browne heading the bill, the definition of "folk" has been stretched considerably since the days when Dylan myths were being made. But the weekend kept festivities in their proper perspective thanks to Guthrie's centennial celebration. The folk godfather's songs were covered to insane degrees throughout the fest's two days and his very large family, led by Arlo Guthrie, even "reunited" for a mid-Saturday performance that felt more like a private birthday party than a professional set. But this fest was much for than a sea of Guthries and a torrent of precipitation.
BEST DOUBLE DIPPERS
The raucous Preservation Hall Jazz Band proudly announced that not only was this their first year playing the Newport Folk Festival and its sister event the Newport Jazz Festival, they are officially the only act to ever have performed at both.
MOST ADVENTUROUS:
Jackson Browne did what few artists dare. A man with seven platinum albums mingled with fest-goers and checked out the seafood vendor, subjecting himself to an unending train of fan photos once people realized who the short-ish, leather-jacketed man actually was.
BEST ONE-LINER
During the Guthrie Family Reunion, Arlo told a ridiculous hippie-grandpa story about this time his wife Jackie was arrested for marijuana possession. The conclusion? "A family that smuggles together, snuggles together."
BEST FALSE ACID-TRIP
Hard sobriety had no bearing on the weirdness of spotting a man dressed in a chicken costume ambling through the packed crowd.
BEST-DRESSED
Charles Bradley, obviously. Taking over Wanda Jackson's glittery mantle from last year, Charles Bradley whipped out some soul-revival genius, which was of course enhanced by not one but two sequined shirts: first, a jacket, which he strip-teased off to reveal; second, a sparkly blue number. He also wins an honorable mention for Most Huggable (as seen in this video via WERS):
MOST LAWLESSLY EXCELLENT AFTER-PARTY
Deer Tick and Partisan Records' three-night benefit series at the Newport Blues Cafç boasted a set of packed houses (Saturday attracted audience members like Conor Oberst and Jim James, while Sunday drew an all-Warren Zevon covers set from Jackson Browne and spectators like Tom Morello). Perhaps the most classic — and contentious — lineup was Saturday's: highlights included Jonny Corndawg in a fat suit, the highly intoxicated return of Middle Brother (the supergroup composed of Tick's John McCauley, Delta Spirit's Matt Vasquez, and Dawes' Taylor Goldsmith), and an appropriately incoherent (and beer-sprayed) cover of Nirvana's "Scentless Apprentice."
The most together of that night's performers, was Sharon Van Etten — perhaps to her disadvantage. A handful of hecklers, some passive-aggressive, some just drunkenly enthusiastic, badgered her mid-lineup set so relentlessly that she decided to cut it short, but not before ordering the hecklers to "Get the fuck out" and promptly laying into one of the most intense performances of the week.
MOST LIKELY TO SUCCEED
Whereas Seattle-based folksters the Head and the Heart played to a decent crowd at the fest's smallest stage last year, relentless touring, success at indie radio, and increasing ubiquity on the festival circuit placed them on the coveted main Fort Stage this year, in a prime late-afternoon slot just before Conor Oberst that featured a handful of post- debut songs that sounded practically written for the swaying, sing-along Newport crowd. Happy commencement!
BEST-MEANING PROTESTER
Predictably, this goes to Tom Morello's Nightwatchman set, for the RATMer inviting fans onstage to "Occupy Newport Folk Festival." His set was filled with politically charged numbers like "One Man Revolution," "Save the Hammer For the Man," and "Union Town" (which was preceded by a dedication to employees of a "local university" — maybe a reference to URI's faculty contracts dispute), and of course, "This Land is Your Land." The fact that Morello played the fest's smallest stage and was supported by just one other band member (and no percussion save a few sporadic floor stomps) made the performance feel a little photocopied from some of his more direct-action appearances. Said Occupying fans, as if in confirmation, were quickly shooed off the stage by Rhode Island State Troopers.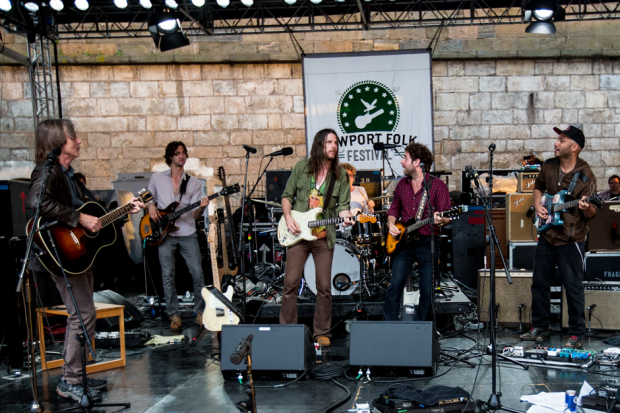 MOST ECONOMICALLY SAVVY
Conor Oberst didn't bring along his whole damn Mystic Valley Band. Instead, he enlisted the help of a NFF all-star lineup, including Swedish sister duo First Aid Kit, psych-folk guitarist Jonathan Wilson, the entire Dawes lineup, and My Morning Jacket's Jim James on numbers like "Soul Singer in a Session Band," "At the Bottom of Everything," and a surprisingly poignant rendition of Bright Eyes' "Lua."
BEST OVERHEARD:
"Man, I bet he is a bummer all the time" — a fan leaving Conor Oberst's set.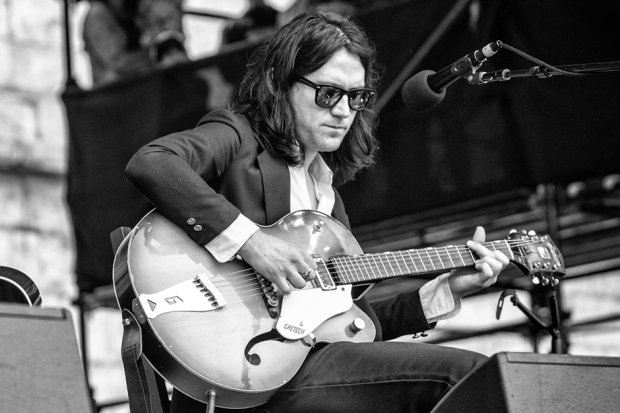 BIGGEST STAGING MISCALCULATION:
Swedish singer-songwriter the Tallest Man on Earth had the smallest stage on Earth. A large majority of his massive Sunday crowd could barely see the diminutive folker on the covered-and-chaired Harbor Stage, the smallest outdoor venue on the grounds. Fest-goers crowded mud puddles on all sides to catch a glimpse of his hour-long set, which was highlighted by striking piano versions of his usually guitar-only compositions and elicited one of the weekend's most enthusiastic responses. He could have easily filled a main-stage crowd and will probably do so soon.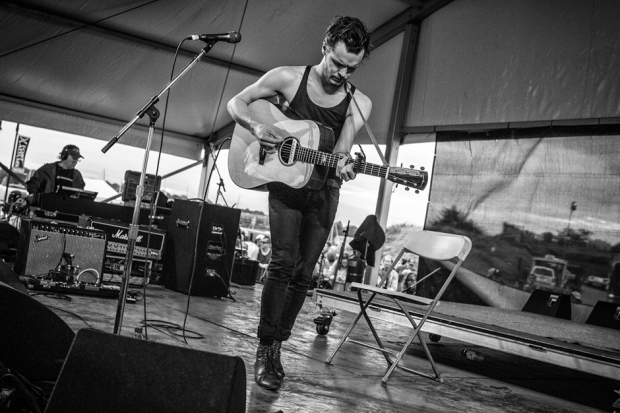 MOST ANTICLIMACTIC CROWDSURF
The dude who convinced his neighbors to hoist him over their heads during Jackson Browne's headlining set on Sunday evening could also hold the award for the Most Epic Crowdsurf of Newport Folk Festival 2012. He could, however, also hold it for Only Crowdsurf of Newport Folk Festival 2012