With '90s nostalgia in full swing it's no wonder MTV's bringing back its iconic fashion news show, House of Style — what's more emblematic of the era than alpha supermodel (ponder that) Cindy Crawford flossing mole and mane while frolicking backstage and spot-interviewing her cohorts, Naomi, Linda, and Yasmin. Not only will the show get a revamp, due October 9 with an as-yet-to-be-named new host, but MTV has unleashed a trove of deep cuts from the original show. Here's a clip from an early episode in which Crawford calls her ratted, vaguely Lady Miss Kier flip hairdo "a little funky".
In an era when New York was at its most culturally vibrant and artistically important since the Warhol days, House of Style captured the inextricable confluence of fashion and music central to the scene. In case you don't remember episode one, for instance: Salt 'n' Pepa do a spring style shoot, magazine editors like Spy's Graydon Carter and Sassy's Jane Pratt talk shop (the phrase "Fame is one of almost 500 magazines launched last year" is uttered), and Winona Ryder shows up in a white wedding dress, the inverse of the sullen, goth-informed Beetlejuice chic she made her own. Of course, House of Style didn't really hit its stride until it got its style advice spot with designer Todd Oldham, the mensch who brought us Parker Posey in iconic leopard and crimson and me personally some really intense red crushed velvet trousers that I could never totally pull off even though it was 1996.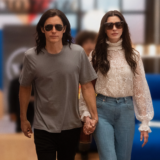 But with Oldham doing high-end Home and Crawford back in the catwalk game (we don't talk about all those other hosts, Amber Valletta excluded), who will take the reigns of the new version? The host is currently under wraps, but it's safe to say it's not Alexa Chung. We might lean Agyness Deyn, newly out as 29, if she weren't currently tied up with the London theater. The most Cindy model currently working is Karlie Kloss, who's smart and charismatic and would be perfect, except that she might be a tad busy being neu-Cindy and starring in every issue of Vogue. Jourdan Dunn? Joan Smalls? CHRISTY TURLINGTON?! For the Oldham slot, Zac Posen could be the host's new counterpart, although if he wants to assume that throne, homie might have to loosen up.
Until then, please prepare yourself by watching the most '90s video of all time: a procession of the Supermodels on the catwalk for Gianni Versace's S/S '92 line, set to a song by Living Colour. Bonus points if you spot the now-vintage legacy pieces MIA recently wore to Versace couture. RIP Gianni.