A year after Rilo Kiley revealed its breakup, lead singer and songwriter Jenny Lewis has various new musical endeavors in the works, TwentyFourBit points out. She's composing the score and serving as music supervisor for a new movie called Very Good Girls. She has also been recording new songs, and a fan recently captured video of her playing one new tune live. Another ongoing project: a Rilo Kiley B-sides album.
First, the movie: As Indiewire reports, Very Good Girls marks the directorial debut of Naomi Foner Gyllenhaal, who wrote the screenplays for Bee Season and Losing Isaiah. Lewis' dual role as composer and music supervisor suggests the soundtrack might feature some of her musical kindred spirits — maybe fellow Saddle Creek vets Bright Eyes? The movie's star-studded cast reportedly includes Dakota Fanning, Elizabeth Olsen, Richard Dreyfuss, and Demi Moore, but no release date is listed just yet.
As for new solo Lewis music, she has started recording at least a few new songs, according to an interview last month with OC Weekly. "I've gotten my heart broken, and fallen in love, and moved out my shitty rent-controlled apartment, and lost my father, and tried to rebuild my relationship with my mother," she's quoted as saying of her subject matter. "All of these things have definitely popped up in my songs and I want to write something that's real that people can feel.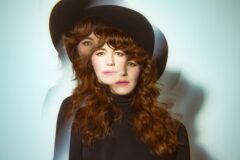 Also last month, Lewis performed one of her new songs, perhaps titled "Head Under Water," at the Henry Miller Library in Big Sur. "I don't wanna bore you with how I feel," she sings on the harmony-kissed, piano-driven pop-rocker. Check out a fan video below; it's not boring.
https://youtube.com/watch?v=n7l-m6Ww_xk%3Fversion%3D3
What's more, Lewis confirmed to OC Weekly that a Rilo Kiley B-side compilation continues to be in the cards. "We've been listening and sorting through all these songs from 1998 and just the tone of what I was writing back then was so sad, so dark," she said. "And I don't necessarily feel like that all the time anymore." Nope, still not bored, thanks.