"The first show that I saw was a Luke Temple show," says Bloch of coming to New York in 2007. The two had crossed paths previously in Boston several years earlier, but in the four years before that night Bloch had been working in Jerez, a small Andalusian city in southwestern Spain where he played flamenco guitar for dancers and gypsies. "I felt so disconnected and disoriented, having only been listening to these microscopic melismas in flamenco singers' voices," he remembers of the night he saw Temple performing on Manhattan's Lower East Side. "But there is something about Luke's songs that feels like it already exists. There's a core that has always spoken to me."
Hale, a remarkably tall, elastic-limbed drummer, experienced a similarly immediate connection, having been introduced to Temple by his girlfriend at the time, an ex of Temple's. "She took me to this show, and I said, 'I don't want to see a guy you dated,'" says Hale. "But then, it was great." They'd become roommates and collaborators and before long, with the addition of Bloch on guitar and Jen Turner on bass, the sort of "driving rock band" Temple had talked about needing behind his songwriting. But no one was prepared for the subsequent touring that such online demand required.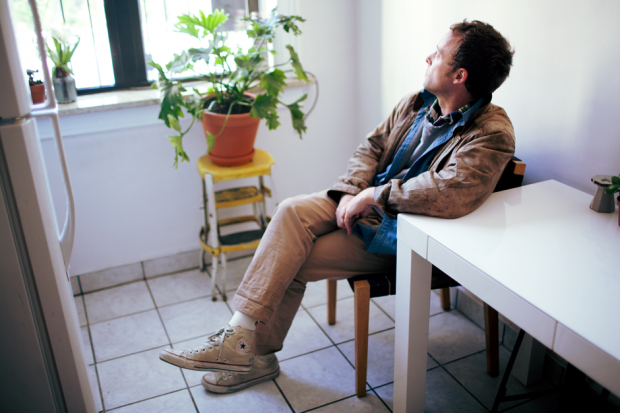 In the three years that have passed, they've lived on the road, pausing only to record 2010's Pigeons, a thick, idiosyncratic, often transcendent mess of a record (and their debut as fully functioning foursome) that captured a band in embryonic form, in pursuit of a sound of their own. When the album "laid flat", as Temple describes the underwhelming critical reception, the bloggerati cooled to them.
"This band started with a thumbs-up from that world," Hale says of the buzz that propelled them in the beginning. "But we're not chasing that dragon. We faded away and we figured each other out." And in June of that year, just weeks after Pigeons' release and days before Bloch and Temple would uncork that first bottle of wine on the street in Paris, they found themselves digging into their first set at the legendary Glastonbury Festival, playing to crowd that included two very powerful, unexpected listeners.
"When you're playing Glastonbury at 11 in the morning," Temple says, "you're playing to the people who are still awake and have no idea what's going on, or you're playing to mamas and daddies and their babies." But when Temple stepped up to the mic on the festival's Park Stage, it didn't take long to spot two guys disguised in sunglasses and hats "going apeshit in the front row": superproducer Nigel Godrich and Here We Go Magic superfan Thom Yorke of Radiohead. Immediately after the set was finished, the two ventured backstage to meet the band, offering compliments that left the outfit glowing. "Sometimes you wonder if it's worth it," Temple says, "but that was one of those moments where you realize it is. The only guys getting off were Nigel and Tom, and that was enough. It felt like a seal of approval."
That moment in particular seems to speak to Here We Go Magic's dilemma: their story is that of a band's band in it for the long haul, a rarity at a time when champions and support usually present themselves amid the echoes of the blogosphere, when the approval of someone as influential as Thom Yorke may not translate to sales or traction. But Godrich was so impressed he began traveling to see the band perform again and again, eventually suggesting they work together.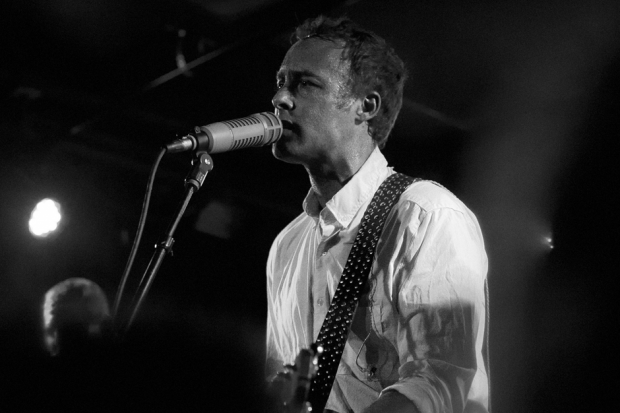 Godrich, understandably, had been taken by Here We Go Magic's live set, a deceptively muscular, wonderfully textured "wall of white noise, voices and guitars" that he couldn't find in their recorded output. "I love the way he writes, but I felt that it was a shame that there wasn't a representation of what I had seen [at Glastonbury]" Godrich says of Temple. "Everything is very cryptic and meditative and the structures are very unusual. He has a knack for melody that bears repeating and repeating. There's something weird about him that you just can't put your finger on."
Over the course of five months last summer, split up so they could write and demo and, by touring just a little bit more here and there, scrape together the additional cash necessary to fund studio sessions with Godrich in London, the band took to crafting a giant leap forward, the famed producer able to place every element in its clearest light. And they also found their way to Paris for a quick show in between. Bloch, via some Facebook detective work, sent that girl from the ice cream shop a note to invite her out to the show.
"She had no idea I was in the band, because I had never told her," he says. "She thought she was meeting me, there, not that I'd be onstage." They've been together since.