"It was right here," Temple says, sweat glossing his brow as he points to a block of polished condos along Kent Avenue on Williamsburg's waterfront. "I was moving in here maybe ten years ago, essentially my first day as a New Yorker, and this Hasid in a mini-van just smashes into a delivery guy on a bike. The guy was totally dazed, didn't know what just happened, and as he starts to pick himself up, the Hasid hands him this 20 dollar bill, tells him he's okay, peels off in his van. I just thought, 'Here we are.'"
For the better part of a decade, Temple has written and performed in the background of Brooklyn's hugely influential indie rock scene, intersecting with the zeitgeist it has marked only briefly. Born in Salem, Massachusetts, Temple, now 37, grew up in nearby Manchester-on-the-Sea, a "perfect, perfect" coastal town a half-hour north of Boston where "no one locked their doors." His mother, a painter, and his father, a "tai chi master," split when he was young ("divorce, sob story, blah blah blah"), but their guidance has influenced what you can hear today: Temple has spent much of his life creating, and with great discipline.
After a few years drifting along the West Coast once he'd graduated from high school, from Seattle down to Mendocino, California, where he slept in the woods and "bird-bathed" in public restrooms, he made his way home to New England, where he enrolled at the Museum School in Boston to study painting full-time. When he made the jump to New York after graduation, it was with the intention of making a splash as a painter, not a songwriter.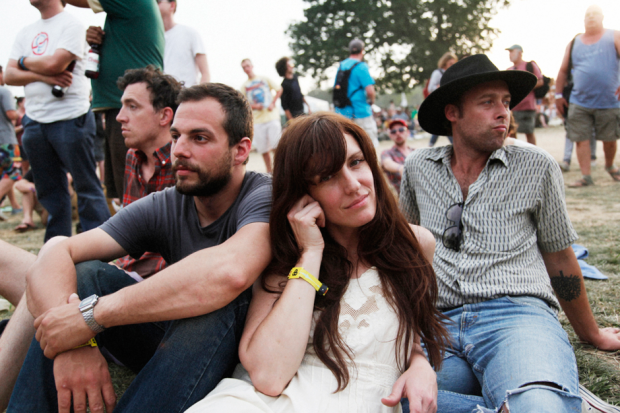 But as Temple, whose square shoulders suggest time on the football field (he was once a defensive end), grew frustrated with the New York art scene, his focus and energy shifted toward music. "In the art world, there's so much peripheral stuff you have to deal with: going to openings, meeting with people," Temple says. "It's so much more expensive and it didn't seem as immediate. I could just book a show. It was the dialogue you have with an audience, as opposed to working in your studio for six months and building a body of work and maybe getting someone to come see it. It's still working visually. I'm still working with composition and push and pull and knowing when to stop, but it's a more protracted thing to be a painter. I didn't feel as creative as I do with music because [with music], I didn't know what I was doing. Everything was new. It was a process of exploration I think I had lost."
During the day he worked ten-hour shifts, painting murals and laying Venetian plaster in tony Manhattan apartments, eventually running his own crews. At night, he would spend a few hours before bed exploring his four-track. After three puckish, incandescent albums of folk material under his own name, Temple took on the nom de pop Here We Go Magic in 2009, behind an equally mercurial debut that landed, inadvertently, somewhere between indie-rock's then growing obsession with Graceland-informed Afro-pop and Animal Collective's mutating, electric collage. "It's just happenstance that we live in Brooklyn," says Temple. "I think we'd be doing the same thing if we lived in St. Paul. I don't feel any connection to the scene here and that's been a point of frustration for me." But when fellow Brooklynite and Grizzly Bear frontman Ed Droste hailed album cut "Tunnelvision" on his MySpace page, online tastemakers followed suit shortly thereafter. Almost overnight Temple had things for which he'd been "hustling" for years: a booking agent, label interest, offers to perform in large rooms opening sold-out bills for the likes of Grizzly Bear and Department of Eagles. But he didn't have a steady band.