The nominations for the 64th Primetime Emmy Awards, announced earlier today, contained a few surprises — the dominance of Mad Men and Modern Family was not one of them. Of course, Mad Men genuinely earned its favoritism (17 nominations) — the series, which wrapped its fifth season in May, has gotten better and better, whereas Modern Family never recaptured the perfection of its debut. The writing seems to have plunged along with Sofia Vergara's neckline — likely the result of tension between showrunners Steve Levitan and Christopher Lloyd — and hastened into generic, repetitive territory that will probably be continually rewarded for its generic, repetitive humor.
Either way, it was great to see some other deserving shows considered this year. We were very pleased that Girls got a nod for best comedy series. The HBO show caught some flack for its whiff of privilege and lack of diversity, a criticism creator Lena Dunham took on the chin, but it was a welcome, refreshing, witty, often awkwardly hilarious approach to young adulthood and friendship and city-living, as well as an impressive vision from someone so young (26-year-old Dunham is also the producer, writer, and star). Though its chances are slim against 30 Rock, Big Bang Theory and Modern Family, Girls has our vote. (Parks and Recreation was notably absent, a disappointing snub.)
Emmys 2012: Watch Jimmy Fallon's 10 best musical moments of the Year here.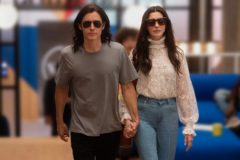 Dunham's best actress nod, while not objectionable, was less of a given, and that category — presumably Two and a Half Men creator Lee Aronsohn's least favorite given his complaints of "labia saturation" earlier this year — is intimidating with competition: Amy Poehler, Tina Fey, Julia Louis-Dreyfus, Melissa McCarthy, and Edie Falco. And though New Girl was largely propped up by talented newcomers — especially the earnest meme-machine Max Greenfield as Schmidt, nominated for his supporting role — Zoey Deschanel did inhabit her charmingly irritating character with ease — almost as if she came by Jess naturally — so, yes, she's here too.
Speaking of Louis-Dreyfus, Veep's nomination felt unexpected because the show didn't generate a lot of conversation, but Louis-Dreyfus's neurotic, bumbling, insecure vice president, Selena Meyer, was totally entertaining, and the series had many vivid, vulgar, blink-and-miss-it one-liners (the scene where one character complains that he has been left "standing here like a fucking meerkat" remains my favorite among them). Did Veep's presence explain Enlightened's absence? Perhaps the fact that Mike White's HBO show barely qualified as a comedy hurt its chances, but it's a weird, oddly affecting, at times totally depressing story of a woman (Laura Dern) in the throes of a very relatable midlife crisis. The self-awareness that Dern's character lacks, the audience doesn't, which made for some writhingly uncomfortable scenes, and it's a pity that it earned so little acknowledgment.
This year looks pretty similar to last in terms of best drama, although CBS's dependable procedural, The Good Wife, isn't here. But the show's biggest success is in its casting and Julianna Margulies, Archie Panjabi, Christine Baranski, Martha Plimpton, Michael J. Fox and Dylan Baker are representing. And it remains the most formidable category. Mad Men obviously wouldn't be undeserving, but that's true of most the shows nominated. AMC's Breaking Bad has delivered such a fabulously taut four seasons, Game of Thrones has brought to life a complex (and ribald) world, and Boardwalk Empire…well, we stopped watching that, so we're not sure, but like GoT, the series killed off a major character, and that's an admirably bold move. Anyway, these are all superior shows, and though Homeland is the dark horse among them, it was equally propelling and well-acted (Claire Danes might have finally found a new iconic role, as well as the Emmy she never got for My So-Called Life).
American Horror Story picked up more nominations than anyone expected, including for acting, art direction, and casting, and House was finally ignored, making it a largely cable-based competition, as that's where the talent (if not always the audience) flocks. If certain series don't sweep, September 23 could be a very entertaining showdown between worthy competitors, which is more than we can say for the Oscars in recent years. It will be a challenge to decide who and what to root for.