The Red Hot Chili Peppers are about to unleash 18 new songs on fans, but the band's bassist Flea isn't stopping there. He announced via Twitter yesterday he's finally releasing his first-ever solo record, the one he's been talking about for literally years — and he's going to be doing it, like, now:
i am putting out an ep i made by myself in a couple of days. it is obscure arty mostly instrumental music, except when patti smith sings. my ep is called helen burns. all proceeds from my helen burns ep will go towards the silverlake conservatory of music. it will be available for down load at any price you want to pay, it will be a donation to the silverlake conservatory of music. will also be vinyl, which i will autograph, and inside will be a piece of a bass string that i have played in concert 75 dollars for that. the information on how to get my helen burns solo flea ep will be coming within the next 2 days
i recorded most of the ep when we finished our tour for stadium arcadium. it is not rhcp music or even close to it. it is a trippy freakout. on helen burns, i play trumpet, bass, synthesizers, drum machine, piano, and a bunch of other shit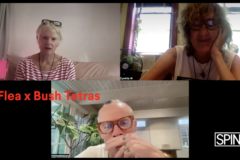 Flea and his buddy Patti (!) will beat Flea and the Chili Peppers' upcoming singles parade by about a month with Helen Burns. The record's instrumentals stem from his time as a theory and jazz trumpet student at USC in 2008 while the Peppers were on hiatus; that's how long ago he originally revealed plans for the Helen Burns EP. Flea and ex-Peppers sax player Tree founded the Silverlake Conservatory in 2001.
Helen Burns, for those of you who didn't do the required reading back in high school English, is Jane Eyre's abused yet maddeningly forgiving best friend at Lowood School in Charlotte Brontë's Jane Eyre. The EP title is indeed a reference to that love-thine-enemy allegory, but more literally to the character herself; as Flea has mentioned in interviews over the years, he's a huge Brontë fan. (Quite a step up from the Donnie Thornberry-era Flea, no?)
In addition to the EP and the Peppers singles, the bassist also finally announced his and Thom Yorke's electro collaboration Atoms for Peace's recording debut, a remix of Other Lives' "Tamer Animals" with unreleased original "Other Side" as its B-side, just yesterday (it'll be out August 3).
While you wait for more information on the exact drop date of that EP (which should arrive tomorrow, with the EP itself dropping "in a couple days"), watch Flea play the trumpet (pre-college courses) with Nirvana on "Smells Like Teen Spirit" back in 1993 in Brazil: