"So this is Times Square?" quipped Alec Ounsworth, frontman for indie rockers Clap Your Hands Say Yeah, playing a daytime Saturday set in the middle of the Big Apple's tourist mecca. He was surprised to be playing a stage beneath the blinding lights of Broadway and one of the most expensive Olive Gardens in the world — and the tourist gawkers stopping to snap pics were surprised to see them there too. Add in a bevy of bands, ranging from hip-hop to chamber pop; a corral of food trucks; and, oh, about 100 degrees of New York summer heat, and it made for an unusual, sweaty spectacle to help commemorate the history of one of underground music's most hallowed institutions, CBGB.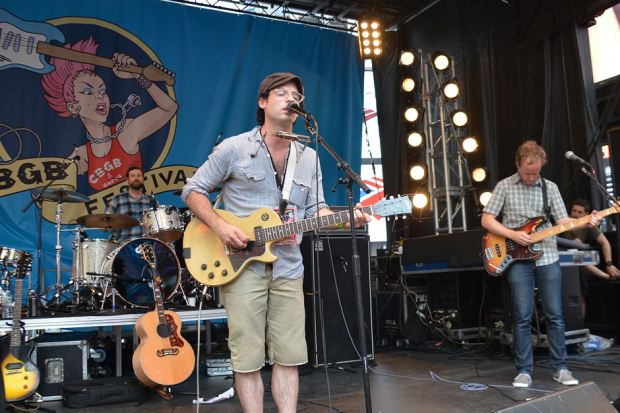 As part of the CBGB Festival, which already had its fair share of highs (Nirvana bassist Krist Novoselic's (open-book key-note address) and lows (the bloody altercation between the Cro-Mags that ended a Friday-night showcase), the six-hour showcase was one of two outdoor gigs that day that demonstrated the diversity of music styles that called the venue home at one point or another. On two stages that were approximately twice the size of the one that was in CBGB, groups ranging from Tampa indie rockers Zulu Wave and New York rappers Upper West to soliloquy rockers the Hold Steady and indie-rock icons Superchunk performed starting at noon, during the day's hottest hours. And considering the sweltering weather, most bands drew between 100 and 400 or so onlookers, when they weren't perusing the event's pop-up guitar shop, farmers' market, and graffiti wall (on which some wise ass scribbled, "Thanks for the great Cro-mags stabbing"). Even Times Square's Elmo, Dora the Explorer, and that one Smurf who wears the glasses took a few minutes off from waving at children to watch the action.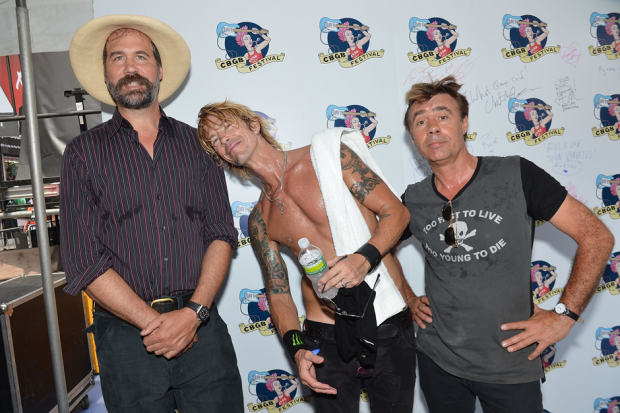 For the most part, enduring the heat was worth it, as most of the bands either put on high-adrenaline sets or attempted to stage something memorable for the event. While Superchunk put on a no-frills set of pogotastic fan favorites like "Driveway to Driveway," "Hyper Enough," and a song "we most definitely played at CBGBs," according to frontman Mac McCaughan, "Slack Motherfucker," the usually electronics-based NYC band Glint set out to move away from the usual. Paying an anti-tribute to the venue, which most people associate with the raw guitar fury of punk rock, frontman Jase Blankfort, who was wearing a Phil Spector shirt, hired his own Wall of Sound in the form of a string quartet and a harpist to orchestrate songs like "Boy of the Stars" and new single "Guided." The move was daring, but it worked as it set the ensemble apart from the harder-edged bands, drawing a crowd who just wanted to figure out what was happening.
The Hold Steady appeared to have attracted the day's biggest audience, who sang and clapped along with frontman Craig Finn — an estimable enough artist to do his trademark spasmodic Joe Cocker-via-John Belushi act in the heat — as he sang and bashed his Grateful Dead bear-stickered guitar to tunes like "Stuck Between Stations," "Your Little Hoodrat Friend," and "Southtown Girls." (Incidentally, the band instinctively seemed to pick songs containing words like "summer," "dehydration," and, uh, "Texas" in the lyrics, which drove the heat home even more.) Clap Your Hands Say Yeah also attracted a sizable crowd of people who knew their songs, possibly because it was announced that it would be the last performance to feature keyboardist-guitarist Robbie Guertin and bassist Tyler Sargent. Regardless, they connected with attendees by playing upbeat numbers like "Satan Said Dance" and "The Skin of My Yellow Country Teeth," before closing with "Heavy Metal." Midway through the set, frontman Ounsworth joked about how when he first came to New York, he was hoping to run into David Byrne, Patti Smith, and other punk notables when he first went to CBGB. "It was very naïve of me," he said, "but it's nice to pay tribute to such a place."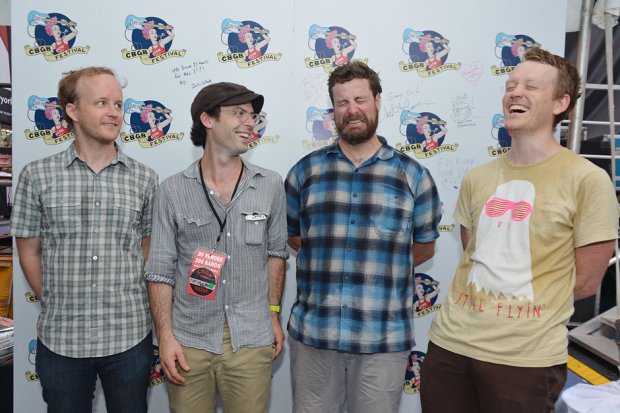 The best homage to the venue came from former Guns N' Roses bassist Duff McKagan. Playing guitar and singing with his group Loaded, the rock legend began by covering his band's mainstream-leaning hard-rock repertoire, but about halfway through, he flipped the script. As a tribute of sorts to the time he and his former bandmates played CBGB in 1987, McKagan launched into a set of high-octane punk songs, including the Damned's "New Rose," Misfits' "Attitude," and one of GN'R's punkiest songs, "It's So Easy." For their last song, McKagan surprised the audience be inviting founding Sex Pistols bassist Glen Matlock onstage to play guitar for a go at Iggy and the Stooges' "I Wanna Be Your Dog." The cover songs, all by bands McKagan tributized on Guns N' Roses' Spaghetti Incident album, made for the perfect way to show respect to one of the hubs of punk. "Without CBGB allowing [underground] bands to play," he said, "it's arguable whether bands like Metallica and Guns N' Roses would exist." One audience member in attendance who would likely agree was Krist Novoselic, who was spotted in front of a shop taking video of the performance on his phone. Such a tourist.