Depeche Mode have set their fans buzzing about the potential return of a key member from the pioneering British synth-pop group's best-known era. Slicing Up Eyeballs points to a newly posted photo on the band's Facebook page that shows a still of Alan Wilder from the video for "Policy of Truth," off 1990's multi-platinum album Violator. Beneath the photo is a lyric from the song: "Never again / Is what you swore."
More than 44,000 fans have "liked" the post since it went up yesterday, with comments asking whether Wilder is back in the group. As we write this, the only more recent post on the band's Facebook page is for a new video from Depeche Mode singer Dave Gahan's collaboration with Soulsavers, The Light the Dead See. So it's completely possible they're just messing with us. Hey, you're reading about the Soulsavers album now, right? Did we mention our reviewer really liked it?
Depeche Mode fans have reason to be eager for Wilder's prodigal reunion, however. A member of the group from 1982 until 1995, when he left to focus on his Recoil project, Wilder served as a multi-instrumentalist, arranger, and producer on some of the band's best-loved albums, including 1984's Some Great Reward, 1986's Black Celebration, 1987's Music for the Masses, and, of course, mega-hit Violator. Wilder played no small role in Depeche Mode's music — for example, the story goes that it was his idea to take a simple ballad and turn into the uptempo dance-pop monster "Enjoy the Silence," the group's highest-charting U.S. hit.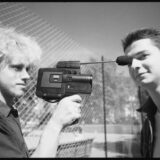 That said, it's not as if Wilder has been completely at odds with Depeche Mode over the years. He contributed to last year's Remixes 2: 81-11 compilation, and as Slicing Up Eyeballs documents, in 2010 he joined Depeche Mode live onstage for the first time in 16 years. The event was a charity concert at London's Royal Albert Hall.
Gahan's Soulsavers team-up isn't the only musical activity from the Depeche Mode camp lately. In fact, Gahan recently told SPIN the band has about 20 new songs in the works, with plans for a 2013 tour. And Depeche Mode's Martin Gore reunited this year with former group member Vince Clarke, now better known for his work with Yaz and Erasure, to release a techno record under the name VCMG. Welcome back, Wilder?
https://youtube.com/watch?v=eheap5Ntbc4%3Fversion%3D3