Instead of launching a third weekend of its annual Indio fest, Coachella will take its increasingly wild party to the high seas. Today organizers announced (ahead of its previously scheduled 6 p.m. PDT deadline) via Twitter the inaugural S.S. Coachella, a two-segment "music festival at sea" (or, in layman's terms, a cruise) featuring headliners Pulp, Hot Chip, Yeasayer, and Girl Talk that will sail on the Celebrity Silhouette ship to the Bahamas December 16-19 and then to Jamaica December 19-23.
Earlier today, the L.A. Times reported sources "familiar with Goldenvoice's plans" leaked the information ahead of time; an anonymous artist rep said that "the ship looks amazing." Fun fact: by the time the fest tweeted out the announcement, Hipster Runoff was already following the S.S. Coachella account.
The news comes two months after Coachella organizer Goldenvoice announced Coachella's 2013 dates would still encompass two weekends. Prior to that announcement, AEG Live president Randy Phillips commented on the overwhelming success of this year's two-weekend model, boasting, "We probably could have added two more Coachella weekends," leading outlets to speculate that the organizers were planning on adding at least a third weekend to the already drawn-out Indio, California, festival.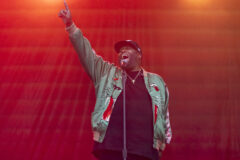 The announcement also follows Goldenvoice's scuffle earlier this month with the city of Indio, which attempted to propose a 5 to 10 percent admissions tax on both Coachella and Stagecoach festivals, which take place within weeks of each other at the city's Eldorado Polo Club (Goldenvoice bought the field earlier this year). The promoter threatened to relocate the two fests if the tax was put on the ballot, and the city council subsequently revoked its proposal, citing fears that the festivals' relocation outside of Indio "would negatively impact the region."
Tickets for the S. S. Coachella start at a hefty $750 per couple (each cabin sleeps two), excluding "taxes, gratuity and booking fees ($200 per person added at check out), air/ground transportation, shore excursions, some beverages (such as alcohol, soft drinks and bottled water), photographs, medical services, spa services, specialty dining, etc." Nevertheless, they'll go on sale this Saturday (July 21) at 10:00 a.m. PDT (that's 1 p.m. EDT, so calm down, East Coasters; you can sleep in) via the cruise website. Here's hoping you won't have to experience this one via YouTube videos.
In case you missed what happened at this year's Coachella (the landlubber's edition, that is), we did quite a bit of legwork for you.
S.S. Coachella 2012 Lineup: Pulp, Hot Chip, Yeasayer, Girl Talk, James Murphy (DJ Set), Sleigh Bells, Simian Mobile Disco, Z-Trip, !!!, Warpaint, DJ Harvey, El-P, Killer Mike, Black Lips, the Gaslamp Killer, Grimes, Cloud Nothings, Jason Bentley, the Rapture (DJ Set), Father John Misty, Tokimonsta, Alf Alpha