Damon Albarn, during performances of his new opera, Dr Dee, looks down at the stage from the point of view of what the show's director recently described to the Economist as "a nation in decline." That's an often-missed distinction from the '90s Britpop wars between Blur and Oasis: Although both English band's mid-'90s albums draped themselves in the Union Jack, Albarn's songs often explored a nation's tattered promise, while the Gallagher brothers swaggered on as if the sun still never set on the British Empire. (It's probably no coincidence that Oasis had larger-scale commercial success on this side of the pond, where national exceptionalism remains a political article of faith.)
The reunited Blur's live debut today of two remarkable new songs — their first since 2010 Record Store Day one-off "Fool's Day" — also bears consideration as art that reflects a diminished era. The simultaneous global broadcast, via Blur's website, is obviously made possible by present-day Internet technology, but it also recalls the Beatles' worldwide-via-satellite premiere of "All You Need Is Love" 45 years earlier; the rooftop setting echoes the Beatles' final, unannounced public performance. Yet where the former Oasis members might use such historical references to borrow their predecessor's pomp and circumstance — to stand on the shoulder of giants, as one album title put it — Blur seized the moment for something a little more reflective of our current times.
First, at 1:15 p.m. Eastern, Blur gave a beautifully elegiac rendition of "Under the Westway," a new song originally debuted by Albarn and guitarist Graham Coxon at a benefit show in February. Those descending piano chords remained, but this time Coxon plugged in for a searing, Spiritualized-worthy lead-guitar part, joined by the stabbing bass notes of Alex James and grandly rumbling drumming of Dave Rowntree. Albarn, with that often-forlorn voice that has only become more familiar since Blur's original heyday due to his work with Gorillaz and many other projects, sang about a city about a city sinking, the changing means of communication, a flag coming down. He crooned about "a love song for the way I feel about you / Paradise not lost, it's in you." And then he apologized, and offered, "Hallelujah." The final piano chord, as the Guardian pointed out, nodded toward the Beatles again, this time Sgt. Pepper's album-closer "A Day in the Life."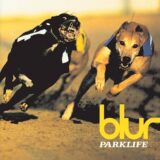 Then, an hour later, Blur performed another new song, "The Puritan," for the first time in public. This one, appropriately, is a thrashing, art-punk romp, with Albarn on acoustic guitar and Coxon cranking out one of his characteristically bugged-out rackets. There's even a snotty la-la-la outro, recalling Blur's early days as Seymour. Similar themes persist, with Albarn in sardonic-crank mode here: "In our regalia, are we OK?" he asks at one point. When the song is finished, a grinning Albarn pumps his fist.
"Under the Westway" and "The Puritan" are both available on iTunes now; a limited-edition 7″ single is also due out on August 6, and you can pre-order it now via the band's website. Both performance broadcasts began with a brief highlight reel from Blur's career, so there's an undeniable note of self-celebration here, especially as the band rolls out a massive box set. But with the London Olympics coming up, and Blur about to headline a "Best of British" show in London's Hyde Park, a little bit of London pride is only justified. What's noteworthy about these songs in particular, and Blur in general, is how they look at their native land with a clear, if slightly damp eye, painfully aware of its faults (there's a reason Albarn has spent so much of his post-Blur career hopscotching the musical globe) but head over heels for the place just the same. After all, London, to quote those business-minded folks over at the Economist again, is arguably "the world's most international city."