The Five returneth! After over a decade filled with solo projects, collegiate a cappella recording sessions, ill-fated singing competitions, and collaborations with authors and Internet-savvy cohorts keeping them apart, Ben Folds Five are finally getting the gang back together again. On September 18, the band will keep the promise they made in January and release their first album in 13 years (since 1999's Unauthorized Biography of Reinhold Messner) via ImaVeePee Records/Sony Music.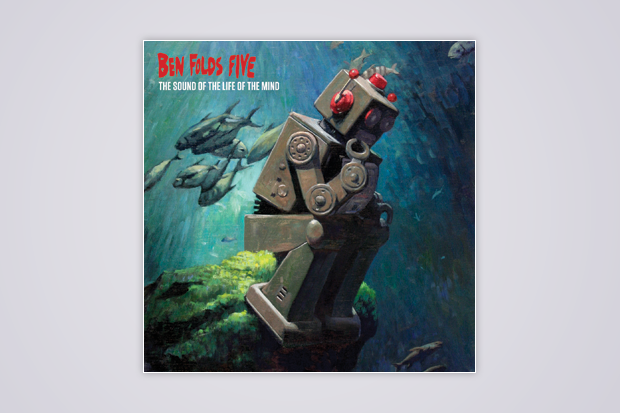 charity-based direct-to-fan site PledgeMusic, which allowed fans to literally fork over $2,500 to get their names in a Ben Folds Five song. Part of the funds raised through the campaign will be donated to music education and music therapy-oriented charities, and the record will be distributed early to those fans who contributed to the campaign (tough luck, slackers; the campaign is now closed). A few days before Sound drops, the band will embark on a 24-date world tour.
Sound will include tracks titled "Erase Me," "Michael Praytor, Five Years Later," "Sky High," "The Sound of the Life of the Mind," "On Being Frank," "Draw a Crowd," "Do It Anyway," "Hold That Thought," "Away When You Were Here," and "Thank You For Breaking My Heart."
To be fair, the band hasn't simply ignored each other for a decade; last year, the founding three members of Ben Folds Five recorded several new songs for the group's Best Imitation of Myself: A Retrospective legacy album. Even further back, in 2008, they did a quick reunion for MySpace's Front to Back series, where they performed the entirety of Reinhold Messner. Envision what this new reunion will look like by watching that, and/or the band's most recent reunion, at New York's Mountain Jam festival just last month, below.
Ben Folds Five Fall 2012 Reunion Tour Dates:
September 13 – Holyoke, MA @ Mountain Park Amphitheatre
September 14 – New York, [email protected] Central Park Rumsey Playground 
September 16 – Cary, NC @ Koka Booth Amphitheatre
September 18 – Atlanta, GA @ Tabernacle
September 19 – North Charleston, SC @ North Charleston Performing Arts Center
September 21 – Pensacola Beach, FL @ DeLuna Fest 
September 23 – Dallas, TX @ Palladium Ballroom
September 24 – Austin, TX @ Stubbs Waller Creek Amphitheatre
September 25 – Houston, TX @ Bayou Music Center
September 28 – Kansas City, MO @ Starlight
October 2 – Detroit, MI @ The Fillmore Detroit
October 5 – Buffalo, NY @ Kleinhas
November 10 – Melbourne, Australia @ Harvest Festival – Werribee Park
November 17 – Sydney, Australia @ Harvest Festival – Parramatta Park
November 18 – Brisbane, Australia @ Harvest Festival – Botanic Gardens
November 23 – Bristol, England @ O2 Academy
November 24 – Nottingham, England @ Rock City
November 26 – Dublin, Ireland @ Vicar Street
November 29 – Manchester, England @ O2 Apollo
November 30 – Glasgow, Scotland @ O2 Academy
December 1 – Leeds, England @ O2 Academy
December 3 – Birmingham, England @ O2 Academy
December 4 – London, England @ O2 Academy Brixton
December 5 – London, England @ O2 Academy Brixton
https://youtube.com/watch?v=videoseries%3Flist%3DPL397FB7ADA2E89046%26hl%3Den_US