Azealia Banks has joined forces with Styles P, just after declaring the Gangster and a Gentleman MC, via Twitter, "literally my FAVORITE rapper."
The Gotham duo kicked off the weekend trading tongue-twisting, catchily crass verses on "Nathan," backed by Scotland producer Drums of Death's squiggly synths reminiscent of '80s acid house. Although Banks and Styles both come hard with sinister-sounding vows that "y'all niggas ain't gettin' Nathan," Styles' references to Coney Island — and Banks' relish-taking references to hot dogs, ketchup, etc. — raise questions about precisely which Nathan we might be talking about here. "Boom, pow, Batman words," Styles exults. Just wait until they try the cheese fries.
Breaking Out artist Banks is slated to release her new mixtape Fantasea on July 11, pushed back from a planned July 4 date. The nimble Harlem shit-talker also recently hopped on a remix of M.I.A.'s "Bad Girls" alongside Missy Elliott.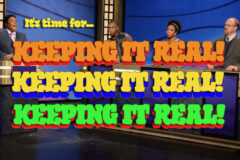 Watch Bank's new "Liquorice" video here, and be sure to check out our by-the-numbers account of her recent New York City performance.