Every intrepid concert-goer has decent odds of encountering that one awfully clever fan who thinks it's hilarious to spasmodically write his or her name across the backdrop with the laser pointer he or she totally stole from their boss. But at a Kanye West concert, attendees have an even better chance of watching something really awkward go down. It's rare that these two happenings go down perfectly in sync, but that's what fans witnessed during one of 'Ye and Jay-Z's world-imploding Throne shows in Paris over the weekend.
According to 2dopeboyz, amid myriad electro-panpipe ambiance effects just prior to starting "Flashing Lights," 'Ye apparently was blindsided by a laser-wielding fan. When the fan refused to quit the first time West told him not to "fuck with everybody's show," Yeezy brought the intro to a screeching halt and had the entire audience "ohhhhh!" and stare-shame the rude guy into "chilling the fuck out" (or risk getting kicked out). Dude, couldn't you see Kanye West clearly already had plenty of his own lasers up there, thank you very much?
Speaking of high-tech stuff Kanye has to deal with, have you seen these ridiculously expensive Nikes?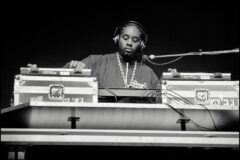 https://youtube.com/watch?v=vh__zJesUD4