Bloc Party singer Kele Okereke recently revealed that his band's upcoming fourth album, Four (due out on August 21 via Frenchkiss Records), will sound like "four people in a room, loving what they do and doing it to the best of their ability." In that case, fan footage emerging from the British rockers' first show since going on hiatus in 2009 might be an accurate preview of what to expect from the record — taking into account, of course, the sometimes shaky audio quality. As NME reports, the band played seven songs from the new album last night in Glasgow, and two clips have already surfaced online.
Both of the new songs hitting YouTube so far have a post-punk intensity that recalls the band's Silent Alarm-era boom years, though it's hard to say much more than that just yet. "3×3" is an urgent, pummeling charge that finds Okereke stepping away from the microphone at one point, only to return for a howling conclusion. "Team A" rushes forward at a similarly frantic pace, though with a more jittery feel, as Okereke delivers lyrics that come across as a reaffirmation of the band's autonomy: "How many times do I have to tell you / That these are my things?" he snarls, after another bracing midsection.
NME reports that Bloc Party also played the new songs "So He Begins to Lie," "True," "Real Talk," "Day Four," and "Octopus." Check out the band's fall tour dates — including stops at LA's Hard Summer Fest, Montreal's Osheaga Fest, and a three-night stand at New York's Terminal Five — right here.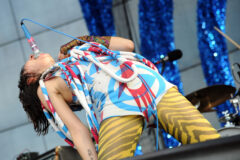 https://youtube.com/watch?v=uoUwfqaRMI8%3Ffeature%3Dplayer_embedded
https://youtube.com/watch?v=tJWfdyFVifI%3Ffeature%3Dplayer_embedded