Bonnaroo has long shed its rep as the patchouliest fest in the land, but its 2012 installment ended with a jam that rivaled ?uestlove's Superjam in length (if not extra-special-guest-star power). Sunday's noteworthy sets were otherwise dominated by indie rockers, classic rockers, and popsters with a fine appreciation for both.
Don't miss our most amazing live photos from Bonnaroo '12!
Phish
Returning to Bonnaroo after playing a Friday-Sunday double-headlining slot in 2009, jamband godheads Phish closed out this year's festival on the What Stage with a performance either interminable or ecstatic — depending on your, let's say, state of mind. (Though it's hard to imagine anyone having stuck around on Sunday night who wasn't predisposed to liking Trey and Co.'s amiable major-key noodling.) The band's performance worked on both micro and macro levels. Zero in on the details — keyboardist Page McConnell's soul-jazz comping; drummer Jon Fishman's skittering cymbals — and you could get wonderfully lost. Pan back to frontman Trey Anastasio's guitar heroics and (not to mention a guest spot from Kenny Rogers, who sang "The Gambler" with the band), and Phish was all big-gesture rock thrills stretched to epic length — all the way to next weekend, when the band hosts its own festival in Atlantic City. DAVID MARCHESE
fun.
New York's fast-rising fun. had a Bonnaroo debut befitting their epic sound. Before the five-piece — anchored by the Format's Nate Ruess, Steel Train's Jack Antonoff, and Anathallo's Andrew Dost — hit the stage, the ecstatic audience was spilling far being the confines of the Other Tent, as far as the eye could see, in fact, before running up against the vendor tents deep within the field. The band didn't disappoint. To the contrary, they delivered their dramatically emotive and entirely infectious songs with perfection and urgency, and were rewarded in turn. The bellowing sing-alongs started up with the first song, the clanging "One Foot" which featured a borrowed horn section, and only got louder with each successive anthem — the Queen-y "Why Am I the One," electro-punker "It Gets Better," the piano-powered "Carry On." The crowd couldn't have been more enamored with the band, and it the feeling appeared to be mutual. After each song, Ruess, a bounding sparkplug of a performer, would stop with a funny smile on his face, seemingly stunned by the sea of crowd-surfers and screaming fans. Toward the end of "At Least I'm Not as Sad (As I Used to Be)," he even faltered for a moment during his spotlit moment, clearly overwhelmed. A barebones cover of Paul Simon's "Me and Julio Down By the Schoolyard" was a rare and intimate gift, but nothing got a stronger response than the pure hulking pop of "We Are Young," the echoes of which could be heard far afield, drowning out the gentle emanations of the Shins and Bon Iver. CHRIS MARTINS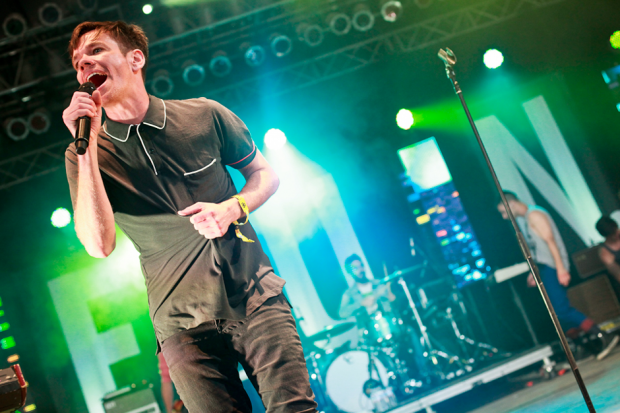 Bon Iver
An ashen sky is usually a festival bummer, but the low, heavy clouds were perfect accompaniment for a stirring Bon Iver set on the main stage early Sunday evening. Justin Vernon's intricately soundscaped songs wafted by on gentle gusts of violin, downy synthesizer, mournful brass, and his own heartbreaking falsetto, the aural equivalent of the warmly melancholy scene spreading out across the sky. And when Vernon picked up his dobro guitar and started to sing the now-classic "Skinny Love" it was like a ray of light breaking through the clouds. D.M.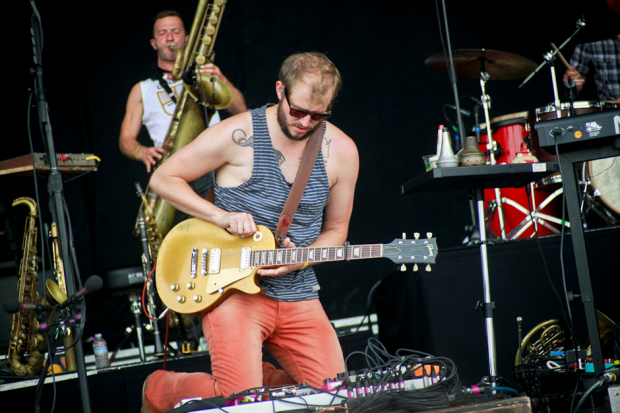 The Shins
To begin, the Shins' James Mercer turned to a pair of well-worn openers: "Kissing the Lipless" and "Caring is Creepy," two gems that predate that inadvertent, Zach Braff-penned one-liner that, in addition to following them around ever since, also helped made them '00s indie-pop royalty at a time (shout out to 2004) when that was something that might mean something to the mainstream, too. From the reaction each "hit" received, they've only continued to gain listeners there. "This feels good," Mercer said before hopping into another. Whether it was "New Slang" (which featured former Shin, perpetual Fruit bat Eric Johnson) or "Simple Song", from this year's Port of Morrow, hands were in the air, people were losing their minds, and Mercer still seemed genuinely surprised, after all these years. The accidental rock star. DAVID BEVAN
Here We Go Magic
Onstage, each song by Brooklyn's Here We Go Magic is a genuine journey. Take "Tunnelvision," which begins gently, singer Luke Temple sounding a little like Bon Iver — delicate, high, sweet. But before long, the folksy jangle picks up the angular collagisms of Talking Heads, knotted guitars climbing and falling over and over again, creating a rhythmic latter that leads to weirder heights still. By the song's end, each of the three other players is whispering a different phrase repeatedly into the mic over a thick aural tapestry reminiscent of '70s South London avant-poppers This Heat. "Hard to Be Close," from this year's exceptional A Different Ship, performs a similar trick, transforming from a country rambler into a mix of spangly Afro-inspired guitar and creeping darkness. That the band looked eerily calm — nay, vacant — while unspooling their complex soundscapes made the effect that much more captivating. C.M.
Kurt Vile & the Violators
Philly rocker Kurt Vile is famous for his lackadaisical style and insomniac drawl, but that doesn't mean he can't throw a show. Quite to the contrary, the man and his band are a perfect late afternoon festival act. Imagine the Lou Reed covering Lour Barlow from within a dank cave, mesmerizing the audience into soporific acceptance with 'verbed jangle and poetry that comes out like pulled taffy. On songs like "Freak Train," which found guitarist Jesse Turbo switching to saxophone, they slowly built to a massive howling squall, ending with Kurt and the others on their knees, hunched over knobs and pedals making beautiful noise. But as the roar cleared, the Violators trickled off the stage and left our shaggy hero with an acoustic guitar and a minimal drum loop. He then delivered a gorgeously phrased version of his folksy masterpiece "Baby's Arms," crossing over into transcendence while the audience stared, enrapt. C.M.
Gary Clark Jr.
Gary Clark Jr. was the Sunday opener after Skrillex (and rain) laid waste to the festival grounds — not exactly what you would call an ideal time to take Bonnaroo's main stage for the first time. But the nascent, Austin-bred guitar dynamo and his band seemed unphased. If anything, his insistent brand of Texas blues seemed the antidote for a flagging crowd stuck beneath quilts of cloud cover. Drawing from last year's The Bright Lights EP as well as from new material to likely be heard later this year when he releases his debut full-length, Clark Jr. made use of his solos. By the time he checked in on us, a few songs deep, "Things are about to get crazy," he purred. He was right. Everyone seemed awake. D.B.
Black Lips
There was vomit. There were toilet paper rolls flying through the sky. There were flip-flops being tossed and bodies being crowd-surfed. All pretty commonplace for a show from Black Lips, but still ultimately impressive to those who fought through the early afternoon rain and mud to watch the Atlanta flower punks. Fresh off the plane from Portugal, the band ripped through songs from throughout their career, though they skewed towards last year's superb Arcadia Mountain. With each song the band's energy transferred to the crowd, and people started moving more bit by bit, culminating with a raucous mass-mosh during the band's closer, "Bad Kids." LUKE McCORMICK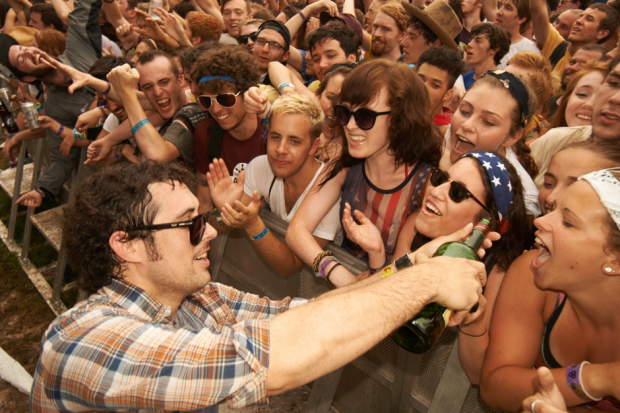 Kathleen Edwards
"Everyone go to church this morning?" Edwards asked early in her Other Tent set, the first and perhaps finest set of the day. "Ah, this is church." Though she was half-joking, the comparison was apt. Onstage, Edwards looks to be reside on a higher plane — she seems to savor not just the being up there, but the individual parts of every song as well, smiling widely for a solo, a chord resolve, a bridge, a howl. All of those seemed to be a wonderful fit for the weather at the time as well. During "For the Record," a stormy, seven-minute heartbreaker whose paroxysms of guitar Edwards red hair flailing "I need some goddamned conditioner is what I need," she said with a grin, as she re-tuned for the next one. D.B.
Kenny Rogers
Shortly into his set at the Other Tent on Sunday night, Kenny Rogers took a moment to reassure the crowd. "Bonnaroo and Kenny Rogers," he said, "What's wrong with that picture?" Then he smiled. "I belong here!" he yelled joyously, answering his own question. The 73-year-old country star fit in beautifully with the festival's tie-dyed demographic, delivering crisp versions of hits like "Love Or Something Like It" and "Islands In the Stream." He had some help, though, calling on his friend Lionel Richie, who sang his hits "Lady" and "All Night Long." A few hours later, Rogers paid the favor forward, singing "The Gambler" with Phish. Yep, he belongs. D.M.
The Beach Boys
The Beach Boys, touring with troubled genius Brian Wilson for the first time since 1965, offered up an interesting case study Sunday afternoon on the What Stage: What happens when the crowd, and not the band, does the emotional heavy lifting? Original members Mike Love, Al Jardine, and their supporting musicians have been an oldies act since the late '70s — and they sound like it. They hit all the notes and seem engaged, if not exactly invested. The wide-eyed Wilson looks, sweetly, as if he's just trying to get through the songs without messing up. But at least at this show, the goodwill emanating from the crowd during "God Only Knows," "Heroes and Villains," "Good Vibrations," and other golden California classics turned what could've been a rote performance into something approaching heartwarming. D.M.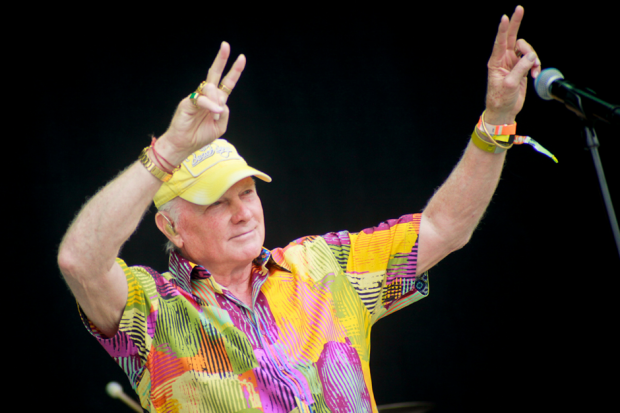 War on Drugs
Though frontman Adam Granduciel had a shit-eating grin on his face when he took the This Tent stage yesterday afternoon, his Philly outfit's set was all business. Battling a wonky mix in the early going, they muscled their way through a beautiful set of golden, FM (psych) rock meditations pulled from each of their excellent full-lengths, the fresh keys melody on "Taking the Farm," from 2008's underappreciated Wagonwheel Blues one such highlight. While the crowd was sizable, the VIP viewing section was telling: members of the Shins, Civil Wars, Alabama Shakes and Violators, whose band leader Kurt Vile, was once a card-carrying WOD member, could be seen milling around, transfixed. They're a band's band. D.B.