"I sound like a real dick right now," says Spencer Krug. The avant-rock whirlwind is smoking a pre-show cigarette and chatting on the phone from small Norwegian town where he just arrived with his collaborators Siinai, a proggy Finish rock act with whom he crafted With Siinai: Heartbreaking Bravery, his most recent effort, released this spring under his Moonface moniker. Krug can't recall the name of the tour stop, but that's not what has him worried. Instead, he's concerned about coming off cold, calculating, like a businessman tallying up fans, many of whom have probably had trouble keeping track of him as he's flitted from project to project over the years.
"Wolf Parade had a real built-in audience by the time we hit our third record," Krug says of his beloved indie rock band, which dissolved last summer. "There were some really loyal, amazing fans that followed us along. But the Moonface fanbase is starting from scratch. If it's ever going to come it has to be earned, which is good. It's the way it should be."
Krug is willing to put in the sweat equity. Just two months after releasing With Siinai, he announced Moonface's fourth record is slated for early next year. (He's touring in the States behind the new album this summer.) "I think it's almost like we give Spencer a blank check," says Darius Van Arman, co-owner and founder of Jagjaguwar, Krug's label for his last three projects, including Moonface. "He'd be very happy releasing two-and-a-half albums a year, when ideally, in the commercial sense, an artist shouldn't be releasing an album more than every year-and-a-half. His approach is, 'This is what I do, this is who I am, this is what I create. I'm going to keep creating it.'"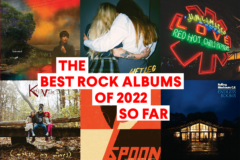 Left on his own to revel in strange sounds, Krug has always wandered into weird territory, only to be pulled back towards the indie rock mainstream by his musical collaborators. But that innate edge is what makes him so compelling. "His stamp is on any piece of music he touches, more than maybe anyone I've ever played with in a way that is both undeniable and selfless," explains fellow British Colombian Dan Bejar, a.k.a. Destroyer, who formed the knotty Swan Lake with Krug and Frog Eye's Carey Mercer. "I associate a song that is his as something that is not gonna get fucked with for no good reason."
Raised in Penticton, B.C., a small, picturesque city in the middle of the Okanagan Valley's fruit orchards, by the time he was 15, Krug filled his bedroom — where Fugazi and Sebadoh were on heavy rotation — with a drum set, guitar, bass, amps, and an organ. He slept in the closet. "I've been playing music since I was a wee tyke, basically," he says. "And I kind of never stopped."
In college on Vancouver Island, he "screwed around in arts and humanities," bouncing from Greek mythology classes to creative writing before moving on to music school, first in Vancouver then in Montreal, where he eventually dropped out. Around 2003, with that city poised to erupt as an indie rock epicenter, Krug formed Wolf Parade with Dan Boeckner, another B.C. transplant who'd chopped onions beside him when both were working as cooks in a Victoria restaurant years earlier. With Krug's distinct yelp peppering half the songs and Boeckner's raspy warble driving the others, the band crafted their insta-classic debut, Apologies to the Queen Mary.
To fans' dismay Wolf Parade played their swan song at Vancouver's Commodore Ballroom in June 2011, ending with a cover of Bob Dylan's "Knockin' on Heaven's Door." "I totally miss them," Krug says of his old bandmates. "Wolf Parade is like family. But it's like any relationship, they end for a reason and it's unhealthy to force them to stay in existence."
Undaunted, Krug turned his attention towards Moonface. The project's first two releases, created while Wolf Parade was still extant, contained his headiest and most difficult music. Dreamland EP: marimba and shit-drums includes a single 20-minute meandering track, dominated by, you guessed it, marimba. Its follow-up Organ Music Not Vibraphone Like I'd Hoped had an equally descriptive title.
But with the help of Siinai, who won Krug over on the strength of their recent debut LP Olympic Games, Moonface's latest effort, With Siinai: Heartbreaking Bravery has, again, veered back towards rock. Crafted during a three-week residency at a secluded live-in recording studio north of the band's native Helsinki, Krug wrote the lyrics and melodies to layer overtop his new bandmates' droning, majestic music. "I really respect Siinai's patience," he says. "They get into a groove they like and they'll go for 20 minutes sometimes. A hypnotic effect happens that I really like. It's really lush sounding and beautiful."
While the album won't garner Wolf Parade-level fandom, it's his most accessible release since that band's demise. With tracks like "Yesterday's Fire," filled with a thick haze of piano and guitar fuzz, "Teary Eyes and Bloody Lips," a strange, but compelling narrative comparing a lover's appearance to that of Stevie Nicks', and the title track, a gorgeous slow-burner marked by meandering saxophone, the album is part straight-forward rock offering, part classic, eccentric Krug.
"I was nervous about putting [the album] into the world," he says. "But to not put out the record because of that nervousness would have been a cowardly move. I'm glad it's out there."