Metallica + More: 12 Key Sets at 2012's Inaugural Orion Fest
Two full-album sets from James Hetfield and Co., the most forward-thinking names in metal, and bold performances from Arctic Monkeys and Best Coast. A full report and photos from Atlantic City.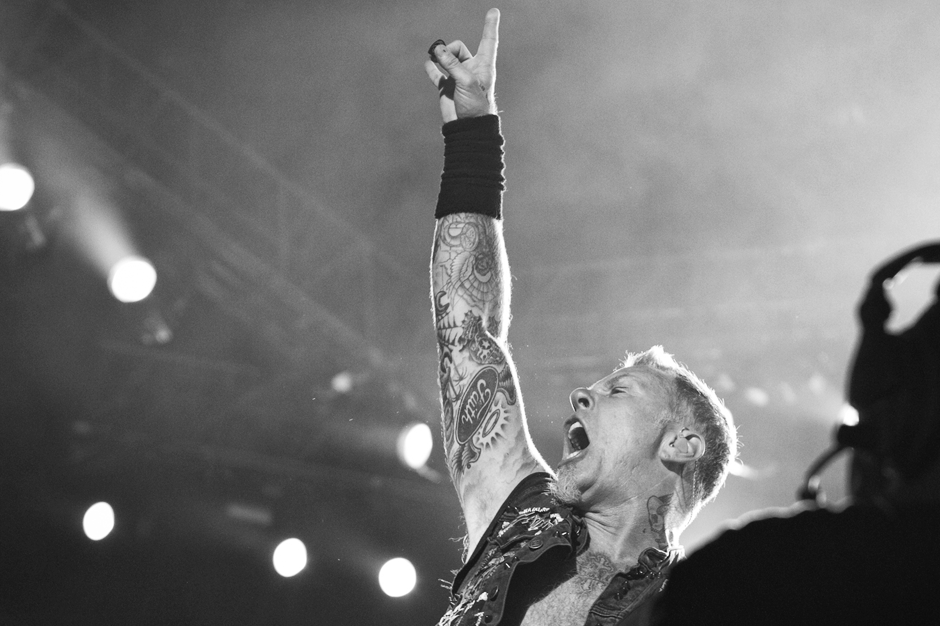 The lineup for the first Metallica-curated Orion Music + More Festival in Atlantic City, New Jersey, was already a whimsical collision of styles, joining together everything from the shimmering summer bummers of Best Coast to the gore-spattered splatter of the Black Dahlia Murder. But nothing could prepare us for the sheer sensory overload of the intimate festival grounds: A five-minute walk between psych legend Roky Erickson and punk upstarts Letlive could include peeping a Jetsons dragula at the car show, hearing the Sword go buckwild or watching Steve Caballero do front flips at the Vans skate ramp. Here are 12 of the more SPINcentric events that fought for our attention during an action-packed weekend. CHRISTOPHER R. WEINGARTEN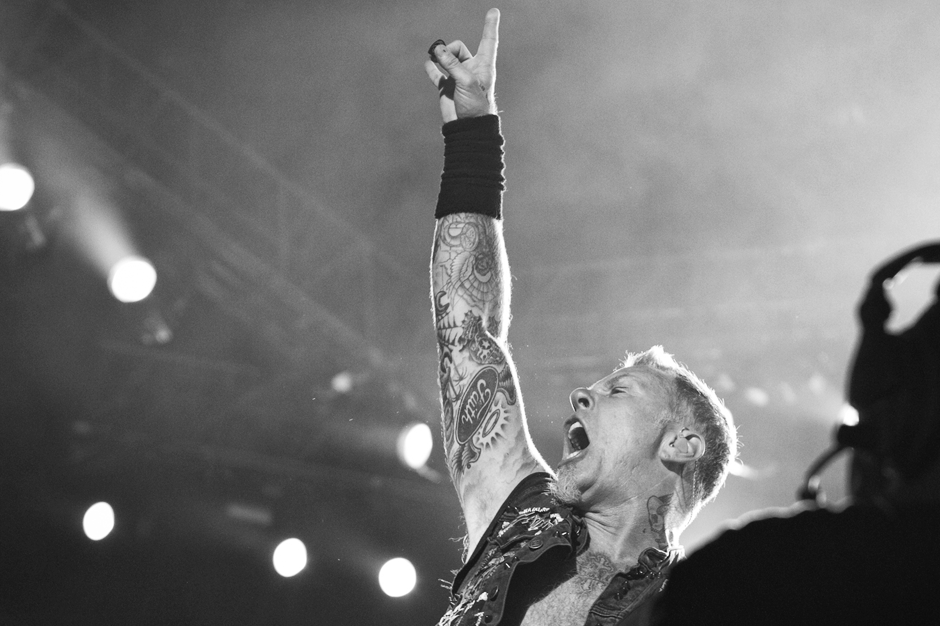 The lineup for the first Metallica-curated Orion Music + More Festival in Atlantic City, New Jersey, was already a whimsical collision of styles, joining together everything from the shimmering summer bummers of Best Coast to the gore-spattered splatter of the Black Dahlia Murder. But nothing could prepare us for the sheer sensory overload of the intimate festival grounds: A five-minute walk between psych legend Roky Erickson and punk upstarts Letlive could include peeping a Jetsons dragula at the car show, hearing the Sword go buckwild or watching Steve Caballero do front flips at the Vans skate ramp. Here are 12 of the more SPINcentric events that fought for our attention during an action-packed weekend. CHRISTOPHER R. WEINGARTEN
3. Metallica (Night 1)
3/14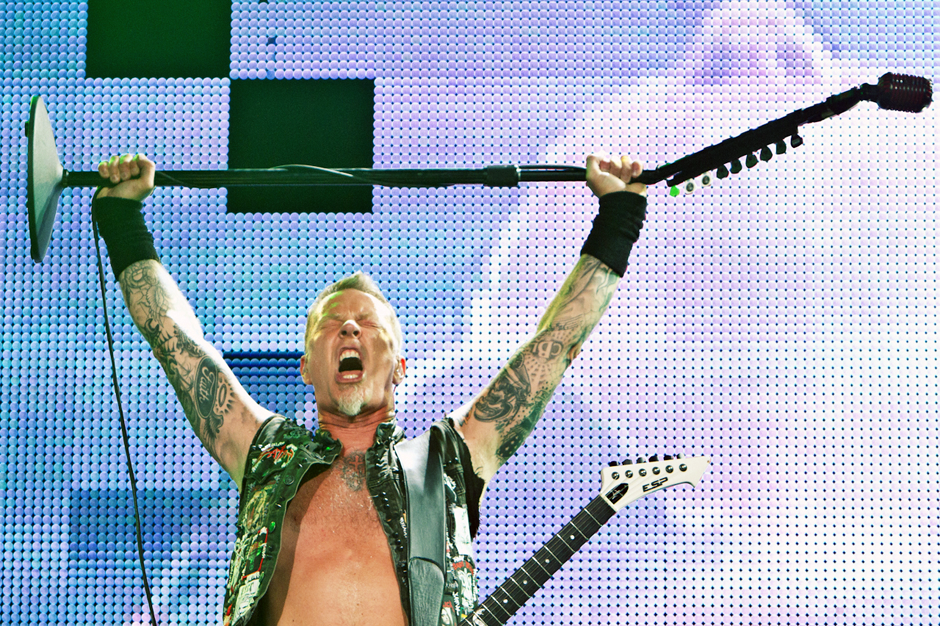 Five songs into the first of two headlining performances, frontman James Hetfield looked out at the crowd and bid farewell, "Thank you, we are Metallica!" As he and his bandmates departed, the stage faded to black and even the woman who translates their songs into sign language rested her arms. Then, after playing a sentimental video looking back on the band's early years, Metallica reappeared and commenced playing the entirety of their landmark second album, 1984's Ride the Lightning — backwards, no less.
The real feat, though, is that a band who is so famous for trudging forward and trying risks is actually taking a moment to look back. After all, this is the band who put out an experimental rock album with Lou Reed, recorded an LP with a symphony at a time when groups like Limp Bizkit were debasing metal traditions and, for its first head-turning move, eschewed brutal thrash for melodic, moody songs like "Fade to Black" on Ride the Lightning. But beginning in 2006 when they played their classic Master of Puppets for European crowds — around the time when Rick Rubin insisted they assume the mindset they had on their early albums — Metallica have been slowly embracing their past. Last year, they played some gigs with their onetime peers in Slayer, Megadeth, and Anthrax, but their true nostalgic moment was when they staged four nights of anniversary shows, dueting with groups who inspired them like Diamond Head and jamming with founding members in front of a select group of fan-club members. Saturday night's exposition, in contrast, was in front of 50 to 60,000 fans, as well as untold numbers online.
These fans went wild when Metallica kicked things off with the bass-heavy instrumental "The Call of Ktulu." They banged their thousands of fists in the air, chanting "Die! Die! Die!" for "Creeping Death." And they greeted the band with a sea of LED-lit viewfinders for the first time it ever played the song "Escape." That performance is the sort of odd curiosa that made the night special, since it's a song the band seems to have purposefully avoided. "Don't say the title out loud," said Hetfield in a rare moment of showing his nerves, though he later told the audience, "We're not afraid to play it." Although it has a catchy, almost commercial radio-friendly chorus, it stuck out in the set because, even by the big-box-ready standards of "Enter Sandman" and "Sad But True," it sort of doesn't sound like a Metallica song. The fans ate it up nonetheless.
In a way, the fans became as much the stars of a Metallica concert as the band itself. Throughout the day, no other band got represented on as many T-shirts and during the show, the group spotlighted the audience during numerous feel-the-love moments. By the end of the set, which also featured fan favorites like "One" and "The Four Horsemen" and even a few songs from the next night's performance of the "Black Album," like "Sad But True," the love was palpable. During that record's "Enter Sandman," Hetfield chanted back and forth with the audience, "Orion and Metallica, together as family, like a family, Metallica family, right here, right now." It's the sort of cheesy, feel-good moment few bands can pull off without seeming insincere, but it is also hard not to get swept up in it. But the fact that the fans are willing to receive and give back such love is a testament to why these guys are not only able to play a different classic album tomorrow night, but put on a diverse festival like this in the first place. KORY GROW
4. Metallica (Night 2)
4/14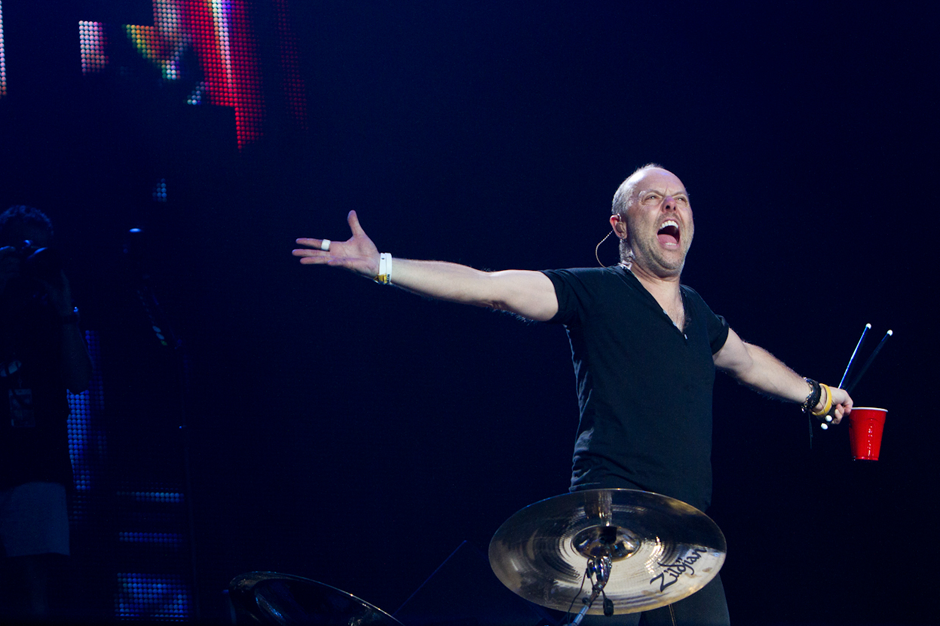 Whether they rose up out of the ground like zombies or were dropped to the earth by the swarms of seagulls creating a circle put over Atlantic City, it seemed like even more people made it to Bader Field Sunday evening — the night Metallica played their landmark "Black Album," released in 1991 (the best-selling LP to be released sometime in the past 20 years, no less) — than the first night. They just kept filing in, which would make for a scene that would only make sense when filmed with time-lapse photography.
Like Saturday's set, the group played a number of fan favorites ("Hit the Lights," "Master of Puppets," "The Shortest Straw") before launching into a backwards recital of their self-titled album. In a short video before that part of the set, they broadcast footage from a newscast announcing the original listening party for the album. It was held at the New York City enormo-dome Madison Square Garden, which, incidentally, can hold about 20,000 people. Tonight, the group played the songs for about three times that number. And, by the law of averages, that made for a considerable number of fists in the air as the group played a string of songs that were never even played on the radio, like "The Struggle Within," "My Friend of Misery," and the grandiose and too-often-overlooked classic "The God That Failed."
In a way, performing the album backwards is the only way that makes sense since it's so top heavy and the hits are all stacked in the early tracks. As Metallica moved from "Wherever I May Roam" to "The Unforgiven" and on to "Sad but True" and "Enter Sandman," the audience seemed to swell more and more. During "Sandman," Hetfield revisited his Springsteeny feel-good shtick from the night before, chanting, "Orion, Metallica, together at last," and, maybe because the crowd was bigger, it felt better than when he did it last night. But also, maybe that's just because it was the culmination of watching 10 hours' worth of bands playing straight, two days in a row.
After playing an encore of classic songs like "One" and "Seek & Destroy" (aside: with the exception of two songs, everything the group played both notes was recorded before 1992), they bid their farewells, laced with some gentle crowd-baiting. "Do you want to do this again next year?" asked guitarist Kirk Hammett. The crowd, most of whom seemed to take advantage of seeing other bands in the past 48 hours, replied with a positive roar. By most counts, depending on the band, Orion was a success. And it could work again next year, no matter who is playing, as long as it keeps fans' curiosity levels high… and, of course, holds on to the same headliner. K.G.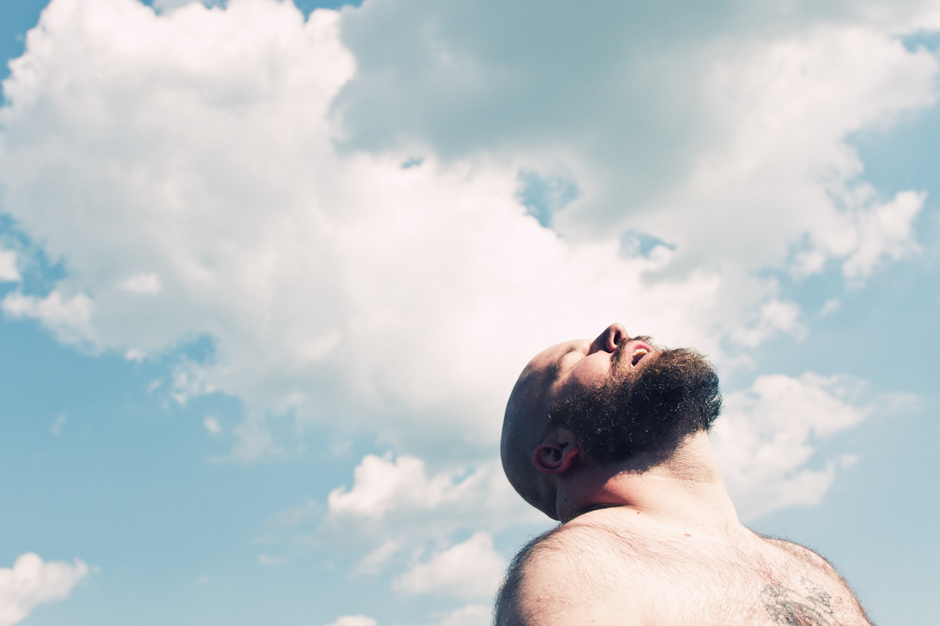 "We didn't know what to expect," beamed Fucked Up frontman Damian Abraham. "Thank you so much. Thank you so much. Thank you so much." At a festival where the alt-friendly acts couldn't always exactly be promised a hero's welcome (recharged garagecore crew Hot Snakes and psych cosmonauts Wooden Shjips played to about 250 and 75 people, respectively) Abraham was downright dumbstuck when a screaming, enthusiastic horde appeared for his band. Opening with "Queen of Hearts," Abraham was cavorting in the audience within 20 seconds and didn't return to the stage for about 38 minutes. He did his best to get the intimacy of a club show in a giant, packed field — in doing so, the real "show" was basically the small pool of people around him and the floating mosh pit that followed. He demanded closeness by having simple conversations with people: "This guy's from Toronto" and "Look at this guy" and "Give it up for Tom Scharpling." He brought all his usual tricks — running a hug gauntlet, picking up skinny kids, wearing other people's shirts and sunglasses — even though this time there were kids in Lamb of God T-shirts going gorillas in the pit. C.W.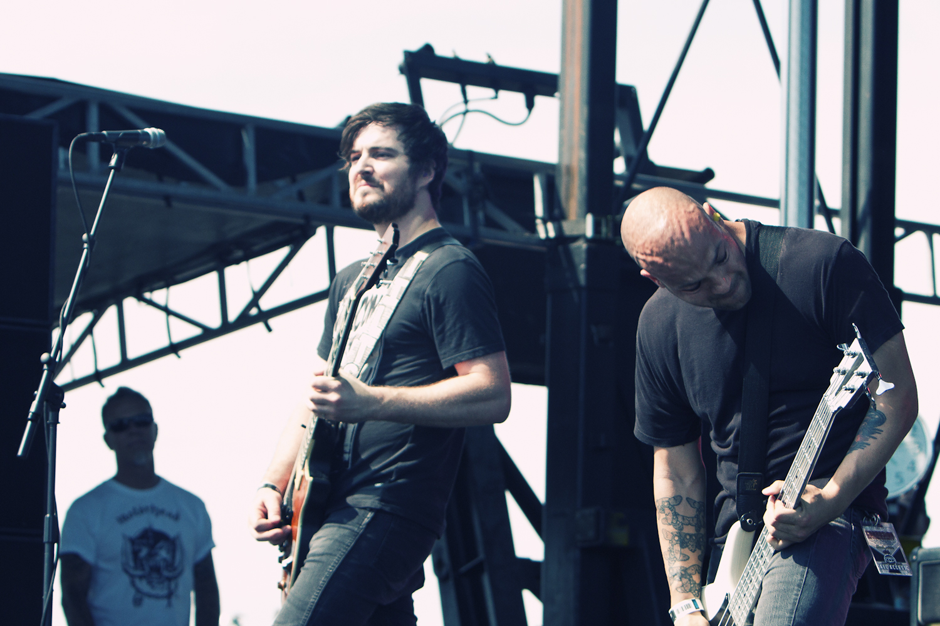 The bubblegum metal geniuses got a short, sweet intro from Robert Trujillo ("Listen, this band kicks ass"), and James Hetfield popped by to watch their monster bass-bombs from stage right, bouncing back and forth to "Across the Shields." If this was the moment that the world's biggest rock band publicly endorsed these hookmasters, then Torche didn't disappoint — they certainly weren't gonna let Baroness out-harmonize 'em! It was a big blast of optimistic goodness that sounded punishing through an enormous sound system, harmonizing on the word "beautiful" on "Charge of the Brown Recluse." The feel-good New Jersey sunshine played unofficial fifth member: the programmers definitely shouldn't have had them overlap with Best Coast. C.W.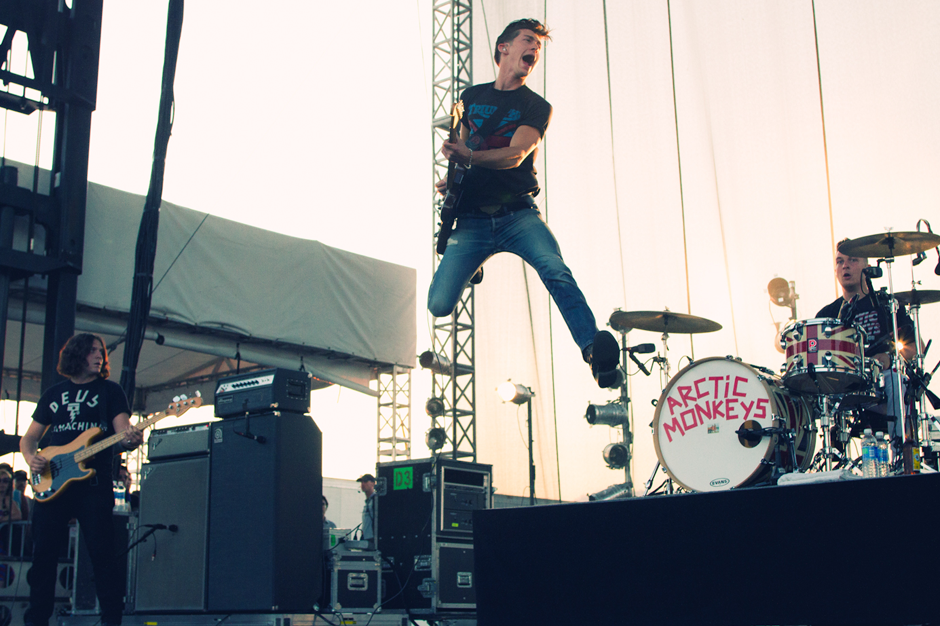 Lars Ulrich came out, holding a styrofoam cup (like Weezy), to introduce the second-to-last band of Saturday night: "I bought all their singles, I bought all their albums. Every time they played California, I saw them play. But I was too fucking chickenshit to go back and say hello to them because I didn't think I was cool enough." And if the Arctic Monkeys brought anything to Orion, it was cool, whether it was the leisurely pacing of frontman Alex Turner, the leaning-into-his-work of guitarist Jamie Cook, or the standing-totally-still of bassist Nick O'Malley. (Drummer Matt Helders, "in the back of your girlfriend's mind," per Turner, was decidedly not cool, flipping sticks, spitting like Ulrich, wearing Evel Knievel pants and playing as fast as any metal drummer on the bill.) Their ping-ponging Gang of Four licks started a few especially jovial rounds of pogoing and more crowd-surfing than the Suicidal Tendencies show that ended a half-hour earlier (including one girl passed overhead in a full Gumby costume). C.W.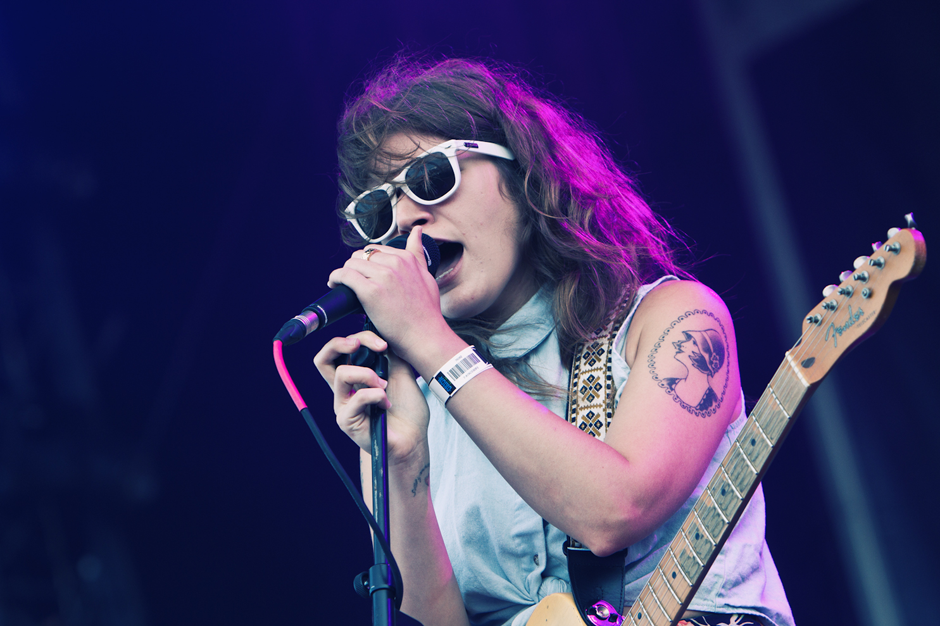 "Does anyone here like Lindsay Lohan?" asked the white-rimmed sunglasses-wearing frontwoman Bethany Cosentino of SPIN cover stars Best Coast at one point during their 4 p.m. Orion set — approximately four hours before Metallica would play the "Black Album" on the same stage that same day. She probably couldn't have pinned a tail on worse banter, despite adding, "That was a joke," since it went over like a lead balloon with the 500 or so Metallica fans who'd flocked to the Orion stage. Nevertheless, she, guitarist Bobb Bruno and the rest of the band went on to play "Mean Girls," off their iTunes session, unfazed by the zombie-like masses leaning in on the barricades in front of them. It wasn't her fault, really, but it's hard to win over a dedicated fan base like Metallica's — even when you're given the keys to the kingdom and are, without a doubt, major fans of the band.
At one point, Cosentino told a story about watching a video of a concert by the headliners where frontman James Hetfield said, "Make some noise if you give a shit." Judging from the dearth of volume, not many people gave a shit, despite the group playing a great-sounding set, including songs like "Crazy for You," the title track of their recently released new album The Only Place and even one fan request, "When I'm With You." So the singer sort of flipped the script and told the audience, "You don't give a shit: I have to take a shit," which actually garnered an audible laugh — a legitimate reaction from a crowd whose sole expressed interest (save one fan) seems to be waiting for Metallica. She took the opportunity and ran, launching into "Our Deal," after a brief apology to her mother whom she thought was watching her on the fest's livestream. Nevertheless, it was no hard feelings for the group, as Cosentino promised the office that the "Black Album" was gonna be "dope" later, just before launching into their swansong "Boyfriend." The concertgoers cheered making for one big stalemate between Best Coast and Club Met. K.G.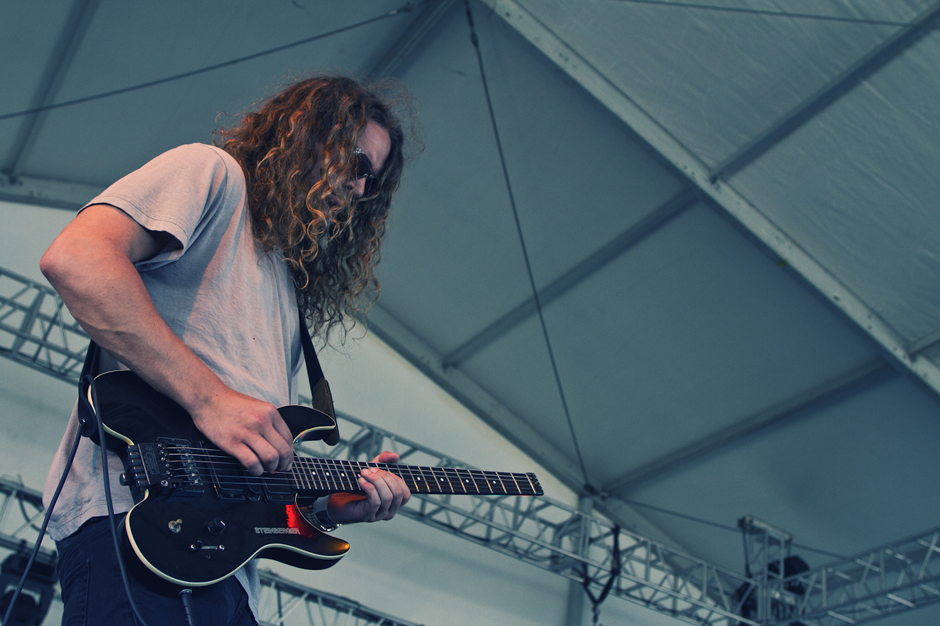 The makers of SPIN's 2011 metal record of the year recently stripped themselves down to a drummerless twin guitar lineup like a black metal Big Black. Experimental interlopers hand-picked by metal's great pop success, the bands' Hunter Hunt-Hendrix and Bernard Gann brought serious 808s and heartbreak, trapping themselves under an icy wall of distortion. With zero rap or electronic music on the Orion bill, the spectrum filling warmth and full-body vibrations of their drum machines felt like an old friend (or the meaner cousin to Sleigh Bells). As always, the pair rode the lightning over acres and acres of time, but their neverending quest for "transcendence" seemed even easier without the touch of a human drummer, as any DJ or techno producer will tell you. And 25 minutes into their set, their wiry riffs just turned into a blast of white noise, like sticking your head into one of Hetfield's custom car engines. The approximately 80 people that showed up to see their unenviable 1 p.m. time slot ran the gamut from curious to confused to totally transported. C.W.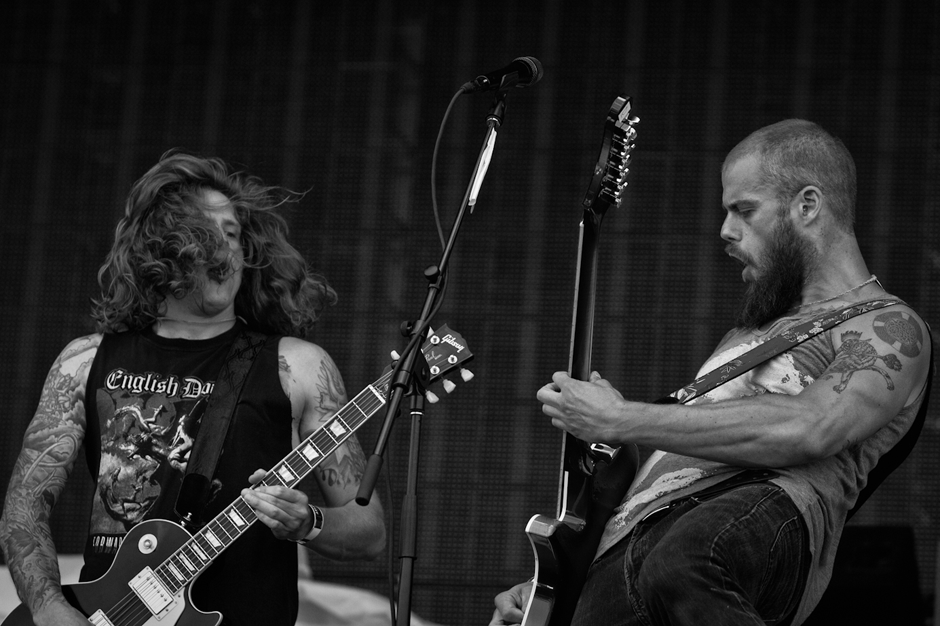 At a press conference the Friday before Orion began, Metallica drummer Lars Ulrich exclaimed, "I've never been anywhere near a fucking gig or a festival at 1 o'clock in the afternoon on the day we're playing," referring to the start time for his own fest. Then he added, "But I'll be here with bells and whistles on to see Baroness," the first group to play. He made good on the promise when he introduced the sludge metallers, who are embracing hard rock on their forthcoming double-album, Yellow & Green, due out July 17. In his speech, he recalled seeing them play in clubs and threw in a plug for the records — which is good since the band didn't address the audience hardly at all during their set — before he threw it to the group, "The stage is yours."
They were ready to answer Ulrich's call and put on a show worthy of the drummer's praise. About 600 or 700 early arrivals to the fest saw the band play an even mix of songs from their earlier, heavier albums and lighter unreleased ones, they embodied both of Orion Music + More's sides (heavy and hard) — the same duality Ulrich's band wields so well. On new songs like "Take My Bones Away" and "March to the Sea," lead singer-guitarist John Baizley harmonized his vocals perfectly with guitarist Peter Adams and between songs, the pair created woozy backdrops of sound to play up their more instrumental sides. And while the concertgoers who were there cheered more for songs they know like "Isak," off their breakthrough 2007 release Red Album, they got some heads nodding for new hard rockers like new song "Cocainium." For those who were there, it made for the perfect kick-off to 10 hours of hard rock and metal. K.G.
Los Angeles post-hardcore timebombs Letlive. would have the wildest show on any festival bill, mostly due to the spastic, impish, gymnastic shenanigans of frontman Jason Aalon Butler. At their 2 p.m. slot, the wiry singer's antics included but was not limited to: climbing the scaffolding, fashioning a microphone-cord noose and leaping from amps, divebombing into piles of trash piled in a nearby golfcart, singing from the mosh pit, flopping around like a goldfish, kicking his shoes into space, directing (and criticizing) a circle pit, riding amp cases around stage like a skateboard, joking that the Sword should "shut the fuck up, we're trying to play a show over here!," pouring water on the stage and using it as his personal Slip 'N Slide, and ultimately just calling his band "Metallica" and offering to play "Enter the Sandman." But the best antic of all: Saying, "Time is perceptible only to the human heart," crediting the quote to James Joyce, and then smashing the stage manager's set-clock with his microphone, rendering it useless for the weekend. C.W.
12. Titus Andronicus
12/14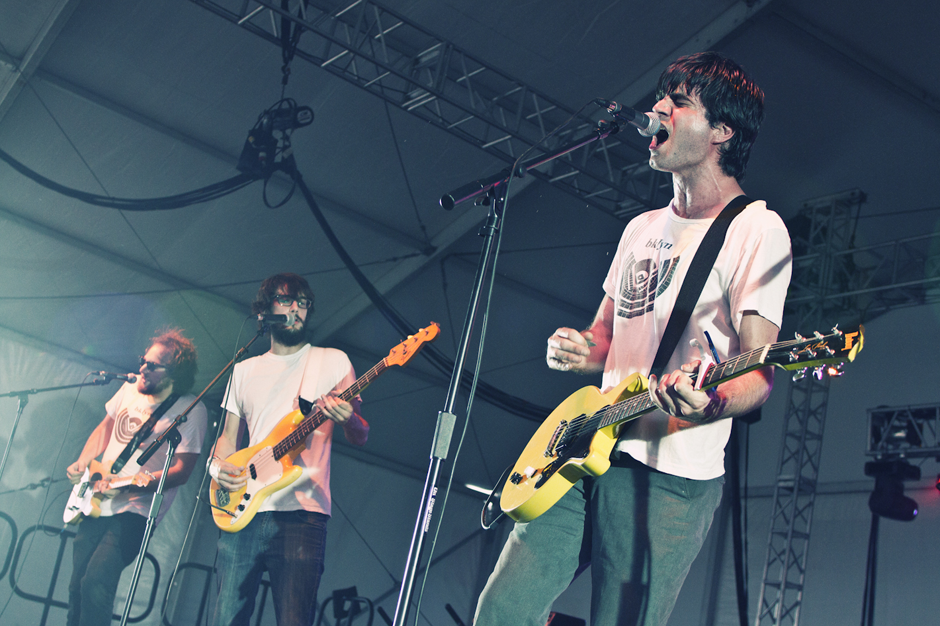 The crowd there to see homestate hooligans Titus Andronicus was small but rabid, a crowd of kids moshing lustily and tirelessly (mainly because they looked five to ten years younger than any other moshpit of the festival). Titus played like rock stars, sweat soaking and veins bulging, a little spiritual, a little rock fury, those Springsteen tributes in "A More Perfect Union" hitting just as hard as the one that Eric Church just played on the Main Stage. And although the tight crowd of heavily eyeglassed people were essentially the official Orion hipster census (a.k.a., everyone who had no interest in seeing Avenged Sevenfold dominating the Fuel Stage or posting up early for Metallica), they still chanted like metalheads, shouting "Hey! Hey! Hey!" during the percussive parts. "Metallica is up next," frontman Patrick Stickles gasped. "Never thought I'd say that, but here we are." C.W.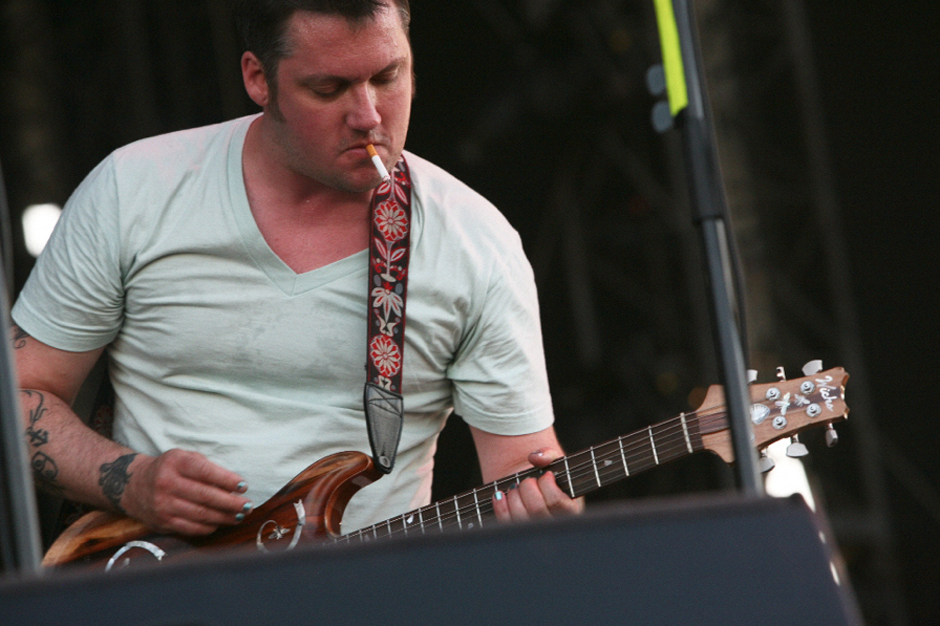 Something about Modest Mouse's performance gave the air that they felt uncomfortable. The indie rockers were one of the few main-stage bands not to receive an introduction by Lars Ulrich and, despite displaying some top-notch showmanship (which included purple-hot-shorts-wearing frontman Isaac Brock twirling his guitar around and even screaming lyrics into its pickups on "Dramamine"), it just didn't translate. The singer's few talking breaks were mumbled — or worse, whispered (though a "Thank you, Metallica," did slip out at one juncture) — and when he did sing, it came out as incoherent, at-times-angry-sounding yelping that maybe just wasn't mixed properly.
Despite this, they were still able to give the festival some diversity. Modest Mouse drew one of the biggest non-Metallica main-stage crowds — fans who pumped their fists and sang along to Brock's bleats — as the group plucked its violins, upright basses, xylophone, trumpet, and banjos on tracks like "Float On," "Bury Me With It," and "The Whale Song." In one sort of ironic moment, Brock unwittingly played the theme to "The Ecstasy of Gold," the Ennio Morricone-penned spaghetti western music Metallica uses for their entrance, which actually opens the Modest Mouse song "Fly Trapped in a Jar." By the time they closed with "The View" — with seven minutes to spare in their allotted set time — they basically stopped playing, waved goodbye and walked offstage. It was an eccentric end to a set by the eccentric band, who is still, ever slowly working on the follow up to their 2007 album We Were Dead Before the Ship Even Sank. K.G.
14. The Gaslight Anthem
14/14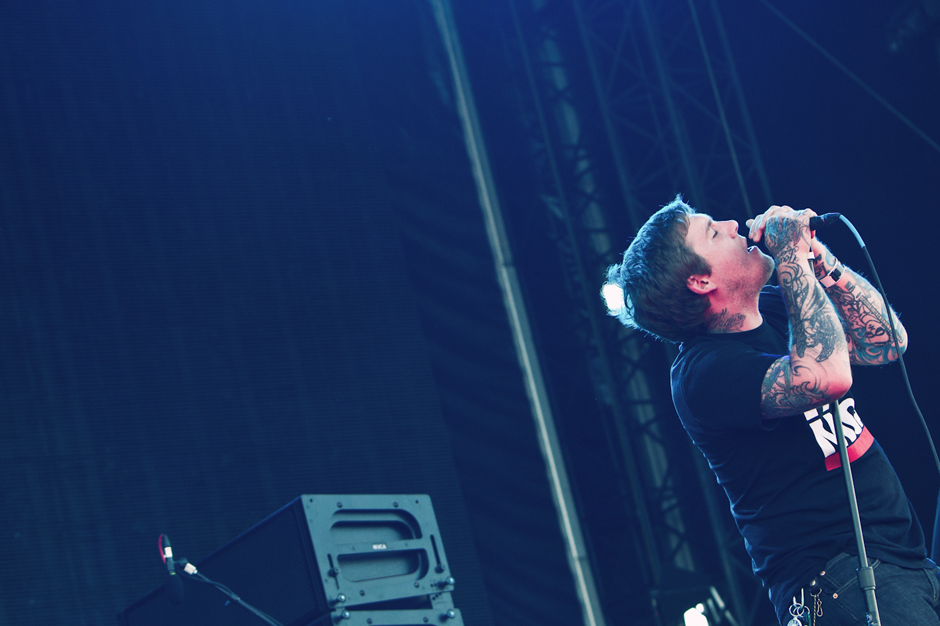 "When I was 9 years old, and I heard 'Nothing Else Matters,' I was like, 'Oh, you put a violin on a metal song! Ooh, my, my, the possibilities of the days, and I hit replay on my little Discman,'" recalled Gaslight Anthem frontman Brian Fallon as he justified his band's set list choice of playing the Springseen-esque love ballad "Blue Jeans & White T-Shirts." For the husky-sounding rockers, who seems to have little in common with Metallica other than a glowing intro by Mr. Lars Ulrich (who left a screening of Blue Valentine in his film tent to do the honors), the comment spotlighted a hidden thread connecting them to the festivals curators. And as they played, even Metallica fan-club members who had staked out some prime real estate in the inner circle in front of the stage broke their nonplussed visages and began nodding their heads to the song.
The rest of the group's set received similar approval. It started things off with a recording of the Beastie Boys' "Sabotage" (Fallon even wore an "RIP MCA" shirt, stylized, oddly, to look like the Run-DMC logo), and they played a set of fan favorites like "The Queen of Lower Chelsea" and "The Backseat," as well songs like "Biloxi Parish" and the guitar-driven "45" from their forthcoming album, Handwritten. And when they played the title track from their 2008 breakthrough album, The '59 Sound, the Gaslight Anthem earned one of the first main-stage mosh pits of the day, making for one of the biggest audience turn-arounds of the day. K.G.