I can't tell you how many times I've been out watching live bands only to think, "Goddamn, they need me to dress them." So many bands think that rolling out of bed and onto the stage is acceptable behavior, and while that works for certain groups going for that "aren't we a bunch of losers?"look, I think a little sartorial consideration goes a long way. On the other hand, there are groups who already have very specific looks that I'd love to change-up; wearing the same corpse paint or mirrored helmet show after show can get stale after a while. This first batch of advice is free — please get in touch for my consultation rates, negotiable with regard to how cool your band already is.
Sunn 0)))
Sure, these guys appreciate the concept of a live performance, blasting fog machines until you can't see your hands in front of your face, and stalking the stage in their trademarked thick black cloaks. It's been years of that, though, and I think the world is ready for a new Sunn0))) to emerge. I'm recommending they upgrade to something out of Thamanyah's insane collections of floor-length gowns and priest robes, evoking both 16th century Roman Catholic monks and 13th century Armenian spice traders. It's sleek, bad-ass, and entirely fitting for the monolithic sludge these guys famously produce.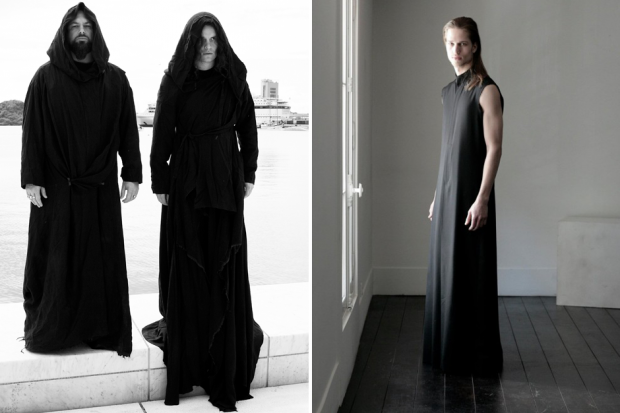 Fucked Up
Everyone loves Fucked Up, but can you remember a single thing they've worn on stage? Ringleader Damian Abraham doesn't seem to wear clothes at all, and the rest of the group go bland business casual with their invariably-sweaty button-up shirts and band T-shirts. I think they'd be well served to have their publicists put them in touch with Yohji Yamamoto — his SS12 collection features some beautiful, tailored-yet-breathable dress shirts, and shorts so wide and loose you can fit an additional guitar player in them without anyone noticing (which is particularly handy as Fucked Up currently have 17 guitarists). Bassist Sandy Miranda would look chic in a sleeveless black dress, and Damian could stay true to his "urban teenager"look with something from one of the recent Y-3 x Adidas collaborations, mixing bold colors and fine fabrics with utilitarian streetwear.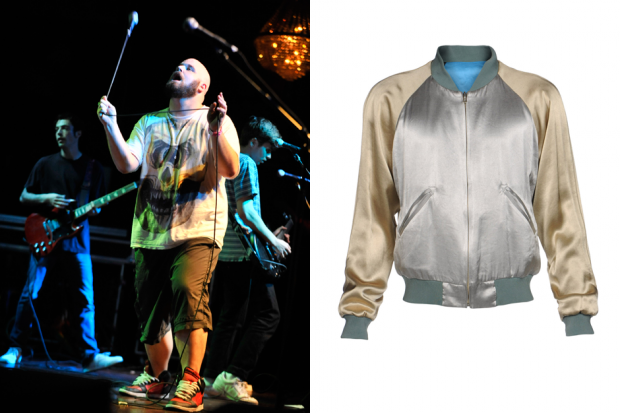 John Maus
If you're going to scream along to an iPod in some form of seizure-based karaoke, and expect people to pay to see it live, you stage in a discount Urban Outfitters flannel and unwashed khakis, you can't help but wonder what he's doing with the money you just paid him. No one wants someone's unwanted lab partner to sing to them! Here's my recommendation: his synth-pop is both elegant and disconcerting, so let's go with a designer who knows how to work classic shapes with a dystopian vision: Boris Bidjan Saberi. I'd put Maus in this one-button high collar blazer, pair it with these piece-dyed trousers and watch as the crowd truly believes that Maus means it when he shouts at the moon, as if he were some sort of physicist who just figured out that the world truly does end later this year.