In the latest turn in the decades-long back-and-forth between Oasis brothers Liam and Noel Gallagher, Liam has started singing Oasis songs again. As the Guardian reports, Liam performed two Noel compositions from their former band — "Rock 'n' Roll Star" and "Morning Glory" — during a show last night in Warrington, England, with current group Beady Eye. Too bad Liam was never the lead vocalist on "Don't Look Back in Anger," or that might've been thematically appropriate.
The 12-song set was a trial run for Beady Eye's show Saturday opening a homecoming show for the reunited Stone Roses in Manchester. And it's not as if Liam hadn't already warned the Britpop-loving public of his plan to revive some of the Oasis catalogue at Beady Eye shows. "I feel they're just as much my songs as they are Noel's," he explained to XFM earlier this year. "And if people don't like it, go to the bar or fuck off. If they do like it, jump up and down, let's have a good time."
A few fans must've failed to take the Beady Eye frontman's advice with regard to bars and/or fucking off, because Liam wound up defending his decision on Twitter. "Listen up squares were playing them live not re recording them so chill LG x," a tweet from Gallagher's account says. Hey, hipster, get a load of those squares!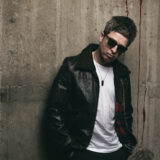 Noel, of course, has been unabashed about playing Oasis songs while touring with his current outfit, Noel Gallagher's High Flying Birds. According to the NME, Liam hasn't sung his former band's material since 2009. Maybe he realized you can't live forever, after all.
Beady also performed a new song last night, an Oasis-y midtempo anthem called "The World's Not Set in Stone," which you can check out below.
https://youtube.com/watch?v=2dGEgwdWmxU%3Ffeature%3Dplayer_embedded